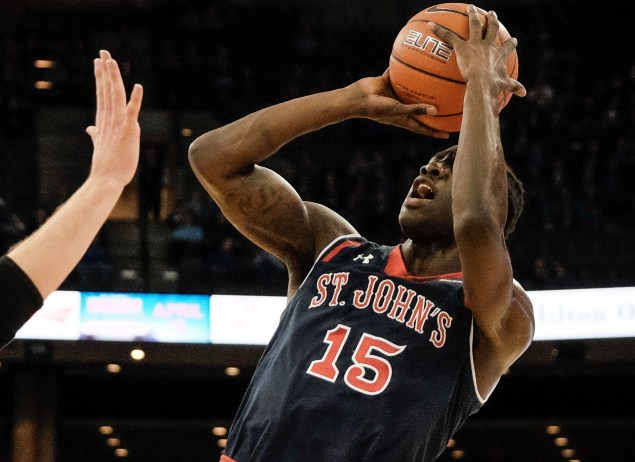 PLAYER OF THE WEEK: Sir'Dominic Pointer, St. John's
Pointer was sensational this week as the Johnnies landed two critical wins that have punched their NCAA tournament ticket. In a win over Xavier on Monday, Pointer had 19 points, nine boards, six blocks, four steals and three assists, following that up with 24 points, 10 boards, two blocks and two assists in a double-digit win over Georgetown on Saturday.
The two wins this week completed a stretch of seven games where St. John's won six out of seven, a stretch that has taken this team from NIT-bound to the NCAA tournament. At one point in time, the Johnnies were just 3-6 in Big East play, and without the energy that Pointer has brought to this team, they would not have made this turnaround. As good as Kris Dunn, D'Vauntes Smith-Rivera and about half of Villanova's roster has been, Pointer has been the best player in the Big East this year, and he's proven it of late.
THE ALL 'THEY WERE GOOD, TOO' TEAM
Aaron White, Iowa: Iowa landed a pair of critical wins for their tournament resume, beating Illinois and winning at Penn State in overtime. White had 29 points and nine boards against Illinois and followed up with 21 points and 14 boards over the weekend.
Justise Winslow, Duke: Winslow was terrific this week for the Blue Devils, just as he has been terrific for them for the past month. After posting 15 and seven in the overtime win at Virginia Tech, he went for a career-high 23 points, nine boards and three blocks against Syracuse. When Winslow plays like this, Duke is much more dangerous.
Derrick Marks, Boise State: Marks went for 30 points, five boards and five assists in a win over New Mexico, following that up with 18 points to lead the Broncos to a win at San Diego State. The win may end up getting Boise State into the tournament.
Jarrell Martin, LSU: The Tigers kept themselves on the right side of the bubble with wins over Auburn and Ole Miss, and Martin starred in both, averaging 21.5 points and 12.0 boards.
Trey Lyles, Kentucky: Lyles scored 18 points in back-to-back games, giving Kentucky yet another player that can take over a game.
Notables: Obi Emegano (Oral Roberts), Nigel Johnson (Kansas State)
TEAM OF THE WEEK: Baylor Bears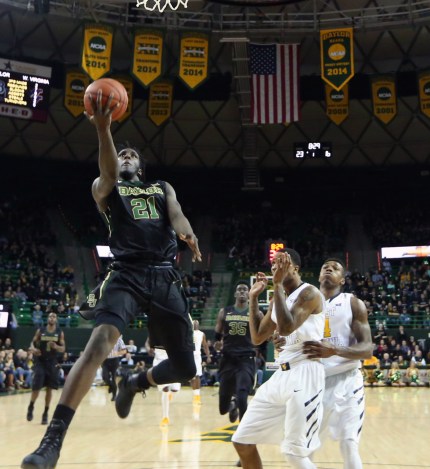 Baylor picked up one of the most impressive wins of the season on Wednesday night, as they went into Hilton Coliseum, one of the toughest road venues in the country, and knocked off Iowa State. They followed that up with an impressive win over a short-handed West Virginia team, putting Scott Drew's team in a great position to land a top three seed when the brackets are released in two weeks. I still feel like I don't really have a grasp on this team, but at some point, you have to respect a team that can get to the offensive glass and shoot the three the way that Baylor can.
THEY WERE GOOD, TOO
Kansas State: The Wildcats knocked off the two best teams in the Big 12 this week, picking off both Kansas and Iowa State in Manhattan. All of a sudden. Kansas State — despite having a 15-15 record — has a chance to go to the NCAA tournament.
BYU: The Cougars did what they needed to do in order to have a chance at earning an at-large bid, by going into Spokane and knocking off Gonzaga. They're not a lock for the tournament yet, but they're close.
Maryland: The Terps beat Michigan on Saturday, a win that followed up their upset of No. 5 Wisconsin on Tuesday night. Dez Wells and Melo Trimble were fantastic all week long.
Villanova: While the rest of the potential No. 1 sees seem to be limping their way into the NCAA tournament, Villanova is playing as well as they have all year long. They beat Providence by 28 points on Tuesday, following that up with a 12 point win at Xavier.
Wichita State: The Shockers smacked around Northern Iowa in Koch Arena on Saturday, a win that earned them the Missouri Valley regular season title.
Notables: Iowa, Arizona, Boise State
SET YOUR DVR
No. 16 Oklahoma at No. 12 Iowa State, Mon. 9:00 p.m.
No. 20 West Virginia at No. 8 Kansas, Tue. 9:00 p.m.
No. 9 Notre Dame at No. 17 Louisville, Wed. 7:00 p.m.
No. 8 Kansas at No. 16 Oklahoma, Sat. 4:00 p.m.
No. 2 Virginia at No. 17 Louisville, Sat. 6:30 p.m.
No. 4 Duke at No. 15 North Carolina, Sat. 9:00 p.m.