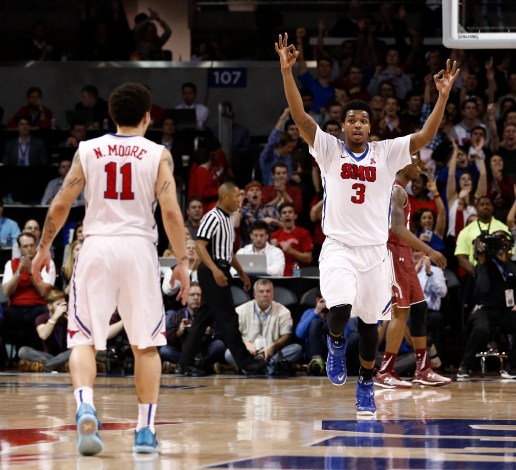 GAME OF THE DAY: No. 21 SMU at UConn, 2:00 p.m.
The first game of the day — late start today — features an intriguing American clash as we get to see how good SMU looks on the road against a talented but inconsistent UConn team. The Mustangs look like a different team with Markus Kennedy back and they're looking for their eighth consecutive road win on their way to a first NCAA Tournament appearance in 22 years.The Huskies, meanwhile, have won two straight after struggling some in the early portion of conference play. UConn is trying to avoid being the sixth NCAA champion to miss the tournament the following season since the field expanded to 68 in 1985.
FIVE THINGS TO WATCH FOR:
1. Michigan State entered Thursday as one of the hottest teams in the Big Ten. They will now enter the weekend having lost to Minnesota at home as they look to pull off the upset at No. 5 Wisconsin.
2. Staying in the Big Ten, Purdue travels to Ohio State for a matchup of two teams looking to further solidify their NCAA statuses. The Buckeyes will look to avenge a two-point loss at Purdue on Feb. 4 while the Boilers will look to stay hot, as they've won eight of their last nine games.
3. Stanford and Oregon is another intriguing bubble matchup of the third and fourth best teams in the Pac 12. These two have yet to face this season and matchup at guard between seniors Joseph Young (Oregon) and Chasson Randle (Stanford) should be fun to track.
4.  UCLA and Pitt are fighting for tournament berths and the duo will try to pick up victories in winnable games on Sunday. The Bruins host Washington State while things are a bit more difficult for the Panthers, as they travel to Wake Forest.
5. The only other ranked team playing on Sunday is No. 25 Providence as they host Marquette. The Friars just joined the top 25 but lost to Villanova earlier in the week and they'll look to avenge a Jan. 3 loss in Milwaukee to the Golden Eagles.
OTHER GAMES TO WATCH
Oregon State at Cal, 3:00 p.m.
Arizona State at Colorado, 8:30 p.m.