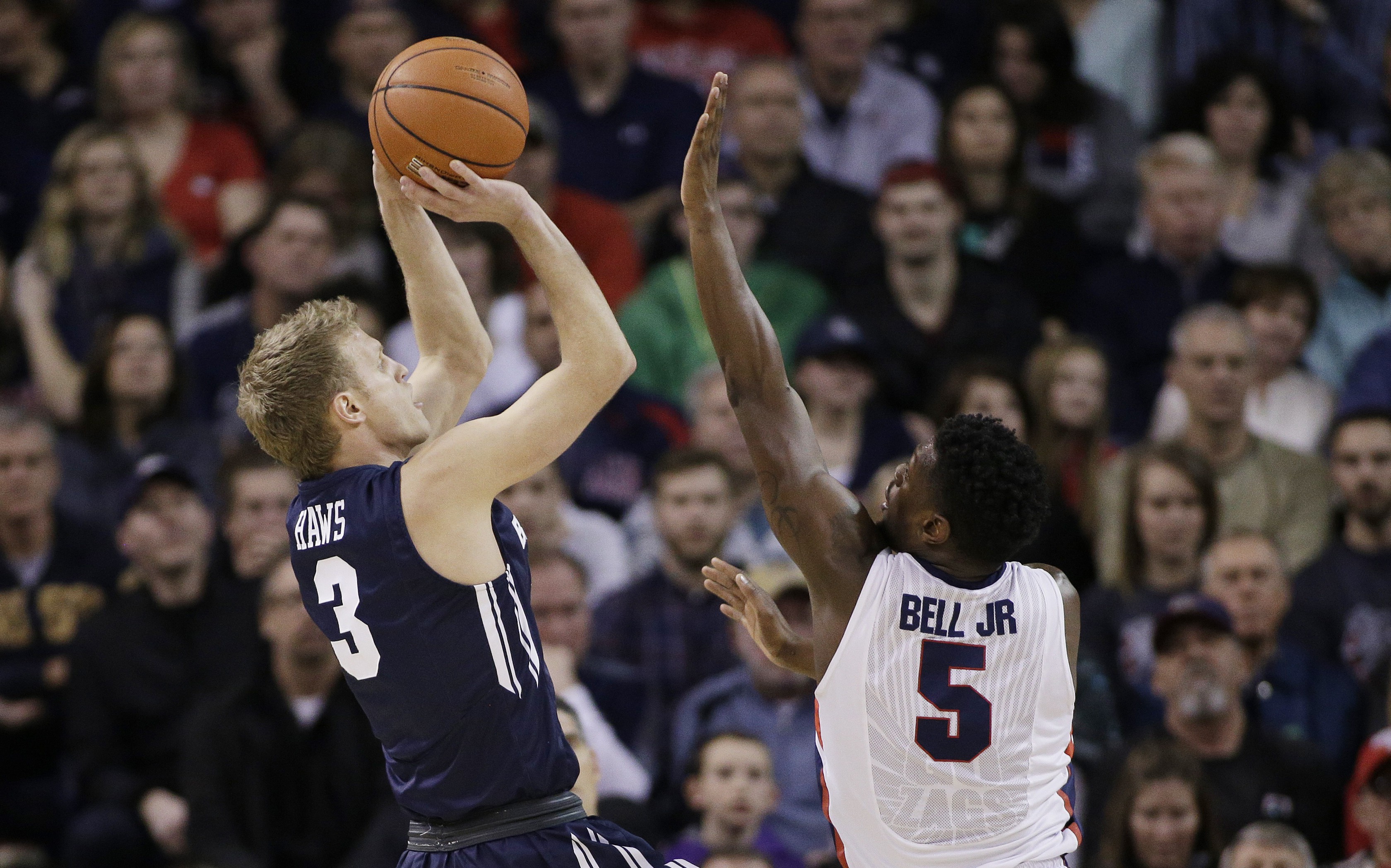 BYU ended all the angst about whether or not No. 3 Gonzaga will get a No. 1 seed earlier than we expected this year.
The Zags dug themselves an early hole and never broke out of their funk as they lost to BYU on Senior Night, 73-70. Kyle Collinsworth led the way with 20 points and nine boards with Skyler Halford added 14 points off the bench for the Cougars, who won despite getting just 3-for-11 shooting from Tyler Haws.
This is a win that the Cougars desperately needed to have any chance at making the NCAA tournament, but the real bracket shakeup is going to come at the top.
This loss likely drops Gonzaga out of the No. 1 seed conversation, at least for now. The way things currently stand, Villanova would jump the Bulldogs to join Kentucky, Virginia and Duke on the No. 1 seed line, with the Wildcats getting slotted as the top seed in the West Region.
That's when things start to get interesting.
Based on the way the potential No. 2 seeds — Wisconsin, Arizona, Gonzaga and Kansas — shake out, the Badgers seem like a near-lock to end up in the Midwest Region with Kentucky. Arizona is probably the second No. 2 seed, meaning that the Wildcats will be headed West, where the second weekend will be played in Los Angeles. That's a tough draw for Villanova, who will be flying across the country while watching the No. 2 seed in their region bring in fans by the busload.
That means Gonzaga — if they remain on that No. 2 seed line — is headed to the East or the South Region, where they will end up being paired with Duke or Virginia.
And while that matters, it's not necessarily the end of the world. Flying across the country isn't that much different from flying to Los Angeles, and I'm not convinced that it's worse to play Duke or Virginia — pending Justin Anderson's health — than a streaking Arizona team in their backyard.
But whatever.
None of that will matter if Gonzaga can't figure out why they've been struggling of late.
This may have been Gonzaga's first loss since December, but they've had more than their fair share of close calls. They struggled with San Diego at home this week. They dug a 17-point hole at St. Mary's last Saturday. Pacific, Pepperdine, San Francisco. Everyone gave the Zags a fight down the stretch.
And I get it. A team in the WCC can make their season with one upset of the Zags. Their gyms get packed, ESPN comes to town, it's an event. I can even talk my way out of judging them for the loss on Saturday. BYU was playing for their tournament lives. Gonzaga? They clinched two weeks ago and had the distraction of Senior Night festivities. Throw in Pangos and Wiltjer having off-nights, and this is what you get.
But if Gonzaga truly is a Final Four team, shouldn't they be able to handle it better than they have?
The bottom-line is this: It's been a while since we've seen the Zags at their best for a full 40 minutes. Will we see it in March?