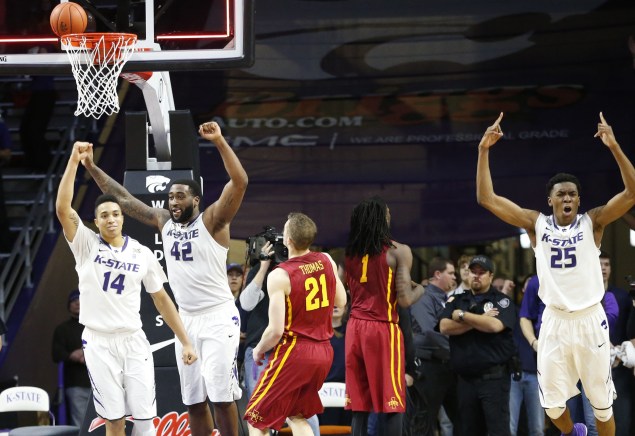 (This post will be updated as the day progresses.)
Let's talk about Kansas State for a minute, shall we?
The Wildcats knocked off No. 12 Iowa State today in Manhattan, their second straight massive upset of a Big 12 title contender. This isn't the first time that they have beaten good teams, either. The Wildcats have also swept Oklahoma, beaten Baylor and Oklahoma State at home, and knocked off Texas A&M on a neutral court. That's seven top 50 wins for those of you counting at home. All told, Kansas State is 7-10 against the top 50 and 8-11 against the top 100.
The problem?
The Wildcats are 15-15 on the season with four sub-100 losses, including games where they were tripped up at Long Beach State and at home against Texas Southern.
They needed to beat Iowa State just to get over .500 on the season.
Can we really call the Wildcats a bubble team?
At this point, probably not. Their RPI is too low, they have too many bad losses and, frankly, just too many losses period.
But compare this resume to Temple. The Owls have beaten Kansas … and that's it. They don't have another top 50 win. In fact, they've only played seven top 50 opponents all season long. They also have an ugly loss to St. Joe's on their resume.
What about Tulsa? The Golden Hurricane have just two top 50 wins on their resume — a sweep of, you guessed it, Temple — and four top 100 wins with losses to Oral Roberts and Southeast Oklahoma State, the latter of which technically doesn't count because it is a Division II school.
And then there is Texas A&M. As of today, the Aggies do not have a top 50 win, as their sweep of LSU doesn't look as good when the Tigers drop out of the top 50. A&M doesn't have any bad losses, however, which should tell you what the committee prioritizes.
Kansas State has work left to do. They play at Texas next week, a game they probably want to win. And it sure wouldn't hurt to pick up a win or two in the Big 12 tournament. But as crazy as it sounds, Kansas State has managed to put themselves into the bubble conversation this season.
WINNERS
Boise State: The Broncos are Saturday's biggest winners, as they completed a season sweep of San Diego State by going into Viejas Arena, one of the toughest places to play, and leaving with a win. The Broncos jump up to the right side of the bubble with the win, as the Aztecs are a top 25 win. Boise State now has three top 25ish wins and a 6-4 record against the top 100, although those three sub-100 losses are less than ideal. The Broncos can't slip up against San Jose State or Fresno State, but as of today, they're probably in the tournament. Considering where they were in December, that's an incredible accomplishment.
BYU: The Cougars got the win that they needed, going into Spokane and knocking off No. 3 Gonzaga, but their work isn't done yet. Gonzaga now has just one top 50 win on the season. This was their fourth top 100 win to go along with three sub-100 losses. If the tournament started today, BYU would be on the outside looking in.
St. John's: The Johnnies are all but in the tournament after beating Georgetown convincingly on Saturday. They won the two games they needed to win this week, and now have five top 50 wins and a 9-7 record against the top 100. The only reason they're not a lock yet? They still have to play at Marquette, and St. John's has a penchant for not playing up to their ability away from home. But even with a loss at Marquette and at Villanova in the finale, the Johnnies still might be in with a loss in the first round of the Big East tournament.
Dayton: Welcome to the tournament, Dayton. The Flyers won at VCU on Saturday, a top 15 road win that is now the highlight of an otherwise strong profile. They're now 22-6 on the season with six top 100 wins and just one bad loss — at Duquesne.
LSU: The Tigers picked up a key win on Saturday, completely a sweep of Ole Miss by knocking off the Rebels at home. LSU needs to collect all the quality wins that they can, as their profile has some holes. Namely, they have a non-conference schedule strength ranked in the 170s and three losses to sub-100 teams. They are 10-5 against the top 100, but just two of those 10 are in the top 45. Beat Tennessee at home and the Tigers should feel good about their chances.
Tulsa: The Golden Hurricane added a big win to their resume, going into Memphis and notching a come-from-behind win over the Tigers. Adding top 100 road wins at this point in the season never hurts, but the key for this group will be their next two games. They play Cincinnati at home and SMU on the road, a game that will have American title implications.
Texas A&M: The best thing that can be said about the Aggie win over Auburn is that it wasn't a loss. Without any top 50 wins on their resume, the Aggies cannot afford a bad loss. Auburn would have been a bad loss.
Georgia: The Bulldogs beat Missouri, which is important mostly because they already have four sub-100 losses on their resume. Georgia is probably in the tournament as of today, but they can lock up a bid next week when they take on Kentucky in Athens.
Iowa: The Hawkeyes went into State College and knocked off Penn State on Saturday, keeping them safely above the cut-line and out of real bubble danger. They'd be wise to at least split their last two games — at Indiana, home for Northwestern.
Davidson: The Wildcats picked up a big win against George Washington on Saturday, their seventh top 100 win of the season. The Wildcats are still very, very bubbly — their poor strength of schedule, a couple of bad loss and just one top 50 win will do that — but with a visit from VCU coming this week, they'll have an opportunity to play their way in.
Illinois: The Illini avoided a bad loss, smacking around Northwestern in Champaign. Unfortunately for Illinois, they're probably on the wrong side of the bubble right now, meaning that they cannot afford another loss during the regular season. They're 3-6 against the top 50 and 5-10 against the top 100, and while they have a pair of top ten wins, they won't have another chance to boost their profile until the Big Ten tournament.
Rhode Island: URI's slim hopes of getting an at-large bid are still alive after the Rams won at La Salle. It's their fifth top 100 win, but URI does not have a top 50 win. They do have two sub-100 losses, however. The Rams have to win out, and they probably need at least two wins in the Atlantic 10 tournament to have a real shot.
Cincinnati: The Bearcats beat Tulane in New Orleans, which is better than what they did when the Green Wave came to Cincinnati. The Bearcats are in a good spot, and as long as they win one of their final two regular season games — at Tulsa and home against Memphis — they should feel pretty good heading into the American tournament.
LOSERS
Texas: The Longhorns lost to Kansas on Saturday afternoon, a loss that has dropped them to 17-12 overall and just 6-10 in the Big 12 and will likely find themselves on the wrong side of many bubble projections come Monday morning. Four of those six wins came against TCU and Texas Tech, and with games left against Baylor and the now-streaking Kansas State, Texas could very easily finish the season 6-12 in the Big 12. It will be an interesting debate, Texas has no losses to teams outside KenPom's top 35, but they're just 1-12 against the RPI top 50. Should a team that doesn't lose to bad teams but cannot beat the best of the best deserve a bid to the tournament?
N.C. State: In the immortal words of one Jeffrey Borzello, "N.C. State and the bubble are never able to truly break up and go their separate ways." That sums up the Wolfpack's week pretty succinctly. After beating down North Carolina in Chapel Hill on Tuesday night, Mark Gottfried's club went up to Conte Forum to take on Boston College … and got blown out. That adds even more intrigue to a profile that really didn't need to get murkier. N.C. State has wins Duke and at Louisville and North Carolina. They have five top 50 wins and eight top 100 wins. But they're also 17-12 overall with a pair of sub-125 losses, including B.C. As of Friday, they were a No. 9 seed in our latest bracket. This loss could drop them a seed line. Maybe two. Word of advice to N.C. State: win at Clemson. Beat Syracuse. Don't risk it.
Oklahoma State: All of a sudden, the Pokes are in some trouble. After losing to Texas Tech on Saturday, Oklahoma State is now 17-11 overall and 7-9 in the Big 12, having lost their last four games. They have six top 50 wins — including three top ten wins — but they also have three sub-100 losses, including a pair in the last two weeks. They get TCU at home next week, which is a win they really need before going to West Virginia next weekend.
Ole Miss: The Rebels lost at LSU on Saturday, which is far from a killer loss. It probably won't even drop Ole Miss off of the No. 9-10 seed range where they are in most projections right now. But it does limit their margin of error. Andy Kennedy's club already has three sub-100 losses this season and still has to play at Alabama and Vanderbilt at home.
Xavier: The Musketeers lost to Villanova at home on Saturday, which is far from a killer loss. A win would have locked up a bid, but at this point, with four top 25 wins and four sub-100 losses, the Musketeers will be in if they beat Creighton next week. Lose, and they'll still be in a pretty good spot.
Miami: The Hurricanes missed on a chance to beat North Carolina in Coral Gables on Saturday, and while that certainly doesn't hurt their bubble standing, it doesn't help. And at this point, Miami needs all the help they can get. That win at Duke looks amazing, but it's basically the only thing keeping a team with four sub-100 losses and just one other top 60 win in the conversation. Miami needs to win at Pitt, win at Virginia Tech and beat a notable team in the ACC tournament to really have a chance.
STILL TO PLAY
Tulsa at Memphis, 8:00 p.m.
Boise State at San Diego State, 8:00 p.m.
Auburn at Texas A&M 8:30 p.m.
BYU at No. 3 Gonzaga, 10:00 p.m.