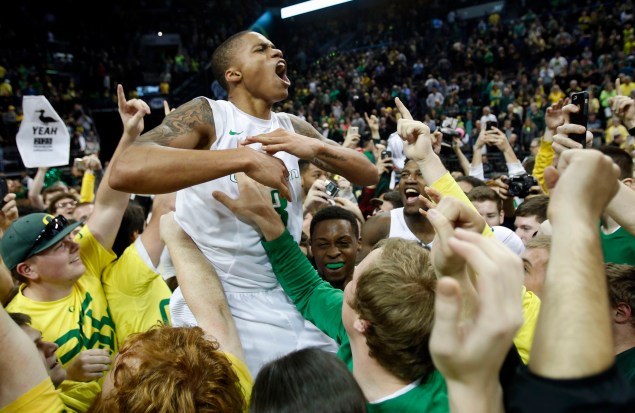 WINNERS
Oregon: The Ducks picked up a key road win against a bubble team, going into Palo Alto and knocking off Stanford on Sunday. The Ducks have an interesting profile. They have a marquee win — Utah at home — and a slew of good-but-not-great wins, racking up eight wins that fall in that 51-100 range. Two of their eight losses came against teams outside the top 100, but both of those were league games on the road. Their non-conference performance was completely forgettable, but at this point, as long as Oregon wins at least one more game — at Oregon State or in the first round of the Pac-12 tournament — I think they're in.
UCLA: The Bruins landed themselves a key, come-from-behind win on Sunday night, knocking off Washington State in Pauley Pavilion to avoid suffering what would have been a crushing blow to their at-large chances. As it stands, the Bruins are right there on the cut-line — probably on the outside looking in as of now — and with just a matchup with USC left on their schedule, Steve Alford is going to have some work to do in the Pac-12 tournament.
LOSERS
Stanford: The Cardinal looked like a team headed for the cut-line entering the weekend, and after losing at home to Oregon on Sunday, Stanford may be on the outside looking in right now. Here's the problem: they have just six top 100 wins, the best of which — at Texas — went from being elite when it happened to being a win over a team that looks like they're headed for the NIT. The Cardinal also have three sub-100 losses. I think Stanford needs a sweep of the Arizona schools next weekend to get into the tournament.
Purdue: Losing at Ohio State doesn't hurt the Boilermakers. Road losses to top 50 teams aren't necessarily bad for the resume. But Purdue is in a position where they aren't anywhere near a lock for the tournament. They're right there on the cut-line, in on some projections and out in the cold in others. With a pair of horrid losses — North Florida and Gardner-Webb at home — and no elite wins on their profile — the best is probably a win at Indiana — Matt Painter's club needs every win that they can get. They're at Michigan State and get Illinois at home next week. They have to win at least two more games this season.
Pitt: The Panthers may have ended any chance that they have of getting into the NCAA tournament without doing some serious work in the ACC tournament. The Panthers lost at Wake Forest on Sunday night, their third sub-100 loss on a resume that includes just a pair of quality wins, both of which came at home. The Panthers were well on the wrong side of the bubble entering the day. This won't help.