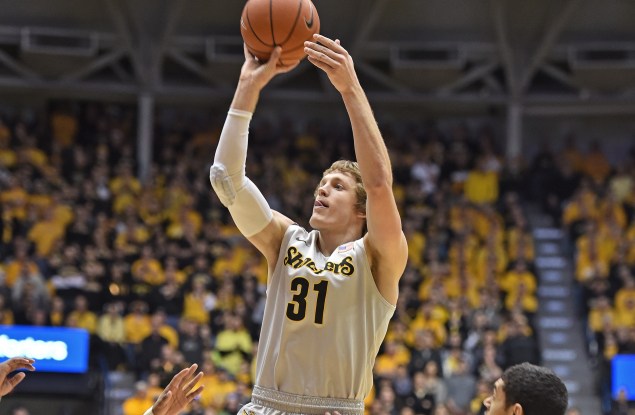 Wichita State had a statement to make, and outside of one five possession stretch in the second half, the Shockers did just that.
The Shockers knocked off the Panthers, 74-60, getting revenge for a beatdown they took last month in Cedar Rapids. And outside of a five possession stretch during the second half — when UNI hit four threes to go on a 12-0 run — this really wasn't all that much of a game.
Fred Van Vleet and Ron Baker led the way for Wichita State with a combined 30 points and 14 assists, and perhaps more impressively, they did that without committing a turnover against the team ranked No. 12 in the country defensive efficiency.
Van Vleet was particularly impressive, controlling the game, distributing the ball and hitting a number of huge shots. Oh, and this:
Wichita State also did a terrific job on Seth Tuttle, who took just two shots in the first half. He finished with 16 points, seven boards and six assists, but much of his damage was done after the Shockers opened up a 16-point lead.
To be frank, UNI walked into a buzzsaw.
The Shockers are veterans. They've been to a Final Four. They've gone undefeated through an entire regular season. Saturday's game was on national television, with Koch hosting Gameday and the Missouri Valley regular season title on the line. It's the biggest game that anyone on Northern Iowa has ever played, and for many it might end up being the biggest game they ever do play.
For Baker, Van Vleet and Tekele Cotton, this might fall in the top five.
And that was the difference on Saturday.
It would be disingenuous to say that Northern Iowa wasn't ready to play — they not only took an early lead, but they actually played fairly well — but this Wichita State team seems to embrace moments like this.
Whatever the case may be, Wichita State is once again the champion of the Missouri Valley, but remember: Northern Iowa solidly beat them this season.
If the basketball gods are feeling kind, they'll make sure that we get the grudge match in the finals at Arch Madness.