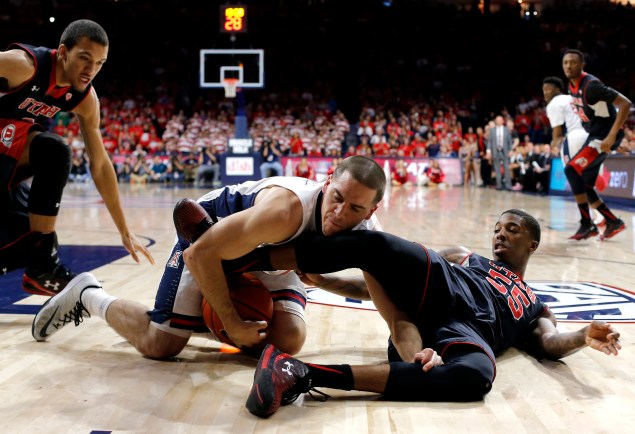 GAME OF THE WEEKEND: No. 7 Arizona at No. 13 Utah, Sat. 9:00 p.m.
When these two teams met in Tucson earlier this season, the Wildcats embarrassed the Utes and their all-american, Delon Wright. Don't think, for a second, that Utah has forgotten about that. With their Pac 12 title hopes on the line and the league's power coming into their building, Utah will be ready for this one. It helps that they've been playing some of their best basketball of the season of late, as their defense as been embarrassingly good. As in, they embarrass people. Ask Arizona State, who was down 41-9 at halftime on Thursday night.
THE OTHER GAME OF THE WEEKEND: No. 10 Northern Iowa at No. 11 Wichita State, Sat. 2:00 p.m.
Big games in the Missouri Valley are always going to be entertaining to watch, and this matchup will be no different. Both the Shockers and the Panthers are exceedingly well-coached defensive powerhouses that execute well offensively and count the three best players in the conference — Seth Tuttle, Ron Baker and Fred Van Vleet — on their rosters. Oh, and should I mention that this is the Missouri Valley championship game? Both teams are currently tied at 16-1 in the league.
With all due respect to Utah, Kentucky and Kansas, you will not find a better environment for a basketball game on Saturday than in Koch Arena.
FIVE OTHER GAMES TO WATCH
No. 18 Arkansas at No. 1 Kentucky, Sat. 4:00 p.m.: This will be the first time that Kentucky has faced a ranked team this year. Literally. The last time was in December, when they won at Louisville. This is not a great matchup for the Razorbacks, but their pressure might rattle Kentucky's back court.
Texas at No. 8 Kansas, Sat. 5:00 p.m.: The Longhorns are on the verge of playing themselves out of the NCAA tournament, while the Jayhawks were on the verge of playing themselves out of the Big 12 title race before Iowa State lost.
Michigan State at No. 5 Wisconsin, Sun. 4:00 p.m.: The Spartans entered Thursday as one of the hottest teams in the Big Ten. They will now enter the weekend having lost to Minnesota at home.
No. 20 West Virginia at No. 19 Baylor, Sat. 4:00 p.m.: Can we just call this the battle for Big 12 Coach of the Year?
Boise State as No. 24 San Diego State, Sat. 8:00 p.m.: The two best teams in the Mountain West Conference this season? Boise State needs this win to get onto the right side of the bubble, and with Derrick Marks playing like an all-american in league play, they might have a shot to do that.
WHO'S GETTING UPSET?: No. 6 Villanova at Xavier, Sat. 2:00 p.m.
The Wildcats are far and away the best team in the Big East this season, which says more about Villanova than it does the rest of the conference. Xavier is one of those teams in the next team, in the conversation with Georgetown, Providence and Butler as the second-best team in the league. The Wildcats can clinch the outright Big East title with a win, but the Musketeers are playing for the chance to avoid sweating out Selection Sunday.
UPSET WATCH
No. 17 Louisville at Florida State, Sat. 12:00 p.m.: Will Louisville struggle after a week full of Chris Jones drama, or will ridding themselves of that burden help them?
No. 12 Iowa State at Kansas State, Sat. 4:00 p.m.: Kansas State can beat anyone in the Big 12 — ask Oklahoma and Kansas — but the Cyclones are coming off of a home loss to Baylor. Will they be looking to make a statement?
No. 15 North Carolina at Miami, Sat. 2:00 p.m.: Miami desperately needs this win if they are going to get an at-large bid, and the Tar Heels have had some issues this season. Which Angel Rodriguez will show up on Saturday?
Dayton at No. 22 VCU, Sat. 2:00 p.m.: This isn't an ideal matchup for the Flyers, as they don't have much depth at all, which is a difficult thing to deal with against Havoc. But the Flyers are tied for first in the conference despite playing with just six scholarship players.
BYU at No. 3 Gonzaga, Sat. 10:00 p.m.: Gonzaga isn't playing for much — NCAA tournament seeding, that's it — while BYU is essentially playing for their at-large life.
FIVE MORE STORY LINES
1. There is one games on NBCSN and Live Extra this weekend: Rhode Island at La Salle, Sat. 12:30 p.m.
2. Games with Bubble Implications
Cincinnati at Tulane, Sat. 2:00 p.m.
Missouri at Georgia, Sat. 12:00 p.m.
Georgetown at St. John's, Sat. 12:00 p.m.
N.C. State at Boston College, Sat. 12:00 p.m.
Ole Miss at LSU, Sat. 2:00 p.m.
Oklahoma State at Texas Tech, Sat. 4:00 p.m.
Iowa at Penn State, Sat. 6:00 p.m.
George Washington at Davidson, Sat. 7:00 p.m.
Northwestern at Illinois, Sat. 7:00 p.m.
Tulsa at Memphis, Sat. 8:00 p.m.
Auburn at Texas A&M, Sat. 8:30 p.m.
Pitt at Wake Forest, Sun. 6:30 p.m.
Oregon at Stanford, Sun. 7:00 p.m.
Purdue at Ohio State, Sun. 7:30 p.m.
Washington State at UCLA, Sun. 9:30 p.m.
3. Wild regular season finishes: The CAA, the Big South and the Horizon all have at least four teams that can win a share of the regular season title, depending on how the games this weekend play out.
4. Syracuse at No. 4 Duke, Sat. 7:00 p.m.: The last time these two played in Cameron Indoor Stadium, this happened.
5. Manhattan at Iona, Fri. 7:00 p.m.: The nation's most underrated rivalry.