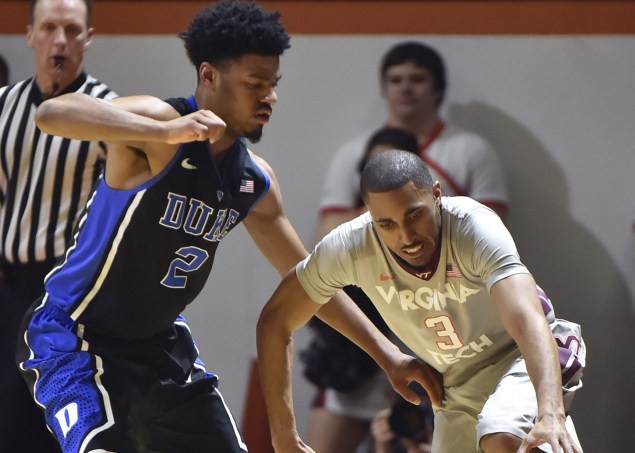 Jahlil Okafor finished with 30 points and nine boards — seven of them offensive — on 13-for-18 shooting from the floor as No. 4 Duke knocked off Virginia Tech in Cassell Coliseum on Wednesday night.
Okafor came into the game listed as questionable due to the ankle sprain that he suffered in Duke's win over North Carolina, the same injury that forced him to miss Saturday's win over Clemson. And he still managed to completely dominated Virginia Tech on the offensive end of the floor.
The problem?
He was, once again, not a factor defensively, and it almost cost the Blue Devils a win.
Again.
Virginia Tech hit a bagillion threes — 12-for-22 to be exact — and shot 53.9 percent from the floor as they lost to Duke in overtime, 91-86. The Hokies had a shot to beat Duke in overtime, a shot that came after Okafor missed a pair of free throws with 20 seconds left.
This is a problem that has manifested itself over and over again for the Blue Devils this season. Their perimeter defense has been exposed over and over this season; it was the driving force behind the losses to N.C. State and Miami, and it was Jerian Grant's takeover in the final minutes that cost them a win at Notre Dame.
Over the past month, it looked like they had at least improved on that end. They slowed down Jerian Grant, Marcus Paige and Xavier Rathan-Mayes (who did this on Wednesday) by using Quinn Cook to face-guard them. They tried that at times against the Hokies, but it was not as effective as it had been in the past.
Take a look at this play, where Cook is glued to Jalen Hudson, who had 23 points and six assists. Winslow gets beat on a cut ball-side, and as Malik Muller goes to the rim, Tyus Jones simply waves at him as he goes by instead of helping on the drive and Jahlil Okafor is doesn't get over to challenge the shot or cut off the lane to the rim:
I mean, that's just awful defense all-around.
And it's that defense that makes me question whether to put the Blue Devils in the same conversation as Virginia, Wisconsin, Gonzaga and Arizona when it comes their chances of being able to beat Kentucky this season.
Duke is really, really good offensively, but they needed to score 91 points to beat Virginia Tech. That's not a good sign.