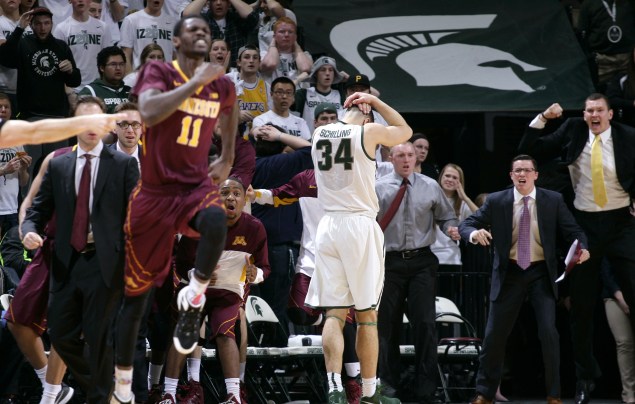 WINNERS
Ohio State: The Buckeyes are probably safe now that they've gotten past Nebraska. They have just two top 50 wins, but they're 6-8 against the top 100 and the only potentially "bad" loss left on their schedule is a road trip to Penn State. If the Buckeyes don't pick off Wisconsin in their season finale, this team has the makings of one that will wind up in a 8-9 or 7-10 game, and having to get through D'Angelo Russell to make it to the second weekend is going to be a scary prospect for any No. 1 or No. 2 seed.
Temple: The Owls sidestepped what would have been a disastrous loss to Houston, and they're going to have to do the same next week when they play at East Carolina, because right now, so much of Temple's profile hangs on that win over Kansas. They're 1-6 against the top 50 with six top 100 wins and a pair of sub-100 losses. They can't afford to add a sub-250 loss to that profile, win over Kansas or not.
Purdue: The Boilermakers avoided a loss to Rutgers, which would have been a killer blow to their profile. Purdue has four top 50 wins, an 8-6 record against the top 100 and are sitting at 11-4 in the Big Ten, good for a tie for second place. They're playing some of the best basketball in the country, having won eight of their last nine games. Right now, Purdue is a tournament team, but "right now" doesn't change what happened in November and December, when the Boilermakers lost to three sub-100 opponents — including Gardner-Webb and North Florida at home — and played a non-conference schedule that ranks 238th nationally. Purdue plays at Michigan State, at Ohio State and at home against Illinois down the stretch. They're on the cut-line right now, but they'll have chances other bubble teams will to change that.
Stanford: The Cardinal still have a lot of work to do to lock up a bid, but they took a step in the right direction on Thursday with a win over Oregon State at home. It's just their seventh top 100 win on the season — none of which are in the top 40 — to go along with three sub-100 losses. The Cardinal still have Oregon at home and a road tip to the Arizona schools left on their schedule. They're on the cut-line as of today, but they'll have chances to lock up a bid.
BYU: The Cougars beat Portland on Thursday, which was a necessary step heading into their showdown at Gonzaga on Saturday. BYU had to win that game — and probably do some work in the WCC tournament — if they're going to have a real shot at an at-large bid.
LOSERS
Michigan State: The Spartans are probably going to make the NCAA tournament. Let me get that out of the way first. But after losing to Minnesota on Thursday night, I think that it's fair to say that the Spartans are not quite as safe as they may seem. They have just two top 50 wins and are just 6-6 against the top 100 with a pair of sub-100 losses, including the disaster that was their home loss against Texas Southern. Those three wins against Ohio State, Michigan and Illinois in the last two weeks were huge, losing to Minnesota isn't a killer, and Michigan State doesn't have any more potential bad losses on their schedule. But if they don't want to sweat things out on Selection Sunday, I'd strongly recommend picking up another win or two.
LEFT TO PLAY
Oregon State at Stanford, 11:00 p.m.