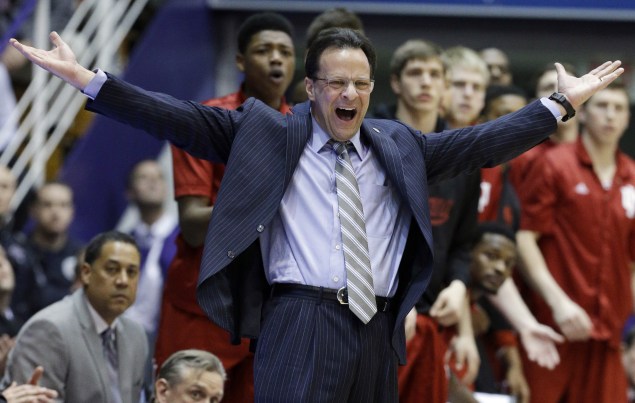 WINNERS
Davidson: The Wildcats landed a big win on Wednesday, both for their bubble hopes and for their A-10 title hopes. They went into the Ryan Center and knocked off Rhode Island, putting them in a tie — with URI — for first place in the league standings. The win also moves them a step closer to the bubble, adding a top 100 road win is not a bad thing, but they're still a ways away from the cut line.
Miami: The Hurricanes avoided a disastrous loss against Florida State, but it may have been too little, too late. Miami has an RPI that's approaching the 70's, four sub-100 losses and just two top 50 wins. The only reason they're still in the conversation? That win at Duke. That glorious, glorious win at Duke. Saturday's loss at Louisville, where Miami blew a big first half lead and had a chance to win at the buzzer, is going to really, really hurt. The Hurricanes have to beat North Carolina on Saturday.
Dayton: The Flyers avoided a potential stumbling block in George Mason, but after getting beaten by Duquesne last weekend, Dayton has yet to lock up a bid. The good news? All of their final three games — at VCU, Rhode Island, at La Salle — are potential good wins.
Georgia: The Bulldogs won at Ole Miss, picking up a top 50 road win they desperately needed to add to their resume. Georgia now has three top 50 wins and an 8-5 record against the top 100 to go along with their four sub-100 losses. They're in as of today, and probably avoid the play-in game, but they're not safe enough to be able to withstand a loss to Missouri or Auburn. The Bulldogs also get one more shot at Kentucky at home, a win that would lock up their bid.
Iowa: Have the Hawkeyes finally figured things out? Back-to-back blowout wins led to Wednesday's 68-60 win over Illinois, which didn't do all that much to solidify Iowa's tournament standing. The important thing, however, is that their stretch of five losses in seven games is now a fairly distant memory. Iowa has three games left this season, and while they've got a bit of a cushion on the rest of the bubble, a remaining schedule that includes two sub-100 teams — and a reputation for inconsistency and collapses — means nothing is certain.
Oregon: Sunday's win over Utah was the game-changer for the Ducks, a marquee victory that they could hang their otherwise-mediocre profile on. That win bumped them up into most bracket projections with some room to spare, but they're hardly a lock even after winning at Cal on Wednesday. With road trips left against Stanford and Oregon State, there is still the chance to slip-up. Neither of those losses are bad losses, however, and with an 8-7 record against the top 100 — and just one bad loss, at Washington State — Oregon probably needs just two more wins, either in the regular season of the Pac-12 tournament, to assure themselves a ticket to the dance.
UCLA: The Bruins are in a much tougher position that the Ducks, as they whiffed on their chance to land an elite win over the weekend. Beating Washington on Wednesday gets them to 17-12 on the season, but with just two top 50 wins and a 7-11 record against the top 100 — and no top 100 opponents left — the Bruins have to win out and win in the Pac-12 tournament to have a chance.
Tulsa: The Golden Hurricane smacked around Tulane on Wednesday night, keeping pace with SMU atop the American standings. Avoiding that loss was almost as big as landing a win over Temple over the weekend. Tulsa's at-large bid will be earned in their final three games, as they play at Memphis, Cincinnati and at SMU. On the season, Tulsa has just two top 50 wins (both Temple), four top 100 wins and one really bad loss at Oral Roberts. They're going to be in the last four in or first four out of every bracket projection you see.
Colorado State: The Rams beat San Jose State on Wednesday. They still need to survive trips to Nevada and Utah State. They only have two top 50 wins and four top 100 wins, but a 22-5 record and good computer numbers should be enough to get them in barring a slip-up.
Cincinnati: The Bearcats avoided their second straight land mine by knocking off Central Florida on Wednesday night, and they'll need to get past one more — at Tulane — before they're done. The Bearcats have five top 50 wins, which puts them a cut above the rest of the bubble, but thanks to losses to East Carolina and Tulane this month, they still have work to do.
LOSERS
Indiana: The Hoosiers lost on Northwestern on Wednesday, meaning that they we are back to mentioning them in Bubble Banter. It's the first bad loss on Indiana's profile, and with five top 50 wins and eight top 100 wins on their resume, there is a lot to like here. Win one of their last two — home for Iowa and Michigan State — and the Hoosiers will be fine. Lose out, and lose in the first round of the Big Ten tournament, and things will get interesting.
Illinois: The Illini have now lost three straight after falling at Iowa, putting them at 17-11 overall and 7-8 in the Big Ten. They need to go at least 2-1 down the stretch — Northwestern, Nebraska, at Purdue — to keep themselves in a good position, but I'm not sure that a sweep will be enough to lock them into a bid before the league tournament starts.
Ole Miss: The Rebels lost to Georgia at home, a loss that hurts them less than it helps the Bulldogs. Ole Miss is pretty safe in a lot of brackets, but I think the Rebels are at more risk than some folks realize. They have just three top 50 wins and three sub-100 losses.
Rhode Island: Rhode Island lost to Davidson at home, a loss that really hurts their chances of making up ground on the teams in front of them in bubble standing. The good news? They still have top 100 road games at La Salle and at Dayton on their schedule. The bad news? They need to beat good teams on the road in league play to really have a chance at an at-large bid.
UMass: If the Minutemen weren't finished already, they are now after losing to St. Joe's.