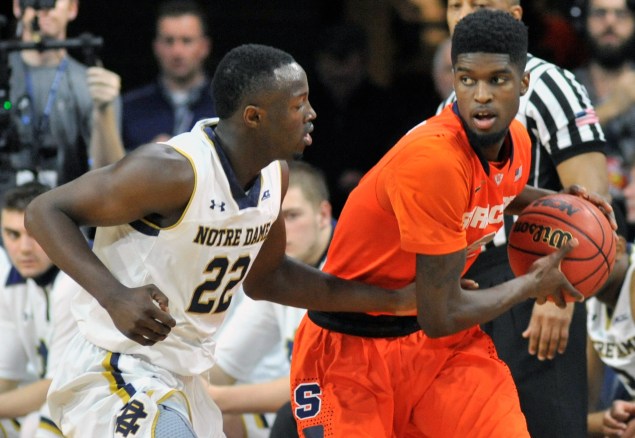 It's been stated plenty of times that Syracuse has nothing to play for after its self-imposed sanctions earlier this year, but the Orange are still putting forth plenty of admirable efforts in the ACC.
Tuesday night was the latest example. With senior center Rakeem Christmas in foul trouble, Syracuse still pulled off an impressive and improbable 65-60 road win over No. 8 Notre Dame.
The Irish went ice-cold from the 3-point line as they were 3-for-22 from there and the Orange had 19 points from B.J. Johnson. Christmas tallied 14 points in limited minutes and fouled out in the second half.
Jerian Grant was held to only 2-for-9 shooting from the field and 0-for-6 shooting from the 3-point line as the Irish had 13 points and 15 rebounds from Pat Connaughton.
By winning on Tuesday, Syracuse moved to 18-10, 9-6 in the ACC. While many were quick to dismiss the NCAA Tournament sanctions because the Orange weren't supposed to make the dance this season, they could easily be in the bubble picture if their own school didn't take it away from them.
It's too bad Syracuse can't compete in the ACC Tournament next month, because we won't see what they're capable of after a solid recent stretch in conference play.