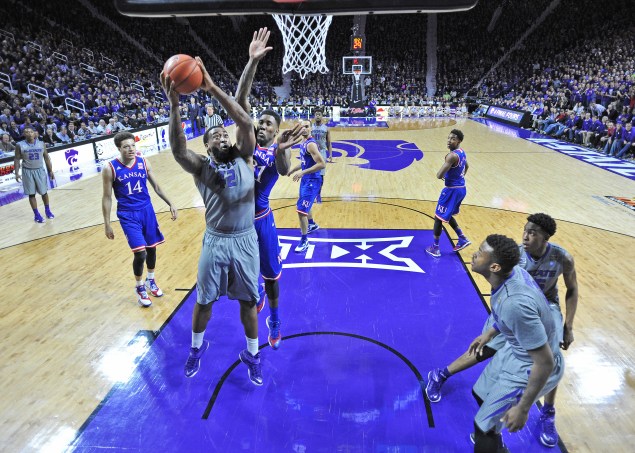 The home win for Kansas State over No. 8 Kansas was a huge win for Bruce Weber's team in the rivalry. Unfortunately, the win was overshadowed a bit by a fan who bumped into Kansas forward Jamari Traylor.
A man identifying himself as the person responsible for bumping Traylor publicly revealed himself on Tuesday.
Nathan Power wrote a letter to the editor in The Collegian that acted as an apology to everybody involved.
Here it is, in full:
K-State friends, I was the individual identified as the fan who bumped Jamari Traylor during the court storm following K-State's victory over KU. I want to take this moment to share a sincere apology in breaking from the Wildcat way and stepping outside what is acceptable in the spirit of the game. Following the basketball game I simply let my emotions get the best of me in all of the chaos. In my excitement I was not careful of the people I was around. I am sorry that I made the KU basketball team—Jamari Traylor in particular—feel disrespected. By no means can I change what took place but in the future I will be aware of how emotions can impact good judgment.
It's a stupid decision by anybody to touch a player for simply participating in a game, but Traylor should also be commended for keeping his cool in such a heated situations. Plenty of athletes (and people) have reacted far worse for simpler things and he did a good job of just letting it go.
As for Power, he shouldn't be allowed to attend games if he can't act responsibly. It's commendable that he apologized, but the rest of the population seems aware not to touch the participants when they attend a sporting event.