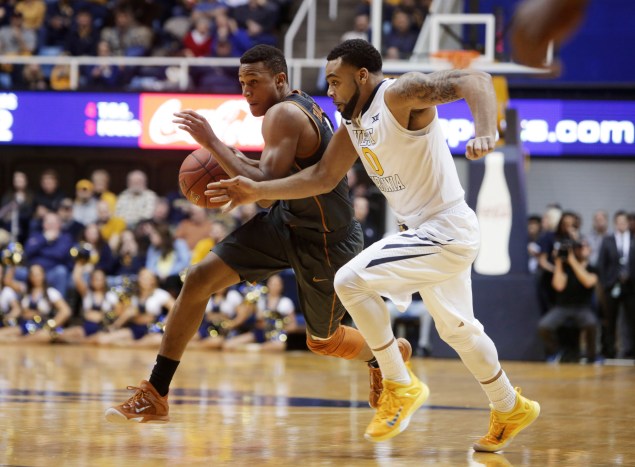 IMPORTANT OUTCOMES
1. N.C. State 58, No. 15 North Carolina 46
Earning a humongous win for its NCAA Tournament cause is the Wolfpack, who got 15 points from Cat Barber and 14 points each from Ralston Turner and Trevor Lacey. The ACC road win over the rival Tar Heels gives Mark Gottfried's team a major boost. Marcus Paige only had eight points on 3-for-8 shooting while Kennedy Meeks led the Tar Heels with 12 points and 14 rebounds. His offensive numbers weren't huge, but Beejay Anya was a solid rim protector for N.C. State with six blocks, six rebounds and five points.
2. Syracuse 65, No. 8 Notre Dame 60
The Orange held on despite losing star senior Rakeem Christmas to foul trouble as the Irish went ice cold from the perimeter at home against the Syracuse zone. Notre Dame was 3-for-22 from 3-point range as Jerian Grant was 2-for-9 from the floor and 0-for-6 from distance. The Orange had 19 points and six rebounds from B.J. Johnson in the win.
3. No. 14 Maryland 59, No. 5 Wisconsin 53
The Terps won a big one over a top-five team in their building as they made plays down the stretch thanks to Dez Wells and Melo Trimble. That duo combined for 42 of Maryland's 59 points and consistently attacked the Wisconsin defense. The Badger guards really struggled and didn't provide much offense as Josh Gasser and Bronson Koenig combined to go 3-for-17 from the field.
4. No. 20 West Virginia 71, Texas 64
The Mountaineers jumped out to an early lead and held on for most of the game from there. Devin Williams led the way with 14 points and seven rebounds as West Virginia forced 17 Texas turnovers. The Longhorns
5. No. 6 Villanova 89, No. 25 Providence 61
This one wasn't even close, especially in the second half as the Wildcats had 55 points in that frame alone. Darrun Hilliard had 24 points and Villanova's defense held Kris Dunn to 2-for-10 shooting and LaDontae Henton only finished with 12 points.
STARRED
1. LSU's Jarell Martin
A very strong outing for the sophomore big man in a LSU road win at Auburn. Martin went for 25 points on 11-for-17 shooting and 12 rebounds. The Tigers are now 20-8 and 9-6 in the SEC.
2. Maryland's Dez Wells
The baseline dunk Wells threw down around the four-minute mark of the second half was fantastic and he also had 26 points, seven rebounds and four assists to lead the Terps in all three categories in a win over Wisconsin.
3. Missouri's Namon Wright
Big win for the Tigers over Florida. Missouri desperately needed some kind of good news in the wake of the recent suspensions and losing. Wright went for 28 points on 10-for-13 shooting and 6-for-8 from 3-point range.
STRUGGLED
1. Wisconsin's guards
The Badgers had mediocre efforts from starting guards Josh Gasser and Bronson Koenig combined to go 3-for-17 from the field as they only scored nine points. Considering Maryland freshman Melo Trimble went for 16 on his own, that's a huge key in the Terps win.
2. Providence's Kris Dunn
A point guard, Dunn had an okay floor game, but was only 2-for-10 as a shooter, finishing with four points and six turnovers as Providence was blown out by Villanova.
3. Texas' Jonathan Holmes
The senior was ejected late in the first half for an elbow against West Virginia. He only finished with six points on 2-for-3 shooting as the Longhorns lost.
NOTABLES
No. 18 Arkansas jumped out to a 23-point halftime lead on Texas A&M but only won by six points at home. Bobby Portis had 22 points and four rebounds. The Aggies had 28 points from Danuel House that helped them get back into the game.
Pitt knocked off Boston College as Jamel Artis had 24 points and Michael Young had 22 of his own. The Panthers won despite 39 points from Olivier Hanlon.
Alabama picked up a win against South Carolina as Levi Randolph had 17 points, six rebounds and five assists.
Creighton knocked off DePaul for a Big East road win as James Milliken had 18 points.
Utah State rolled past UNLV as Chris Smith had 20 points. The Aggies shot 54 percent from the field.
MAC West leaders Central Michigan won on the road at Eastern Michigan as John Simons had 23 points and seven rebounds.
Bowling Green picked up a nice MAC road win at Ohio as Spencer Parker had 19 points and 10 rebounds.
Buffalo also won in the MAC against Akron as Justin Moss had 25 points and 13 rebounds.
Western Michigan got past Ball State in the MAC as Connor Tava led with 13 points.
Miami (OH) had a comeback to beat Kent State in overtime as Eric Washington had 25 points.
Northern Illinois at Toledo was postponed to a later date.
McNeese State ran past Central Arkansas as Keelan Garrett had 25 points.
Ehab Amin had 16 points to lead Texas A&M-CC over Abilene Christian in the Southland.
Dominique Reid had 20 points to put Niagara past Canisius in the MAAC.