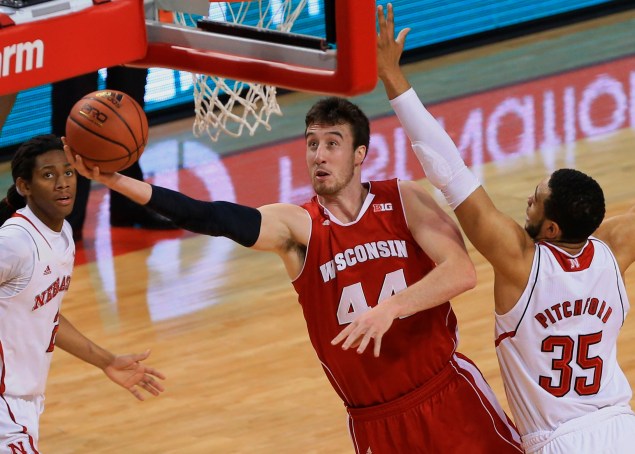 1. Frank Kaminsky, Wisconsin: A quick update on Kaminsky's potentially historic season. Wisconsin has slid back a bit in recent weeks and is now on pace to be just the fourth most efficient offense in the KenPom era (2002-2015). Kaminsky is still putting up ridiculous numbers, however, with an offensive rating of 126.3 while using 27.5 percent of Wisconsin's possessions when he's on the floor.
2. Jahlil Okafor, Duke: I've said numerous times in this space that Okafor has the offensive skill set to one day become an all-time great big man. Here are three reasons why:
That's a 6-foot-11, 270 pound 19-year old making those moves. Are you kidding me?
3. Jerian Grant, Notre Dame: The Irish are 24-4 on the season and are going to finish the season as a top four team in the ACC despite having a defense ranked 165th in adjusted efficiency, according to KenPom, and playing almost half of every game with a lineup that uses 6-foot-5 Bonzie Colson as the center. It's incredible how much better Grant makes everyone on that team. He's still not getting enough attenion, so I'm just going to leave this right here.
4. D'Angelo Russell, Ohio State: Russell has not been great in four of his last five games, and our Scott Phillips does a good job of breaking that down right here.
5. Willie Cauley-Stein, Kentucky: Josh Richardson is Tennessee's best player this season. A 6-foot-6 wing, he is averaging 15.7 points and 3.6 assists while shooting 36.5 percent from three. He also runs the point for the Vols from time-to-time. On Tuesday night, when Kentucky played at Tennessee, Cauley-Stein — Kentucky's 7-foot-1 center — drew the assignment of covering Richardson, who finished 4-for-14 from the floor:
He also drew the assignment of covering Auburn's K.T. Harrell. Cauley-Stein might be the best defensive center in the country. He might also be the best perimeter defender in the country. He can single-handily take any advantage an opposing team has when they run a screen-and-roll by his ability to switch out onto ball-handlers.
6. Delon Wright, Utah: The Utes fell at Oregon over the weekend, putting their Pac-12 title hopes in jeopardy, but that shouldn't take any of the luster off of the season that Wright is having. We've discussed this before, but one of the things that makes Wright so efficient offensively despite the fact that he doesn't make many threes is that he's incredible at getting to the rim and finishing over bigger players. If you didn't believe me, here's some visual proof:
7. Kris Dunn, Providence: Dunn had 21 points, four boards, four assists and four steals in last week's win over DePaul, a relatively mediocre win for the guy that should be in everyone's college basketball FanDuel lineups whenever he is suiting up. But he also had six turnovers in that game, which is not all that surprising considering that he is averaging 4.2 turnovers on the season. Is that the reason that he doesn't show up on more Player of the Year listings?
8. T.J. McConnell, Arizona: This isn't necessarily going to be about T.J. McConnell, but I wanted to take the chance to highlight a brilliant coaching move from Sean Miller over the weekend. With Arizona locked in a tight game at home against UCLA, Miller noticed that the Bruins had switched to a 3-2 zone late in the second half. Kevon Looney, who was killing the Wildcats in the second half, was playing at the top of the zone. He also had four fouls, so Miller called for a set play — one he likely implemented that week while prepping for the game — where Stanley Johnson and Gabe York set in-screens on the two wings, leaving Looney to guard McConnell 1-on-1. McConnell goes by him and draws Looney's fifth foul, getting the potential lottery pick out of the game:
9. Seth Tuttle, Northern Iowa: As long as the Panthers and Wichita State can get past their midweek games, they'll head into Saturday — the final game of the regular season — tied for first place in the Missouri Valley. On a Saturday with some unreal matchups, that might end up being the best of the day.
10. Kyle Wiltjer, Gonzaga: The only reason Justin Anderson isn't listed here is because he's dealing with that broken finger, but don't let that take away from the season that Wiltjer has had. He's 17.4 points and 5.8 boards he's averaging while shooting 46.9 percent from three is impressive in and of itself, but when you look at his efficiency numbers is when it goes from good to great. Wiltjer's offensive rating, according to KenPom, is 132.1, an insanely high number before you even consider the fact that he's using 26.3 percent of Gonzaga's possessions. Only one other player since 2004, when KenPom started keeping track of these numbers, has had an offensive rating above 130 while using at least 24 percent of his team's possessions.
If Wiltjer wasn't such a question mark on the defensive end, he'd be much higher on this list.
OTHERS THAT WERE CONSIDERED: Justin Anderson (Virginia), Ron Baker (Wichita State), Ryan Boatright (UConn), Rakeem Christmas (Syracuse), Kyle Collinsworth (BYU), Tyler Haws (BYU), Buddy Hield (Oklahoma), Stanley Johnson (Arizona), Jarell Martin (LSU), Jordan Mickey (LSU), Larry Nance Jr. (Wyoming), Georges Niang (Iowa State), Kevin Pangos (Gonzaga), Bobby Portis (Arkansas), Juwan Staten (West Virginia), Melo Trimble (Maryland), Seth Tuttle (Northern Iowa), Brad Waldow (St. Mary's), Joseph Young (Oregon)