PLAYER OF THE WEEK: Quinn Cook, Duke
Jahlil Okafor is the guy that has been getting all the attention this season, climbing up the National Player of the Year rankings and mock drafts. Tyus Jones and Justise Winslow have taken their turns as being labeled Duke's key, or their x-factor, or their secret to success. The guy that hasn't gotten any credit for just how good this team has been is Quinn Cook, and while he's not as dominant as Okafor or as slick as Jones or as athletic as Winslow, he's every it as, if not more important that any of those three.
Let's go beyond the fact that he is a senior point guard that was willing to check his ego and left a freshman come in and take his starting spot. And let's also gloss over the fact that he's been Duke's most consistent perimeter scorer and shooter, knocking down 40.7 percent of his threes. He's also now playing the role of shut-down defender for the Blue Devils, taking the lead as Duke kept Marcus Paige to five points and 2-for-11 shooting in a win over North Carolina on Wednesday.
And should I mention that he had 22 points against UNC, and 27 points in a win over Clemson in which Okafor didn't play?
READ MORE: New Bracket! | Monday's Top 25
THE ALL 'THEY WERE GOOD, TOO' TEAM
Kyle Wiltjer, Gonzaga: Wiltjer had a career-high 45 points, six boards and four assists on Thursday night as Gonzaga clinched a share of the WCC title. On Saturday night, Wiltjer 16 points, 12 boards, two steals and two blocks, making two huge threes and a handful of big defensive plays down the stretch, as Gonzaga came from 17 points down to knock off St. Mary's on the road.
Stefan Moody, Ole Miss: In two wins that kept the Rebels on the right side of the bubble, Moody averaged 25.5 points, shot 14-for-23 from three and amassed 10 total steals.
Juwan Staten, West Virginia: Staten had 20 points, four assists, no turnovers and the game-winning basket in a win over Kansas on Monday and followed that up with 22 points and seven assists in a win at Oklahoma State.
Danuel House, Texas A&M: In wins over LSU and South Carolina, House averaged 22.5 points, 5.5 boards, 2.5 assists and 2.0 blocks while hitting 10-for-17 from three.
Jalan West, Northwestern State: West had 36 points and the game-winner on Saturday, which followed up a game where he finished with 10 points and 11 assists.
Notables: R.J. Hunter (Georgia State), Melo Trimble (Maryland),
TEAM OF THE WEEK: West Virginia Mountaineers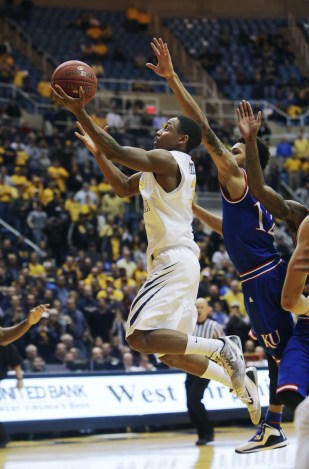 I'm not saying that West Virginia was ever in any real danger of missing the NCAA tournament, but after a loss to Iowa State on Valentine's Day, Bob Huggins' team was just 7-5 in the Big 12, having lost three of their last four games and having landed just a single win over one of the seven Big 12 teams competing for a tournament spot. To make matters worse, WVU had to play their final six games of the regular season against the best teams in the conference, with two of those games coming against Kansas.
There was the potential for collapse, but that didn't last for long. West Virginia not only knocked off Kansas at home last Monday, but they came back with a resounding win at Oklahoma State — a gym that Kansas lost in earlier this month — on Saturday. All of a sudden, the 'Eers are tied for third in the loss column in the conference, just two games back of the Jayhawks.
THEY WERE GOOD, TOO
Xavier: The Musketeers went a long way towards securing an NCAA tournament berth this week as they not only beat Cincinnati on the road, they followed that up with a blow-out win over Butler on Saturday.
Davidson: The Wildcats won at George Washington and followed that up with a win over Fordham at home, two wins that keep Davidson in the bubble picture.
Michigan State:
New Mexico State: The Aggies clinched the WAC regular season title this week with road wins over Utah Valley and Grand Canyon, the second-best team in the league.
North Carolina Central: The Eagles clinched a share of the MEAC title over the weekend, and barring a collapse — they're up three games with three games left, all against teams in the bottom half of the league — they'll win a second straight outright league title.
SET YOUR DVR
No. 5 Wisconsin at No. 16 Maryland, Tue. 7:00 p.m.
No. 20 Baylor at No. 14 Iowa State, Wed. 9:00 p.m.
No. 11 Northern Iowa at No. 13 Wichita State, Sat. 2:00 p.m.
No. 18 Arkansas at No. 1 Kentucky, Sat. 4:00 p.m.
No. 7 Arizona at No. 9 Utah, Sat. 7:00 p.m.