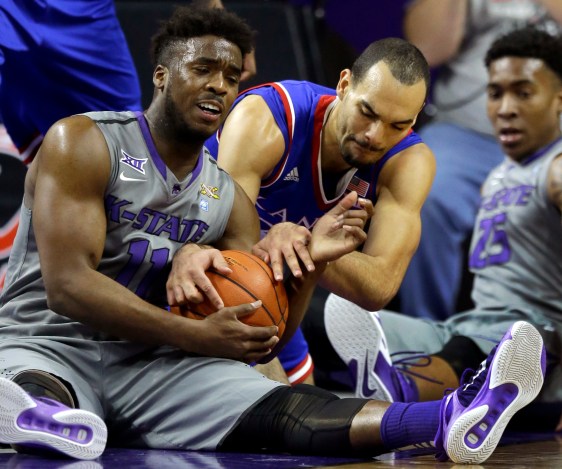 Kansas State was hurting for a win of any kind entering Monday night's Big 12 home game. Not as if the Wildcats needed extra motivation for a win to break their slump, but they were also playing heated in-state rival Kansas. Bruce Weber's ballclub broke out of their slump and shot the ball efficiently in a 70-63 conference win over the No. 8 Jayhawks.
The win over Kansas breaks a recent slump for Kansas State, who had lost seven of its last eight games entering Monday night. Nigel Johnson scored 20 points off the bench and battled cramps to lead the Wildcats (14-15, 7-9) who were greeted by students storming the floor after the win.
Nino Williams added 15 points and Thomas Gipson scored 12 points as Kansas State shot 47 percent (25-for-53) from the field and 84 percent (16-for-19) from the free-throw line.
While the Jayhawks had a strong outing from junior forward Perry Ellis, who finished with 24 points and nine rebounds. Freshman Kelly Oubre Jr. also added 14 points, but other regular contributors struggled for Kansas.
Point guard Frank Mason (four points) was only 1-for-8 from the field and Brannen Greene (seven points) was held without a 3-pointer for the second time in third games, both Kansas losses.
This was an off-night for the Jayhawks (22-6, 11-4) in-part thanks to a talented, but underachieving, Kansas State team coming into focus and making plays. Although the Wildcats are under .500, they're still a credible and dangerous threat to pick someone off in the Big 12 Tournament. They've beaten Oklahoma, Kansas and Baylor in Big 12 play and shown they can hang with the best in the league.
Kansas needs consistency from role players like Mason and Greene while guys like Wayne Selden (seven points) could also stand for more assertive performances. The trio of Cliff Alexander, Landen Lucas and Jamari Traylor provided minimal production.
Bill Self's team can't breathe easy down the stretch either as they host Texas and West Virginia before closing on the road at Oklahoma. With Iowa State right behind them for the Big 12 lead, this race will be fun to track down the stretch.