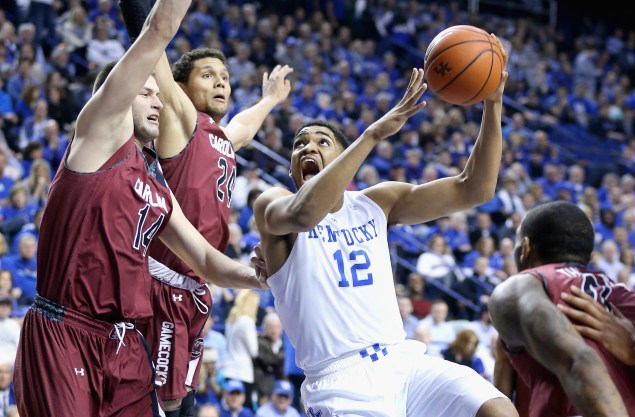 1. Kentucky (27-0, LW: No. 1): On Saturday, the Wildcats put together their most dominant win of the SEC season, scoring 110 points in a rout of Auburn in Rupp Arena. Kentucky looked as good as they have all season long on the offensive end, and given how stingy their defense has been, when they shoot and score that way, they're unbeatable. The blowout win had to feel good for John Calipari, as Auburn fired his friend and current staffer Tony Barbee immediately after last season to hire the man that was his arch rival when Cal was coaching at Memphis.
2. Wisconsin (25-2, LW: No. 2): Trae Jackson broke his foot 11 games ago. Since he's been out of the lineup, including the game against Rutgers, Bronson Koenig has averaged 12.6 points and 2.8 assists while turning the ball over 10 times in 390 minutes. He's also shot 26-for-54 (48.1 percent) from three. The Badgers have barely been tested since the loss in New Jersey.
READ MORE: Monday's Top 25 | Weekly Awards: Quinn Cook, West Virginia shine
3. Gonzaga (28-1, LW: No. 3): The Zags clinched the outright WCC title — and, in all likelihood, another undefeated regular season in league play — with a come-from-behind win at St. Mary's on Saturday night. The big question now becomes whether or not this team can win out and earn the No. 1 seed out west.
4. Virginia (25-1, LW: No. 4): Justin Anderson is already out with a broken finger. Now London Perrantes could end up missing time thanks to this collision with Malcolm Brogdon, which left his nose looking … well, awful: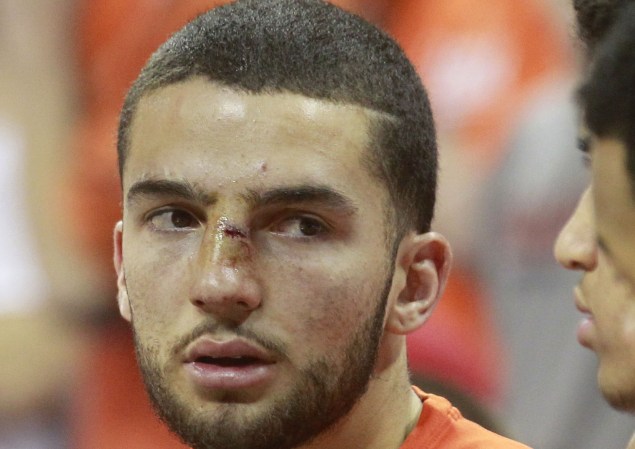 5. Duke (24-3, LW: No. 5): All I have to say about Duke this week can be read here and here.
6. Villanova (25-2, LW: No. 6): The Wildcats just keep churning out wins. They've all-but clinched the Big East regular season title — they're up three games with four to play — and they rarely get mentioned in the same breath as the rest of the top five or six teams.
7. Arizona (24-3, LW: No. 7): Arizona game up a 7-0 run in the first six minutes of the first half and a 17-0 run in the first seven minutes of the second half against UCLA and still managed to A) beat the Bruins by 10, and B) give up just 47 points on the night. That's impressive.
8. Kansas (22-5, LW: No. 8): The Jayhawks took a loss at West Virginia over the weekend in a game with a thrilling finish. I'm less concerned about that than I am about Cliff Alexander's continuing struggles and Bill Self's issues with him.
9. Notre Dame (24-4, LW: No. 10): I keep waiting for the bottom to fall out of this Notre Dame season, thinking that, eventually, their defense issues will catch up with them. But Jerian Grant and company just keep on winning. I've it a number of times already: Grant is not getting enough attention as an all-american candidate. He should be consensus first team.
10. Utah (21-5, LW: No. 9): Utah's loss at Oregon on Sunday afternoon hurts them. Not because it's a horrible loss — the Ducks look like the third best team in the Pac-12 right now — but because it's a major blow to their Pac-12 title hopes. They're now a game behind Arizona, and while they host the Wildcats this week, unless Arizona loses to someone else, the best Utah can do is share the league title.
11. North Carolina (19-8, LW: No. 11)
12. Iowa State (18-6, LW: No. 12)
13. Northern Iowa (26-2, LW: No. 14)
14. Wichita State (24-3, LW: No. 15)
15. Baylor (20-7, LW: No. 16)
16. Oklahoma (19-8, LW: No. 18)
17. Maryland (22-5, LW: No. 19)
18. West Virginia (21-6, LW: UR)
19. SMU (21-5, LW: No. 21)
20. Arkansas (22-5, LW: No. 22)
21. Butler (20-7, LW: No. 20)
22. Ohio State (19-8, LW: No. 18)
23. Providence (19-8, LW: No. 24)
24. VCU (21-6, LW: No. 25)
25. Louisville (21-6, LW: No. 13)
Dropped Out: No. 23 Oklahoma State