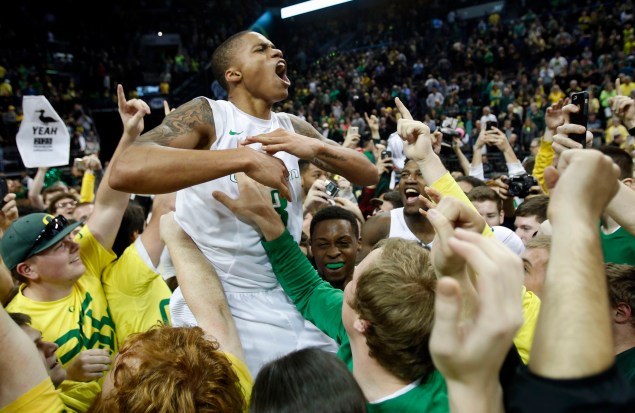 GAME OF THE DAY: Loyola (MD) 80, Colgate 78 (3OT)
Two Andre Walker baskets, one at the end of the second overtime and one towards the end of the third extra session helped the Greyhounds beat the Raiders in Baltimore. Walker played 50 of a possible 55 minutes, scoring 21 points and grabbing six rebounds to lead the way for Loyola. But the "ironman" in this game was Colgate's Matt McMullen, who tallied 19 points and 17 rebounds in 51 minutes of action. This is a big win for G.G. Smith's team, as they're hoping to avoid having to play in the first round of the Patriot League tournament (the top six seeds get a bye into the quarters).
IMPORTANT OUTCOMES 
1. Oregon 69, No. 9 Utah 58
Oregon picked up its signature win Sunday afternoon, as Dillon Brooks scored 19 points and grabbed seven rebounds to lead the Ducks past the Runnin' Utes in Eugene. The key for Oregon was their matchup zone defense, which kept Utah out of the paint for most of the day and led to the visitors attempting 29 three-pointers. Delon Wright led all scorers with 20 point, but no other player scored more than seven for Utah, which now trails No. 7 Arizona by a game in the Pac-12 standings.
2. Michigan 64, No. 24 Ohio State 57
The Wolverines led by as much as 20 in the first half, with Spike Albrecht leading the way. The junior point guard accounted for 16 points, five assists, four rebounds and no turnovers, with Zak Irvin adding 15 and seven boards for Michigan. As for Ohio State, their best road victory came at Minnesota, and they need some guys to consistently step up alongside D'Angelo Russell down the stretch.
3. No. 2 Virginia 51, Florida State 41
Virginia has now won 25 games in consecutive seasons for the first time since Ralph Sampson patrolled the paint, but Sunday's game was not an easy one. The Cavaliers, already playing without Justin Anderson, lost point guard London Perrantes after he collided with teammate Malcolm Brogdon in the second half. Brogdon would also leave the game, but he was able to return. Without two key players (Anderson and Perrantes) the Cavaliers relied on their defense, and they held Florida State without a field goal over the final 10:33.
4. Michigan State 60, Illinois 53
In a matchup of teams looking to add some solid results to their respective NCAA tournament resumes, Michigan State held on for the win in Champaign. Denzel Valentine led all scorers with 20 points (and grabbed nine rebounds) and Travis Trice added 18, five rebounds and four assists off the bench. Following a 59-54 home loss to Illinois 15 days ago, Tom Izzo moved Trice into the sixth man role and the Spartans have won four straight since. Michigan State is now in a three-way tie for second in the Big Ten with Maryland and Purdue. Malcolm Hill led Illinois with 17 points and Rayvonte Rice added 15 off the bench, but as a team the Fighting Illini shot 28.8% from the field.
STARRED
1. Andrew Andrews, Washington
Andrews scored 35 points, the final three coming on a three-pointer with 2.7 seconds remaining, to lead Washington to the 87-84 win over rival Washington State.
2. Kahlil Felder, Oakland 
20 points (8-for-14 FG), 14 assists (two turnovers) and five rebounds in the Golden Grizzlies' 81-56 win over UIC.
3. Kevin Ferguson, Army 
Ferguson scored 23 points (9-for-11 FG), grabbed 12 rebounds and blocked three shots in the Black Knights' win over American.
4. Dillon Brooks, Oregon
Brooks scored 19 points and grabbed seven rebounds in the Ducks' 69-58 win over No. 9 Utah, scoring 11 straight points in the second half to help Oregon take control of the game.
STRUGGLED
1. Brandon Taylor and Jordan Loveridge, Utah
Taylor and Loveridge combined to shoot 4-for-18 in the Runnin' Utes' 69-58 loss at Oregon.
2. Devon Bookert, Florida State
Bookert missed all eight of his field goal attempts and scored just one point in the Seminoles' 51-41 loss at No. 2 Virginia.
3. Nnanna Egwu and Jaylon Tate, Illinois
Egwu and Tate combined to score five points on 1-for-10 shooting in Illinois' 60-53 loss to Michigan State.
THE REST OF THE TOP 25 
No. 13 Wichita State kept pace with No. 11 Northern Iowa in the Missouri Valley, beating Evansville 62-43. The Shockers and Panthers meet in the regular season finale for both next Saturday.
NOTABLES
Bucknell wrapped up a share of the Patriot League regular season title with a 78-69 win over Boston University. Dave Paulsen's Bison can clinch the outright title with a win over Lehigh on Wednesday.
An A.J. English four-point play with 34 seconds remaining gave Iona a 69-68 win over Monmouth. The Gaels clinch the MAAC regular season title with the win, their third in the last four seasons.
Two Marcus Thornton free throws with 3.7 seconds remaining was the difference as William & Mary won 80-78 at Hofstra. With James Madison beating College of Charleston, there's a four-way tie atop the CAA standings with Northeastern and UNCW being the other teams.
Aaron White accounted for 18 points and 11 rebounds as Iowa blew out Nebraska 74-46 in Lincoln.
J.J. Panoske scored 19 points to lead four players in double figures as Milwaukee beat Cleveland State 66-60. The Vikings' loss means that Valparaiso clinched at least a share of the Horizon League regular season title.
Indiana avoided a letdown at Rutgers, steamrolling the Scarlet Knights 84-54.
Tulsa picked up a solid win, as they put the clamps on Temple in a 58-39 victory. The Golden Hurricane, who are tied with SMU in the loss column atop the American, have a game in hand on the Mustangs.