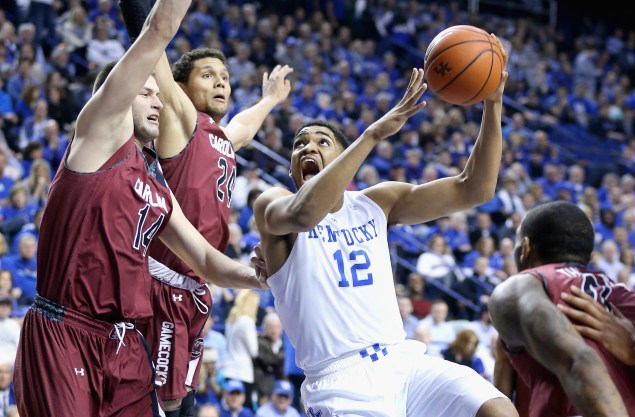 Kentucky's season has been perfect so far, so we're starting to see the team get covered in every way imaginable. The newest thing for the Wildcats now is freshman center Karl-Anthony Towns having an alter ego/imaginary friend named Karlito.
Karlito sits on Karl's shoulder and is often very critical of him. This according to Towns himself when asked by Jerry Tipton of the Herald-Leader. Kentucky head coach John Calipari has also seen Towns deal with Karlito.
"He's just a good kid, he doesn't want to talk back to you," Calipari said of Towns. "So he turns his head to the side and talks to that little man on his shoulder.
"And after he started doing it, I said, 'Who are you talking to?!'"
An assistant coach (Calipari could not remember which) answered, "He's talking to 'Karlito.'"
Towns spoke about Karlito after Kentucky's win over Auburn on Saturday as he went into more detail about his new "friend" in the spotlight. The freshman described Karlito as a
Lil Penny type of character
that former NBA All-Star point guard Penny Hardaway had in his Nike campaign. Lil Penny was voiced by Chris Rock and was one of the best things about growing up in the '90s along with Starter jackets and Lunchables.
Karlito also allegedly gets on Towns for making bad decisions. "Biggest critic I got. Absolute biggest critic I got," Towns said to reporters after Saturday's game. "He yells at me for everything."
Whether Karlito helps Towns as a basketball player, or person, is up for debate. But Karlito got me thinking about Lil Penny and watching old commercials of him, so I'm all for that.