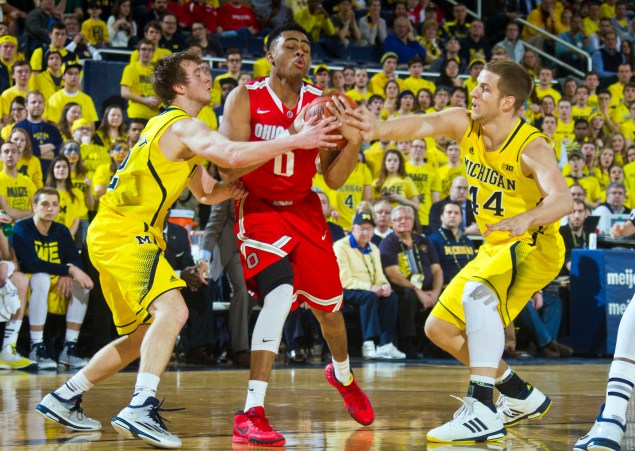 Ohio State freshman guard D'Angelo Russell has been one of the most fun players to track in college basketball this season. Between the highlight-reel passes, the effortless shooting or his flair for making difficult plays through traffic, Russell's rise in stature has been fun to track. There's no doubting that the former McDonald's All-American is one of college basketball's most talented players and a true All-American threat.
It's also increased the amount of pressure Ohio State is putting on Russell to produce and his shooting percentages are starting to dip. Some have suggested that Russell might be hitting the freshman wall and that could be the case.
For the last few months, the Buckeyes have relied heavily on Russell to take the brunt of the shots on offense. As the season has worn on, head coach Thad Matta has also had Russell rebound and produce with the ball in his hands to find teammates as well.
It's become apparent this season that Russell is Ohio State's most gifted player and one of those rare players who can see plays develop a split second before everyone else. He's also the only Buckeye who can consistently create his own offense. Marc Loving hasn't found his groove since a suspension, Shannon Scott is better as a distributor, Sam Thompson is a nice complimentary piece but mediocre scorer and the interior play for Ohio State has been dreadful.
Russell is needed to produce at a high-level each night if the Buckeyes want to stick with the top teams in the country.
The last nine games, Russell has at least five rebounds in each game — with multiple double-digit rebound games. Entering Sunday's road loss at Michigan, Russell had also logged at least five assists per game in six consecutive games. For a freshman being asked to also take most of the shots on offense, Russell is also producing all over the floor at an elite level while also being pretty efficient. It's a big reason why he's started to rocket up NBA Draft boards and into the top-five discussion.
Going into Sunday's game, Russell was shooting 46 percent from the field, 43 percent from 3-point range and 77 percent from the free-throw line. For a player averaging 19.1 points, 5.8 rebounds and 5.5 assists per game, he's been very efficient and consistent for a freshman playing his first season of college basketball.
But over the last five games, Russell has shot poorly in four of those outings. The freshman wall might have crept up and finally hit the brilliant Russell and slowed him up a bit.
Production from all over the floor in his last five games has remained as high as ever for the freshman, but in four of those games Russell was at or below 40 percent field-goal shooting. Ohio State was 1-3 in the four games Russell shot at or below 40 percent from the field. Russell also has struggled from the perimeter, as he's shooting 28 percent from 3-point range in those four games as well.
Simply put, if Russell doesn't get more help from his teammates, the Buckeyes could be in serious trouble. Ohio State was thoroughly outplayed by a depleted and less talented Michigan team on Sunday in a bad road loss as seniors like Amir Williams and Shannon Scott barely showed up.
At only 180 pounds and in his first season of major college basketball, Russell could be slowing down because he's being asked to do so much on the offensive end. Plenty of games this season, Russell has logged heavy minutes, but it's been especially taxing for him lately. Fourteen games in a row, Russell has played at least 32 minutes and that has been upped to at least 35 minutes each of his last five outings.
Playing at a national powerhouse basketball prep school like Montverde Academy certainly helped prepare Russell for the rigors of college ball better than some typical high school players, but he's still a thin freshman going through a physical league. Teams are also beginning to gain more film and synergy data and find ways to make Russell's early success more difficult to replicate.
Defenses are honing in on Russell and throwing multiple defenders and looks at him and he's having to adjust now. Russell is skilled enough to continue to put up numbers across the box score, but he might have plateaued a bit as a consistent shooting threat on a game-by-game basis.
Others on the Buckeyes need to bring just a little but more offense to the equation so Russell can carry them to victory with the game on the line. Ohio State has found its go-to guy and now the role guys need to step up and improve down the stretch for the Buckeyes to matter in the postseason.
It remains to be seen if Russell has hit the freshman wall, or if he'll improve those declining shooting numbers, but he's still capable of making plays from all over and being the best player on the floor at a moment's notice.