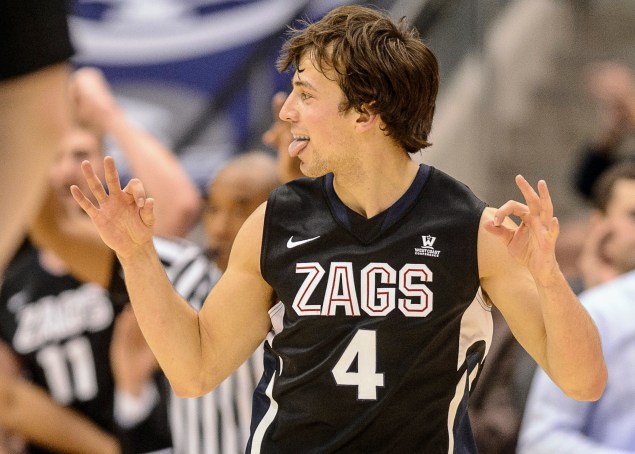 GAME OF THE DAY:  No. 3 Gonzaga at St. Mary's, 10:00 p.m.
From Rob Dauster's Weekend Preview:
Let's start with the obvious: If St. Mary's is going to have any chance of earning an at-large bid to the NCAA tournament, they are going to have to win this game. Even with a win, the Gaels are still going to have a lot of work left to do, but that should reinforce just how dire their circumstances currently are. This is a must-win game if there has ever been one.
And it just so happens to come against the Zags, a favorite to reach the Final Four and, as it happens, the biggest rivals of the Gaels. It doesn't matter where the game is played — Spokane or Moraga — when these two programs get together, it's must-see TV. Gonzaga won the first installment back in January, and you better believe Randy Bennett will have his team hungry to get some revenge.
THE OTHER GAME OF THE DAY: No. 14 Iowa State at Texas, 2:00 p.m.
Texas is flirting with disaster here. The Longhorns don't have a strong enough profile to keep losing games, but they just can't seem to get on the kind of roll that will change the course of their season. The Longhorns are 6-7 in Big 12 play and haven't beaten one of the league's six other tournament teams since Jan. 17th. Their next two games? At West Virginia and at Kansas. Texas is playing with fire if they cannot beat Iowa State in Austin.
UPSET ALERT: No. 19 Butler at Xavier, 2:00 p.m.
The Bulldogs came within a Darrun Hilliard three of knocking off Big East power Villanova last Saturday, a win that would have put them in a tie atop the Big East standings. As it is, Butler is still two games off the pace, a deficit that they're likely not going to be able to makeup. A road trip to Xavier is never easy, especially when the Musketeers are coming off of a win at arch rival Cincinnati. This game has become one of the better rivalries in the midwest thanks to a couple of thrillers between Chris Mack and Brad Stevens.
FIVE THINGS TO WATCH FOR:
1. West Virginia landed a key win over Kansas on Monday, and Oklahoma State lost a tough one to Iowa State on Wednesday. It seems like every game in the Big 12 is a big one, and this game is no different. Two more ranked teams face to beat each other up.
2. Miami traveling to No. 12 Louisville will be one to watch. Chris Jones has been reinstated, but that doesn't mean that the Cardinals have solved their problems. This is still a flawed basketball team that is seemingly coming apart at the worst possible time.
3. UCLA is hanging out a lot of hope for a late-season run and they get one more chance for a big win on the road at No. 7 Arizona. How will Kaleb Tarczewski look for the Wildcats after two consecutive strong outings?
4. A lot of top-ten teams have games they should win on Saturday. No. 1 Kentucky hosts Auburn, Clemson has to go to No. 4 Duke, Minnesota travels to No. 5 Wisconsin and No. 6 Villanova plays on the road at Marquette. Also with winnable games includes No. 8 Kansas hosting TCU and No. 10 Notre Dame playing at Boston College.
5. An interesting battle in the Atlantic 10 as UMass tries to keep its bubble hopes alive with a road game at No. 25 VCU. We'll have to see how Treveon Graham looks after a high ankle sprain has limited his play the last few weeks.
PROGRAMMING NOTE:
There are two games on NBCSN and streaming on NBC Sports Live Extra on Saturday:
Dayton at Duquesne, 2:00 p.m.
Drexel at Northeastern, 4:00 p.m.
THE REST OF THE TOP 25
Georgia Tech at No. 15 North Carolina, 12:00 p.m.
No. 17 Oklahoma at Texas Tech, 12:00 p.m.
Kansas State at No. 20 Baylor, 1:00 p.m.
No. 18 Arkansas at Mississippi State, 4:00 p.m.
Bradley at No. 11 Northern Iowa, 4:00 p.m.
OTHER GAMES TO WATCH
Pitt at Syracuse, 12:00 p.m.
Seton Hall at St. John's, 12:00 p.m.
Texas A&M at South Carolina, 12:00 p.m.
Florida at LSU, 1:00 p.m.
Louisiana Tech at Old Dominion, 3:00 p.m.
UNLV at New Mexico, 6:00 p.m.
California at Stanford, 6:30 p.m.
Tennessee at Ole Miss, 7:30 p.m.
DePaul at Georgetown, 8:00 p.m.
Georgia at Alabama, 8:00 p.m.