It's incredible when you think about it, but Texas has reached the point this season where a trip to the NIT seems almost as likely as a trip to the NCAA tournament.
On Saturday afternoon, the Longhorns lost at home to No. 14 Iowa State in a game the Cyclones seemed to have control of for most of the second half. That's the second straight loss for Texas and the sixth in their last nine games. They're 17-10 overall and 6-8 in the Big 12. All 10 of those losses came against top 50 competition, but they're just 1-10 overall against the top 50 with 12 of their 17 wins coming against sub-100 competition — and it's worth noting here that they beat Kansas State, who is No. 100 in the RPI as of today.
That's bad.
But it gets worse.
Five of those six Big 12 wins came against TCU, Texas Tech and Kansas State, the only three teams in the league that are not in the NCAA tournament picture. Next week, the Longhorns play at West Virginia — who is streaking and will be looking for revenge for the 27-point loss they took at Texas in January — and at Kansas, which means that it's very possible that we could enter the last week of the regular season with the Longhorns sitting at 17-12.
The good news for Texas is that three of their four remaining games — next week's roadies and a home game against Baylor — would all go on their resume as elite wins, but at this point, what have the Longhorns done to make us believe they can win a game like that? They haven't beaten a tournament team since January 17th.
The next question: If Barnes does miss out on the NCAA tournament, at what point do the hot seat rumors kick up again?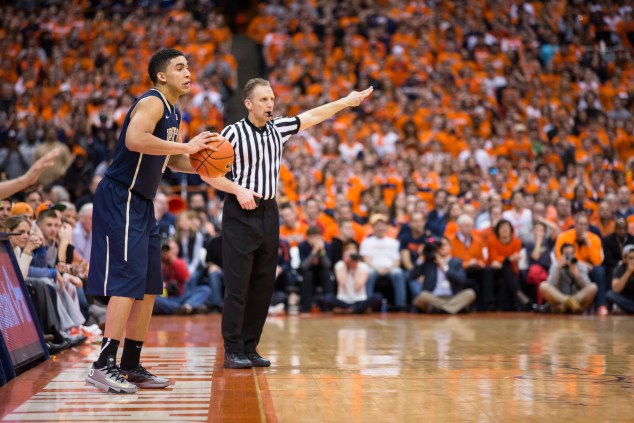 WINNERS
Pitt: The Panthers were in a must-win situation on Saturday in Syracuse, and they pulled out the win, meaning the Panthers inch just that much closer to truly being a contender for an at-large bid. Pitt still has a lot of work left to do, however, to the point that they may not be able to afford another loss in the regular season. The Panthers own a pair of top 25ish wins over Notre Dame and North Carolina, but they have just three other top 100 wins: a sweep of Syracuse and a win over No. 100 Kansas State, who may or may not be in the top 100 come Selection Sunday. Combined that with a pair of sub-150 losses and a non-conference strength of schedule that ranks in the 150s, and the Panthers didn't even crack the next five teams out in our latest bracket. With just one top 100 opponent left on their resume, the Panthers A) cannot afford another bad loss, and B) still need to add to their profile.
St. John's: If the Johnnies are going to end up being an at-large team, it's going to be earned this week. On Saturday, they added a much-needed win over Seton Hall at home, and in the next seven day, they'll get both Xavier (No. 33) and Georgetown (No. 20) in NYC. With a 3-6 record against the top 50, just six top 100 wins and a pair of sub-100 losses, St. John's probably needs all three to get themselves out of the muck that makes up the cut-line. Entering the weekend, they were still in the play-in game in our latest bracket.
LSU: The Tigers picked up a win at home over Florida on Saturday, giving them an even ten top 100 wins. Their three sub-140 losses are a blight on an otherwise very solid profile, which is why they will be in a good spot if they can get past a road trip to Auburn, their last non-top 100 opponent, next week.
Texas A&M: There are three pieces of good news to report on the Aggies. LSU, who they've swept, is still ranked in the top 50 (No. 48) and Kansas State, who they lost to, climbed back up to No. 100, which means that the Aggies still have two top 50 wins and now don't have a sub-100 loss. They also added a top 100 road win on Saturday (at South Carolina), keeping them on the right side of the bubble for now. Wednesday's game at Arkansas can be something of a clincher for the Aggies.
Xavier: The Musketeers add another quality win to their resume, knocking off Butler at home in impressive fashion. They're now 17-10 overall with the kind of schizophrenic profile that makes the bubble so much fun. They have four top 25 wins and are 9-6 against the top 100 … and they've lost to four different sub-100 teams. As long as they beat Creighton in the season finale, Xavier should be in.
Stanford: The Cardinal had lost four out of five entering Saturday's rivalry battle with Cal, and while Johnny Dawkins' club snapped their skid, those losses put them in a bad spot. Thanks to the recent struggles of UConn and Texas, the Cardinal now have just three top 80 wins, which is the same number of sub-100 losses they have. With four games left against top 100 opponents — a visit from the Oregon schools and a trip to the Arizona schools — Stanford has work left to do to get off of the cut-line.
Boise State: The Rams avoided a slip-up at Nevada, but they're still in a bad spot. They have as many top 100 wins (three) as sub-100 losses. They really need to win at SDSU next weekend to have a shot at being on the right side of the bubble heading into March.
Ole Miss: The Rebels did what they had to do on a quick turnaround, landing a win over Tennessee at home to keep themselves on the right side of the bubble for now. I'm not sure they're quite as comfortable as some think, however. They have just two top 50 wins against three sub-100 losses, although their 8-5 record against the top 100 is solid enough. Their final four games: Georgia, at LSU, at Alabama, Vanderbilt.
Georgia: The Bulldogs certainly didn't need losses to Auburn and South Carolina considering the strength of their profile was their computer numbers and a lack bad losses. The Bulldogs bounced back with a win at Alabama on Saturday, but there is still some work to be done. They still have to go to Ole Miss and get a visit from Kentucky, so there are opportunities to improve their resume.
Rhode Island: URI avoided a loss at George Mason, giving them a chance to play their way into the tournament. Their next three games: Davidson, at La Salle, at Dayton. Win two of those, and don't lose to St. Joe's at home, and the Rams will have a shot at climbing the ladder and getting on the right side of the cut-line.
Davidson: All the Wildcats did in beating Fordham was avoid a devastating loss. They're on the outside looking in right now, meaning that their next three games — at Rhode Island and home for George Washington and VCU — will end up being what makes the difference for them.
Cincinnati: The Bearcats snapped a three-game losing streak by winning at Houston, which is the kind of win that is only good in that it's not a loss. Cincy was a No. 10 seed entering the weekend.
N.C. State: The Wolfpack avoided a crushing loss to Virginia Tech, meaning that next week's trip to the Dean Dome could end up being what gets them off of the cut-line.
Colorado State: The Rams are probably in the tournament right now, but with a schedule that has nothing but potentially awful losses remaining, they're not safe yet. Beating Air Force gets them a step closer.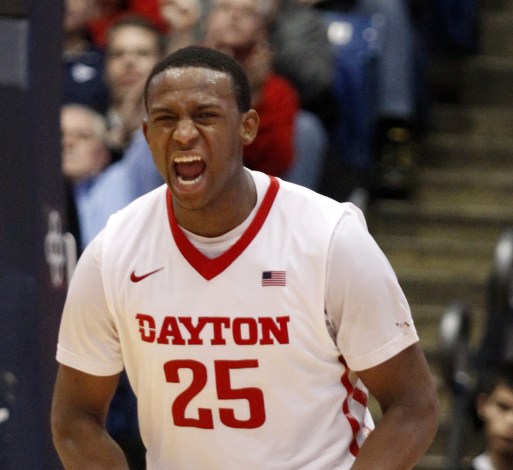 LOSERS
Dayton: The one thing that was keeping the Flyers sitting comfortably in the 8-9 game on most brackets was that they did not have any ugly losses on their profile. That changed Saturday, dropping a game at Duquesne, who checks in at No. 254 in the RPI. They're still probably OK as of today, but losing to George Mason (No. 222) next week would put a lot of pressure on them in their final three games: at VCU, Rhode Island, at La Salle.
Miami: The Hurricanes whiffed on a great shot to land a marquee win at Louisville on Saturday, blowing a double-digit halftime lead and missing a would-be game-winner at the buzzer. Miami is still in the mix, meaning they'll still end up being one of the last four or first four out of just about every bracket you see today, and that should tell you why missing on this opportunity hurts so much.
UCLA: You have to think that UCLA is in some trouble after failing to secure a win at Arizona on Saturday night. They're 16-11 on the season with a win over Utah and a top 25 strength of schedule — and, arguably, a sweep of Stanford — really being the only two noteworthy pieces of their profile. They're 6-10 against the top 100, and they only have one top 100 opponent left on the schedule. A loss in their final three games would be disastrous, and even then, they're going to want to make a run in the Pac-12 tournament to feel at all comfortable.
Oklahoma State: Even after losing to West Virginia at home, the Pokes are not in trouble just yet. But they're 17-10 overall and 7-8 in the Big 12 right now, which means that losing to either TCU or Texas Tech — their next two opponents — could put them in a tough spot.
St. Mary's: The Gaels had a chance if they had beaten Gonzaga. They lost, and now they need to win the automatic bid.
UMass: The Minutemen had two chances this week to land the kind of quality road win that they needed to make themselves a real candidate to sneak onto the right side of the bubble. They lost both, including Saturday's visit to No. 25 VCU.
Seton Hall: The Pirates lost their sixth straight on Saturday, falling at St. John's. This is the last time that you will see Seton Hall mentioned on the bubble unless something drastic happens.