There are 15 college programs can claim at least three alums among the 351 Division I head coaches. Name-brand programs — Duke and North Carolina, Arizona and Kentucky — are on that list. So are smaller schools, like Howard and Division III Catholic University.
Montana is on that list as well, as Larry Krystkowiak, Wayne Tinkle and Travis DeCuire have all followed a similar path in their respective coaching careers — former Montana player who eventually becomes a head coach at Montana at some point. You often hear about about the Carolina family or the Duke coaching tree, but up in Missoula, the Grizzlies have developed their very own coaching tree; a coaching tree that has produced the two favorites for Pac-12 Coach of the Year; a coaching tree that includes a Hall of Famer and dates all the way back to Jud Heathcote.
Heathcote served as head coach at Montana from 1971-76, posting an overall record of 80-53 before moving on to Michigan State. And after Jim Brandenburg took the reins for two seasons Mike Montgomery moved into the head coaching position, where he would eventually be followed by Stew Morrill and Blaine Taylor.
All three of those coaches would experience success at other stops in their respective careers. Montgomery made his name at Stanford before a short-lived stint in the NBA and, eventually, a few years at Cal. Taylor found success at Old Dominion, while Morrill turned Utah State into one of the nation's best mid-major programs.
What's noteworthy about the time those three spent in Missoula is that it intersected with that of Krystkowiak, Tinkle and DeCuire. Morrill, who will retire at the end of this season, coached both Krystkowiak and Tinkle, and he also added DeCuire to the program as a transfer before moving on to Colorado State.
And, according to him, it's been administration's willingness to foster continuity helped make Montana a successful basketball program.
"Jud Heathcote got it started, and we were all very fortunate that the administration was willing to hire the assistant coach time after time," Morrill told NBCSports.com. "And it's worked very well for them over the years. I got my start that way as a head coach, and I felt very fortunate to be in that position."
It wasn't an easy gig, however.
"There were high expectations; most of us only had one-year contracts," Morrill added. "I was an assistant for Mike Montgomery for eight years and a head coach for five, and I always tell people that 'I've been a coach for 29 years, but Montana was the most pressure I've felt.' It was my first head coaching job, and the tradition had been established by the coaches who came before me."
Krystkowiak was the first to arrive on the scene, as he was recruited by Montgomery and Morrill and went on to become the program's greatest player. He won three Big Sky Player of the Year awards at Montana, and to this day he remains the school's all-time leader in both points and rebounds. After playing more than a decade in the NBA, Krystkowiak embarked on what has been a successful coaching career, which includes a two-year stint at his alma mater (2004-06).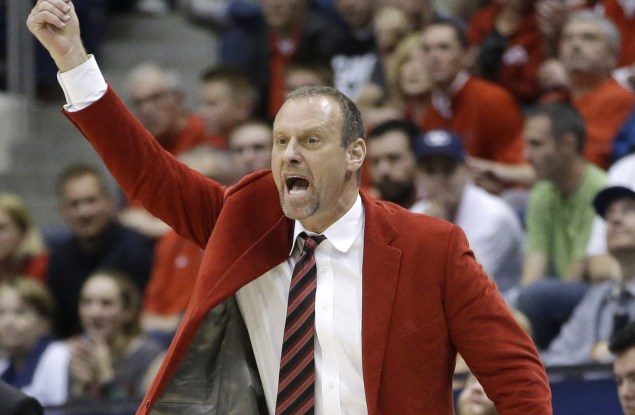 Now in his fourth season as the head coach at Utah, Krystkowiak has revamped a storied program that fell on hard times prior to its move from the Mountain West to the Pac-12. The Utes, led by senior guard Delon Wright, are currently ranked ninth in both the AP and Coaches' polls, and with a host of contributors having eligibility remaining beyond the current season, the future is bright in Salt Lake City as well.
Something that has helped Krystkowiak in the process is his time at Montana, where he was able to play for coaches who not only knew the game but also knew what it took to build a quality program.
"It's just the grind, the process of having to start over, and how to tackle it," Krystkowiak told NBCSports.com. "It can be overwhelming I think, so the important thing was to have a target of what you're trying to accomplish in short periods of time and move on to the next thing. If you don't have some patience and a blueprint for how to attack it, then it's probably not going to be very successful."
"So we just tried to stay consistent and try to make a little progress each day. There weren't too many long-term goals; it's more about 'whatever the fire is right now, let's put it out.'"
Tinkle, now the head coach at Oregon State, was a teammate of Krystkowiak's for two seasons at Montana and also served on his coaching staff from 2004-06. And during the time they spent together as teammates, Tinkle saw qualities in Krystkowiak that have translated into him being a good head coach.
"Looking back on his playing days, the work ethic and the energy he brought is what I'll always remember about him," Tinkle told NBCSports.com last month. "Nobody outworked him, nobody out-hustled him; he was super-competitive. We got in scraps in pickup games during the spring and summer because if you lost, you had to sit awhile. That's where I learned a lot about the level of competitiveness you needed to play with."
"The two years I got to coach with him is really when I got to see the 'intelligent' part of his mind as far as scheming, X's and O's, and his understanding of the game," Tinkle continued. "And then his demeanor, personality and drive all set pretty good standards as far as never getting too emotional and keeping yourself in control."
Tinkle arrived on the Montana campus as a player in 1985, with Krystkowiak coming off of a sophomore season in which he won the first of his three Big Sky Player of the Year awards. Both Montgomery (one season) and Morrill (three seasons) served as head coach during Tinkle's playing career, one in which he would earn first team All-Big Sky honors in each of his final three seasons and be named team MVP as both a junior and a senior. Tinkle's playing career took him overseas for more than a decade, before returning to his alma mater as an assistant in 2003.
And like his former teammate, the times spent in Missoula have helped Tinkle put together an impressive head coaching record. Taking over for Krystkowiak in 2006, Tinkle went on an eight-year run in which the program won more than 63 percent of its games and made three NCAA tournament appearances. The success at Montana is what led to some being surprised when he made the decision to take over at Oregon State last spring.
After being an integral figure in a program that considers contending for conference titles to be the norm, Tinkle was moving to one that hadn't been to the NCAA tournament since the father — Gary Payton — of the best player on this year's team — Gary Payton II — was in Corvallis. But in deciding to make the move, Tinkle saw some similarities between the two communities that lead him to believe that he can turn Oregon State into a consistent winner.
"They're both college towns that really rally behind the university," Tinkle said. "And the fact that they're blue-collar communities that just want to see the kids play their tails off and do things the right way."
The first season at Oregon State has been much better than anyone anticipated back in October. Picked to finish last in the Pac-12's preseason media poll, Oregon State is currently tied for fifth and 16-9 overall (7-6 Pac-12). The Beavers aren't the deepest team, but with players such as Payton II, Malcolm Duvivier and Langston Morris-Walker leading the way Oregon State has relied on its defense to this point in the season.
In conference games Oregon State is ranked second in the Pac-12 in both field goal and three-point percentage defense, and they also lead the Pac-12 in blocked shots per game. With a respected recruiting class signed up for next season, the future appears bright for Oregon State. But the current players can help set the tone, since the majority of them will return next season, and that's something Tinkle's players have embraced.
"We brought that up early on, with the hype of [the 2015 recruiting] class. They're here right now, and in some respects we're all kind of auditioning for the future," Tinkle noted. "This is the way we want to do things and if you guys do it, we're going to build something really neat and if you don't you might not be here. But then we also said, 'those guys are going to have to go through the rigors and the hard times just like you, nothing's going to be handed to them' and I think they appreciated hearing that.
"They did say, 'why wait, let's buy in and see what we can make happen in year one.' Because I think they saw the effort that the staff was putting in. We're all earning paychecks this year so we're all grinding away, and we didn't want to be anyone's doormat."
With Tinkle moving on, Montana made the decision in June to hire Travis DeCuire as its new head coach. Like Krystkowiak and Tinkle before him DeCuire was also a productive player at Montana, earning first-team All-Big Sky honors as both a junior and senior and remains the school's all-time assists leader. DeCuire landed at Montana as a transfer after spending one season at Hawaii Pacific, and while he didn't get to play for Morrill in actual games (his redshirt year was Morrill's final one at Montana) the point guard certainly made an impression on the coach.
"He came from a great high school program in Mercer Island, Washington, and his high school coach Ed Pepple swore by him. I mean this in the most positive way: he was just a cocky little point guard," Morrill said. "He had great days ahead of him as a player, and you could see that he had the things you hoped to have in a point guard even though he wasn't playing in games."
DeCuire's last coaching stop prior to returning to Montana was at Cal, where he served on Montgomery's staff for six seasons (assistant for four, associate head coach for the last two). Like Krystkowiak and Tinkle before him, DeCuire can speak from experience the impact that the school and community have had on Montana basketball over the years.
The relationship has helped Montana not only become one of the Big Sky's preeminent programs, but to establish a level of consistency that allows them to enter most seasons with realistic thoughts of winning a conference title and reaching the NCAA tournament. That relationship is also what sold DeCuire as a player when he was going through the recruiting process.
"The dream was there, and I believed in what was being sold," DeCuire noted when asked about his recruitment, with the passion of the Montana fan base also standing out. "There weren't many programs that were comparable in terms of fan passion and attendance."
It's with the tradition of success and a passionate fan base that DeCuire looks to lead Montana back to the top of the Big Sky, and with two starters and seven lettermen returning from last season's 17-win squad he wasn't left with an empty cupboard. After going through a tough non-conference slate that included double-overtime losses at Boise State and California, Montana's 10-3 in Big Sky play with two of the defeats being close losses to Sacramento State (10-3) and Eastern Washington (10-2).
Martin Bruenig (16.6 ppg, 6.9 rpg), who sat out last season after transferring in from Washington, is averaging just under 17 points per game in conference play and has been one of the Big Sky's best front court players. And in guards Jordan Gregory (16.8, 3.3 apg) and Mario Dunn (8.9, 4.0 apg), the Grizzlies have a solid perimeter tandem to lean on as they look to make a run at their third Big Sky title in the last four seasons.
The key in doing that boils down to one word: consistency, especially when it comes to turnovers. If Montana can play more efficiently, they'll have a shot at getting back to the NCAA tournament after missing out a season ago.
"Our efficiency needs to improve down the stretch," DeCuire said. "We were up 13 at Sacramento State before losing that game, and turnovers hurt us against Eastern Washington as well."
While DeCuire adds his chapter to the Montana history books, what helps is the fact that the blueprint has been set for years. From Heathcote to Montgomery, and from Montgomery to Morrill and Taylor, the Montana program has led to success not only in Missoula but in other locales as well. And given what Krystkowiak, Tinkle and DeCuire have been able to do in their respective coaching careers, that doesn't seem to be changing anytime soon.
"I just think back to [Montgomery and Morrill's] commitment to the fundamentals of the game, and how you went about life in general, were the main ingredients of what Montana basketball was and is." Tinkle noted. "A lot of times you can get lost in all the nonsense. What winning programs come down to are the small things that become big things in the 'big picture.'"