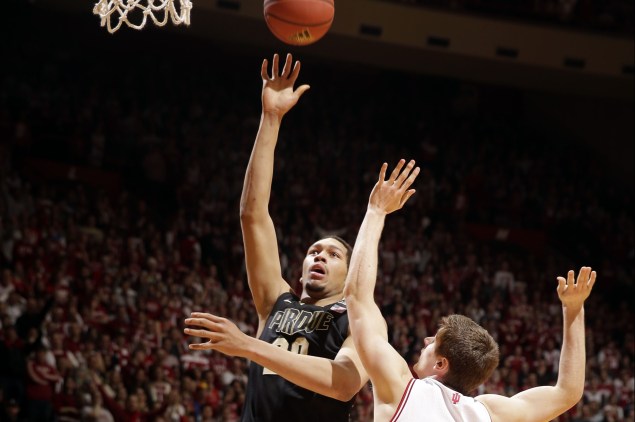 WINNERS
Purdue: The Boilermakers are the hottest team in the Big Ten not named Wisconsin, as they have now won seven of their last eight after knocking off the Hoosiers in Assembly Hall. But Purdue still has a ton of ground to make up to do a horrid non-conference season that included losses to North Florida and Gardner-Webb at home and (currently) sub-100 teams Kansas State and Vanderbilt. Last week's loss at Minnesota certainly didn't help, either. They'll have chances, however. If they get past Rutgers, Purdue's last three games look like this: at Ohio State, at Michigan State, Illinois. All three at top 50 opponents. They probably want to win two of those three to feel safe.
SMU: The Mustang win over Temple on Thursday night should just about lock them into an NCAA tournament berth. They are currently 22-5 overall and tied for first place in the American, and while they only have three top 50 wins on the season, they have eight top 100 wins and exactly zero losses outside the top 50. Those numbers could change by the end of the season — Cincinnati swept SMU and are No. 49 in the RPI, and SMU beat Tulsa, who is No. 48 — but the bottom line is this: even if the Mustangs were to lose out and lose in the first round of the American tournament, they would finish the season with a 22-9 record and, at most, one loss to a sub-100 opponent with eight top 100 wins. That's damn good for a bubble team this year.
Dayton: Like SMU, Dayton is approaching lock status due to the fact that they simply do not have many sore spots on their resume. Unlike SMU, the Flyers still have some potential potholes remaining, as their next two opponents are of the sub-200 variety. Handle Duquesne and George Mason the way the Flyers did St. Joe's on Thursday, and they should feel pretty good about their chances. I'd still recommend winning one of their last three, however: at VCU, Rhode Island, at La Salle.
Iowa: The good news for Iowa is that there is a lot to like about their profile. A win at North Carolina. A sweep of Ohio State. A win over Maryland. Prior to last week, they didn't have a bad loss, either, but that changed when they not only dropped a game to Minnesota but they lost at Northwestern as well. Now, after beating Rutgers, the Hawkeyes are 16-10 overall and 7-6 in the Big Ten. Can the Hawkeyes avoid another collapse this season?
Ole Miss: The Rebels are in that 'should get in category', as they have three top 50 wins and seven top 100 wins. But losses to TCU, Western Kentucky and Charleston Southern are tough to overlook, which is why the Rebels needed this win over Mississippi State. Four of their last five games are against top 100 competition, and while Ole Miss is one of the hottest teams in the country — they've won seven of their last eight — they still have some work left to do.
BYU: The Cougars have to win out to even put themselves into the bubble discussion, and that's because they play at Gonzaga in the season's final game. On Thursday, they beat San Diego, which was their first step in the process.
LOSERS
Temple: "Loser" may be a bit harsh here, as the Owls fell at SMU, who currently ranks in the RPI top 25 and is the leader in the American. The Owls were already a No. 9 seed in our latest bracket, and the only thing they lost on Thursday was a chance to solidify their resume.