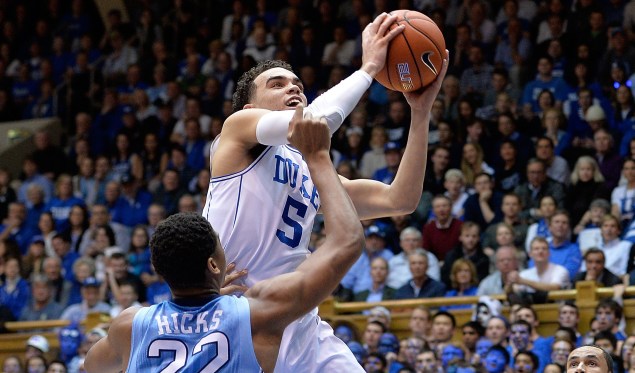 Tyus Jones had 22 points, eight assists and seven boards and Quinn Cook added 22 points as No. 4 Duke knocked off No. 15 North Carolina, 92-90, in overtime on Wednesday night.
The Tar Heels were down 49-36 late in the first half, but they used a 41-18 run over the course of about 15 minutes to take a commanding, 77-67 lead. But Duke came storming back, led by Jones, who made big shot after big shot down the stretch. With Duke down 81-76 with less than a minute left, Jones finished an and-one, and after Brice Johnson missed the front-end of a one-and-one, Jones scored with 27 seconds left to tie the game and force overtime.
In the extra fame, Justise Winslow drew the fifth foul on Brice Johnson, who had 18 points and 12 boards, on Duke's first possession. Jahlil Okafor was slowed with an ankle injury and finished with "just" 12 points, 13 boards and three assists, but he had a pair of critical buckets, backing down Kennedy Meeks and scoring through him.
North Carolina is going to leave Cameron Indoor Stadium as frustrated as they've been all season long. The Tar Heels put together about as good of a performance as you are going to see out of them this season despite the fact that their star, Marcus Paige, finished with just five points on 2-for-11 shooting on the night.
Duke blitzed UNC early, but beginning late in the first half and throughout the second 20 minutes, the Heels absolutely dominated Duke on the glass, getting 19 offensive rebounds despite going the first 12 minutes of the game without one. UNC's four big men — Meeks, Johnson, Joel James and Isaiah Hicks — combined for 54 points and 27 boards, completely controlling the lane. It's not easy to come back on Duke anywhere, let alone in a rocking Cameron Indoor Stadium, and North Carolina did just that, putting themselves in a position where they should have left with a season-defining win.
But ill-timed turnovers and costly missed free throws eventually did them in.
On the other hand, Duke will take this win knowing that they escaped in a game they probably shouldn't have won. North Carolina's big men rendered Marshall Plumlee and Amile Jefferson more or less ineffective defensively. Okafor's ankle, which he rolled in the first half, was clearly bothering him, as he was even less mobile than usual defensively and limited on the offensive end of the floor.
The Blue Devils blew a 13-point lead, played their now-typically shoddy perimeter defense, shot 16-for-31 from the free throw line — Okafor was 0-for-6 — and gave up 19 offensive rebounds and still managed to win despite being down nine with 2:30 left.
You don't complain about that.