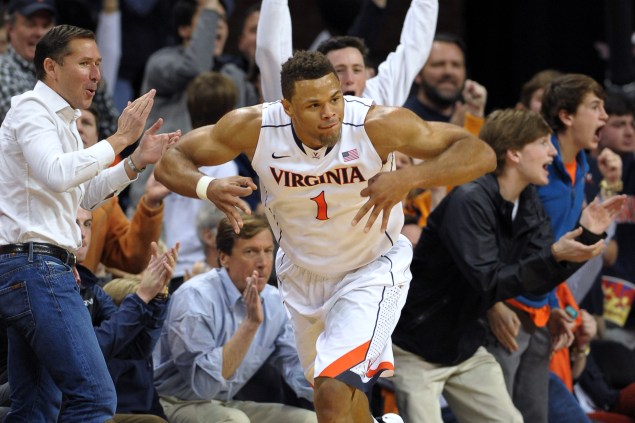 Virginia has played three games — and a half against Louisville — since Justin Anderson went down with a broken bone on his left hand, and if anything has become clear over the course of those 140 minutes, it's that the Cavaliers are not the same team without their All-American.
The biggest impact comes on the offensive end of the floor, where Anderson's absence is truly felt.
In wins over N.C. State, Wake Forest and Pitt — none of whom rank higher than 110th in defensive efficiency, according to KenPom — Virginia has scored 173 points in 174 possessions, a far cry from the offense that had spent the majority of the season ranked in the top ten in offensive efficiency.
The change isn't simply a result of Anderson's 48.4 percent three-point shooting — by far the best on Virginia's roster — not being on the floor, although that plays a major role. Defenses had to be aware of where Anderson was on the offensive end of the floor at all times. Anderson's presence kept teams honest when Virginia threw the ball into the post and helped them create space for drivers and cutters.
The guy that has taken over Anderson's minutes has been junior wing Evan Nolte. In the last four games, Nolte has averaged 26.5 minutes. In the four games prior to Anderson's injury, Nolte played a total of 16 minutes. He's shooting 22.9 percent from three on the season, and while he's 4-for-13 from three since Anderson went down, those 13 threes were all really good looks:
http://instagram.com/p/zN6xLbnw-r/?modal=true
As you can see, Virginia's opponents were not exactly scared of leaving Nolte all alone on the perimeter. That's a problem, because offensively, Nolte isn't much more than a spot-up shooter. In 2015, Nolte has taken all of three shots from inside the arc and gotten to the line just twice, missing both. Anderson did much of his damage as a spot-up shooter, but he's more well-rounded. He could come off of a screen and hit a jumper or curl to the rim. He could beat a close-out with a pump-fake and a straight-line drive. He could finish above the rim in transition or in traffic in half court sets. Virginia generally drops their three perimeter players back to prevent against fast breaks, but Anderson was still able to pick up some second chance points from time to time.
Anderson was an ideal fit in the role that Tony Bennett needed him to play, and Nolte is just not ready to fill that void.
But offense is not the only area where Virginia took a hit with Anderson out.
Nolte is nowhere near the defender that Anderson is either. The good news for Virginia is that the Pack-Line defense they play is designed to over-help on the defensive end, covering up some of Nolte's defensive issues. But that doesn't change the fact that Virginia's best perimeter defender is no longer in the lineup, and that chink in the armor is a weak spot opponents can attack.
For example, Nolte not only gets beaten on a cut to the middle of the lane by Sheldon Jeter here, Jeter is able to elevate over him in the paint:
But here's the most important part of this: none of it actually matters, as long as Anderson is healthy and back in the lineup come NCAA tournament time.
Virginia has done enough this season that they should be able to survive two more losses, whether they come during the regular season or in the ACC tournament, and still wind up with a No. 1 seed. Even if they lose more than two games — say, at Syracuse, at Louisville and in the ACC semifinals — they're still looking at a situation where they are, at worst, ACC regular season co-champions with road wins at VCU, Maryland, Notre Dame and North Carolina.
And if it's clear that Anderson is coming back, the selection committee will have to keep in mind that the Cavs were without their best player during the worst stretch of their season.
Virginia doesn't need Justin Anderson to win the ACC or to get a No. 1 seed in the NCAA tournament.
But they are not the same team without him, and if the Cavs are going to make a run in March, they need him healthy by the time the NCAA tournament starts.