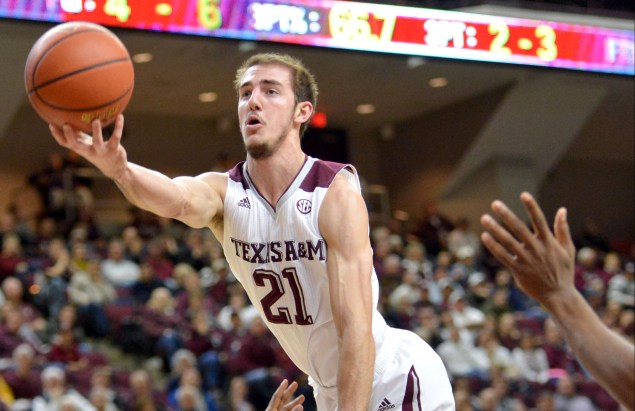 WINNERS
Texas A&M: The Aggies were the biggest winner of the night, as they picked up a win in the bubbliest game of the night, knocking off LSU at home. Texas A&M, who was a No. 11 seed in our most recent bracket, looks like they are going to end up being one of the toughest profiles to judge come Selection Sunday, as their resume looks an awful lot like what you might expect from a good mid-major team from a mediocre conference. Sitting at 17-7 on the season, the Aggies have no bad losses, the worst coming on a neutral site against Kansas State, No. 93 in the RPI. But they also don't have many great wins. Just six of their 17 came against top 100 opponents, their sweep of LSU being A&M's "marquee" wins. The Tigers entered the night at No. 48 in the RPI, which will likely drop to outside the top 50 once the numbers are updated. The Aggies really could use a win on Feb. 24th at Arkansas.
Michigan State: The Spartans probably don't have to worry about missing out on the NCAA tournament, as long as they avoid a Seton Hall-esque collapse in the season's final three and a half weeks. On Tuesday, they rolled their way through one potential speed-bump, as they went into Ann Arbor and knocked off a depleted Michigan team. Road wins over top 100 teams are always helpful.
San Diego State: Much like Michigan State, the Aztecs — both teams were No. 8 seeds in Monday's bracket — are in a position where they can feel pretty comfortable about their NCAA tournament position. On Tuesday, they avoided what could have been an ugly road loss by taking care of business in a tough environment. They beat New Mexico, whose RPI is approaching the sub-150 range, in The Pit by double-figures.
READ MORE: NBCSports.com's Latest Bracket Projection
LOSERS
Georgia: A home loss on Saturday to Auburn wasn't a killer for the Bulldogs, although it did drop them from a No. 8 seed to a No. 10 seed. Tuesday's home loss to South Carolina may hurt a little more, however, as it gives Mark Fox's club just that much less wiggle room. Georgia has just two top 50 wins — Ole Miss and Texas A&M — and as of tonight, they have four sub-100 losses. (Ironically enough, two of those losses are to South Carolina, who will likely jump from No. 105 into the top 100 as of tomorrow morning.) What's saving the Bulldogs right now are rock-solid computer numbers. They have a top 30 RPI and a top 25 strength of schedule, numbers that give them some staying power despite those four ugly losses. Worth noting: Georgia gets Kentucky at home on March 3rd. Win that, and they're likely in.
St. John's: The Johnnies got smoked at Georgetown Tuesday night, but lucky enough for them, the RPI sees that loss as the same as a one point loss, meaning that it likely doesn't hurt their overall profile. St. John's has good computer numbers, two top 25 wins, three top 50 wins and six top 100 wins, and both of their bad losses came on the road in Big East play. They also get Seton Hall, Xavier and Georgetown at home in the next week and a half. They're probably just on the right side of the cut line as of right now. They can probably punch their ticket by winning these next three games.
LSU: The Tigers lost at Texas A&M on Tuesday, meaning they've now dropped four of their last six and will likely fall out of the RPI top 50. LSU has four top 50 wins and eight top 100 wins, but they've lost to Auburn, Mississippi State and Missouri, the three reasons they're still in the bubble conversation. Tuesday's loss isn't going to hurt their profile, but another road win over a top 50 team would have made them feel a lot more comfortable.
Texas: Texas lost a close game at No. 17 Oklahoma, and while the Longhorns are not yet in real trouble of missing the tournament — this loss surely won't hurt their profile — missing out on a top 25 road win will hurt if UT's slide continues.