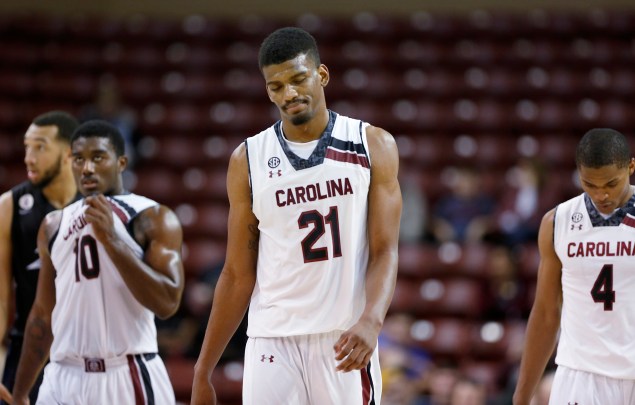 South Carolina announced the suspension of two role players on Tuesday. Head coach Frank Martin announced that sophomore forward Demetrius Henry and freshman wing Shamiek Sheppard have been suspended for the rest of the regular season due to conduct detrimental to the team.
"Our program is based on helping young people grow as individuals and helping them succeed off the court in life after college, and winning on the court as a member of our team," Martin said in the release. "We have expectations and responsibilities that we ask our players to meet on an every day basis, and unfortunately this has not happened. I will revisit the suspensions prior to the SEC Tournament."
The 6-foot-9 Henry started in 19 of his 21 games this season and averaged 6 points and 3.6 rebounds per game. The 6-foot-6 Sheppard played in seven games and played 6.9 minutes per outing averaging 1.6 points and 1.3 rebounds per game.
This shouldn't be a major loss for South Carolina, since they've struggled to a 12-12 start and a 3-9 start in the SEC. But it's not a good pattern for the future since both players are underclassmen in the program who need to mature for the team to improve next season.