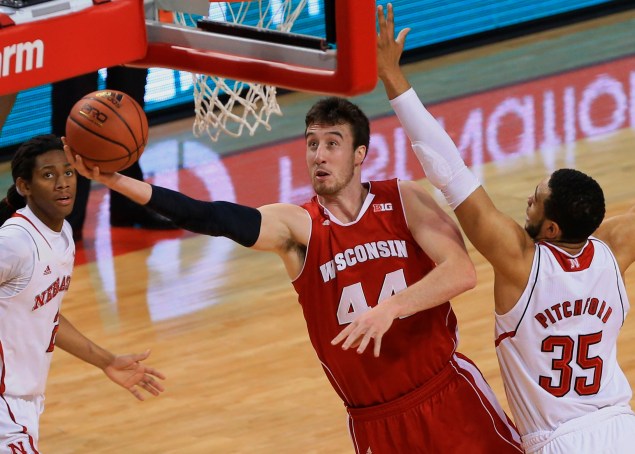 1. Frank Kaminsky, Wisconsin: Dan Dakich, polarizing as he is, is one of the best color commentators currently working in college hoops, and he had an interesting statement early on in Wisconsin's win over Nebraska last week. "I don't think you should double Kaminsky," Dakich. "The weakness of Kaminsky's game is going to score on the block, and when you double Kaminsky you leave others open."
It was an interesting comment, because Kaminsky is quite proficient at scoring on the block. According to Synergy's logs, 25.5 percent of the possessions Kaminsky uses are post-ups, and he's scoring 1.011 points-per-possession (PPP) on those post touches. But it's also where Kaminsky is actually the least-efficient, at least according to the logs on Synergy, which goes to show you just how good of a player Kaminsky actually is.
But that's neither here nor there, and while I can show you any number of the beautiful post moves that Kaminsky had against Illinois on Sunday, that goes against the point that Dakich is trying to make. Wisconsin has too many capable passers on their roster, too many guys that are smart, and willing, enough to make a pass when a teammate comes open, and the result of doubling Kaminsky in the post is likely going to end up being an open jumper or a Wisconsin player attacking a close out.
In other words, Dakich you're better off taking your chances 1-on-1 against Kaminsky on the block than letting the Badgers move the ball and move your defense. But frankly, neither option is ideal, because … well, because of this:
There's a reason Wisconsin is on pace to be the most efficient offense in KenPom's database.
2. Jahlil Okafor, Duke: Okafor responded to getting bumped out of the top spot in these rankings by going for 23 points and 13 boards on 10-for-15 shooting while holding Syracuse's all-american center Rakeem Christmas to 11 points on 5-for-17 shooting, easily his worst game of the season.
Okafor's season has been a fascinating one to track. He's exceeded the hype that he had coming out of high school. He's averaging 18.2 points and 9.3 boards on a top five team. He's the centerpiece of the nation's second-most efficient offense. He's a throw-back big man, a low-post player with the kind of quick feet, soft touch and back-to-the-basket arsenal that has evoked comparisons to the likes of Tim Duncan and Kevin McHale.
We haven't seen a player with his skill set in a long, long time, but the discussion seems to always be leaning towards who is catching up to Okafor, not how good he has been and continues to be. The same way that Kaminsky has surpassed him atop Player of the Year rankings, there is talk that Karl Towns — and, potentially, D'Angelo Russell — could end up getting picked No. 1 this June. While that's not exactly unexpected, I hope everyone can appreciate what they're watching with Okafor. It will be a long time before we someone that can do what he does again.
3. D'Angelo Russell, Ohio State: The last month of Russell's collegiate career will be interesting to watch. After a stretch where he completely dominated the sport for a solid three-week stretch, Russell has struggled in three of his last four games. Ignoring the triple-double against Rutgers — that's a lot to ignore, I know — Russell is shooting 34.1 percent from the floor and 5-for-19 from three against Purdue, Penn State and Michigan State. The Buckeyes lost to both the Boilermakers and the Spartans on the road.
Not that he wasn't before, but Russell is going to be the focal point of everywhere defensive scheme the rest of the season. It's a point of pride now; no one wants to be caught playing lazy defensively on the next vine of an absurd Russell bounce-pass that gets a million loops. How will he respond to really, truly being guarded?
4. Jerian Grant, Notre Dame: I still don't think Grant is getting the credit that he deserves for just how good he has been this season, and the sad thing is that he may never get it. More than any other team in the country — save, maybe, Indiana — the Irish are completely buoyed by their elite offensive attack, and Grant is the centerpiece of that offense. When he gets taken away — as Quinn Cook did in the second meeting with Duke, a 90-60 blowout loss — the Irish look lost. But if this group ends up getting bounced early in the NCAA tournament again, he'll end up getting written off as just another overhyped star on an overrated Notre Dame team. I hope that doesn't happen.
5. Willie Cauley-Stein, Kentucky: Cauley-Stein has been paying attention to his detractors, it seems. "I feel the whole criticism is I'm soft. Or something like that," he told reporters after Kentucky's win over South Carolina on Saturday. "I'm just going to dunk over people. I don't see how you can start calling me soft if I'm dunking on people. That's my whole mentality going into games now." That's scary, because that quote came a week after he did this to Florida's Devin Robinson and five days after dunking on LSU's Jordan Mickey four times in one game. Whatever Cauley-Stein has planned next, let's just hope he will continue to wear hats like this: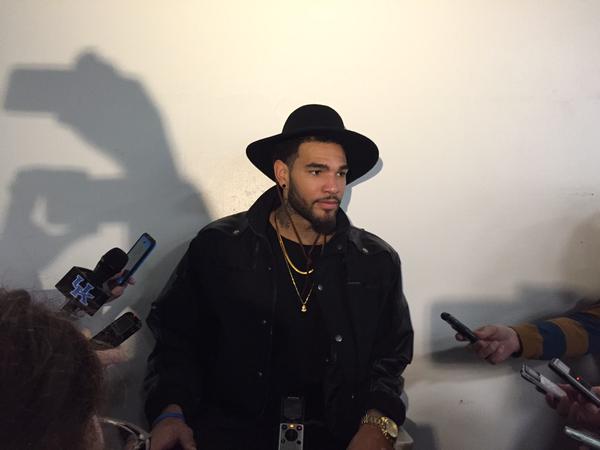 6. Delon Wright, Utah: At this point, Wright is probably somewhat underrated from a national perspective. He's the point man for a Utah defense that is No. 7 nationally, according to KenPom, and he also happens to be one of the most efficient offense players in the country despite the fact that he doesn't shoot a ton of threes, a difficult task for a point guard. How? He rarely makes the wrong play. He's sports one of the nation's best assist rates as well as one of the highest assist-to-turnover ratios. He rarely settles for jumpers, instead attacking the paint where he's a 58.1 percent shooter from inside the arc. He finishes around the rim, he draws fouls and he makes his free throws.
In short, Wright understands what his strengths and weaknesses are as a player, and he plays to them. That's an incredibly valuable skill for a star with a notable weakness (three-point range) to have.
7. Kris Dunn, Providence: Dunn has put up some incredible numbers this season — 15.4 points, 5.8 boards, 7.6 assists — but he's simply been a turnover machine at times. He's averaging 4.2 giveaways on the season, and he's committed less than three turnovers in just six of the 26 games the Friars have played. Those turnovers are the reason he rarely shows up on Player of the Year lists.
8. T.J. McConnell, Arizona: Stanley Johnson might end up being the popular pick for the All-American on this year's Arizona roster, but I think McConnell is having a more valuable, if not better season. He's embraced his role as point guard when Arizona is playing well, but he's also taken over games in which the Wildcats have struggled.
9. Seth Tuttle, Northern Iowa: Only two players in the country — BYU's Tyler Haws and UC-Davis' Corey Hawkins — have a higher offensive rating than Tuttle while using at least 28.0 percent of their team's offensive possessions than Tuttle. He's an unbelievable shooter — 48.6 percent from three and 65.5 percent from two — that anchors Northern Iowa's offense. He's can also do things like this:
Tuttle deserves to be in this conversation.
10. Justin Anderson, Virginia: We'll get into this a little more later this afternoon, but if Virginia's struggles over the course of the last three games have proven anything, it's that Justin Anderson truly deserved his spot on this list. He's Virginia's best shooter, best perimeter defender, toughest player and leader. Replacing that was not as easy as some of us (ahem, me) originally thought.
OTHERS THAT WERE CONSIDERED: Ron Baker (Wichita State), Ryan Boatright (UConn), Kyle Collinsworth (BYU), Rakeem Christmas (Syracuse), Tyler Haws (BYU), Buddy Hield (Oklahoma), Stanley Johnson (Arizona), Jarell Martin (LSU), Jordan Mickey (LSU), Larry Nance Jr. (Wyoming), Georges Niang (Iowa State), Kevin Pangos (Gonzaga), Bobby Portis (Arkansas), Juwan Staten (West Virginia), Melo Trimble (Maryland), Seth Tuttle (Northern Iowa), Brad Waldow (St. Mary's), Kyle Wiltjer (Gonzaga), Joseph Young (Oregon)