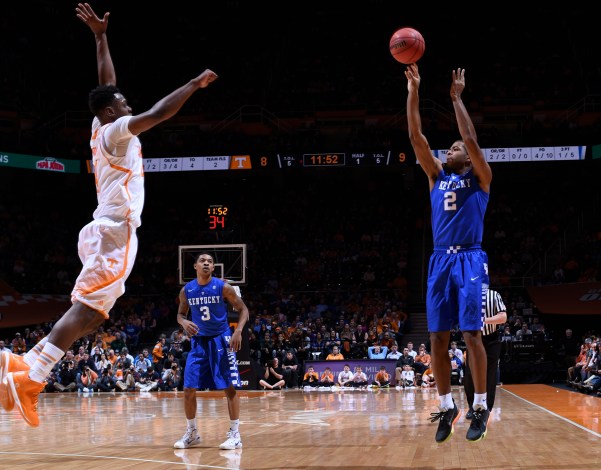 GAME OF THE NIGHT: No. 17 Oklahoma 71, Texas 69
The Sooners made a late rally to pick up another solid Big 12 home win over rival Texas. The Longhorns continue to go back and worth between winning against mediocre competition and losing to top-25 caliber teams. Jordan Woodard had 13 points and Buddy Hield added 12 points as both had off-shooting nights but still found enough at the end for the Sooners. Myles Turner had 17 points and 10 rebounds in the loss for Texas.
IMPORTANT OUTCOMES
1. No. 1 Kentucky 66, Tennessee 48
This one was close for over a half, but Kentucky had too much in the end and outlasted the Vols on the road. Devin Booker looked like a go-to scorer for the Wildcats as he scored 18 points and grabbed seven rebounds and took 16 shots on the night. Andrew Harrison added 14 points and Trey Lyles put in 10 points.
2. South Carolina 64, Georgia 58
When Georgia gets to Selection Sunday, they'll sweat looking back at this recent stretch. The Gamecocks swept the Bulldogs this season and Tuesday's loss also meant that Georgia has lost to Auburn and South Carolina in back-to-back home games.
3. No. 20 Baylor 54, Texas Tech 49
In a tight game that went down to the end, Baylor held on for a road win to go 7-6 in the Big 12. Taurean Prince scored 18 of his 22 points in the first half — including three 3-pointers — to get the Bears going early.
STARRED
1. Notre Dame's Jerian Grant
The senior had 24 points, 10 assists, 5 steals and 3 rebounds in a win over Wake Forest. The All-American candidate was
2. Stony Brook's Jameel Warney
Albany came into this game unbeaten in the America East and lost as Warney went for 20 points, 11 rebounds and five blocks in a huge road win. The Seawolves are now 18-10 on the season and are in good position for some kind of postseason berth along with Albany.
3. Michigan State's Branden Dawson
The senior had 23 points, 13 rebounds and four assists in a win over in-state rival Michigan. Dawson was 10-for-12 from the field.
STRUGGLED
1. St. John's Rysheed Jordan
When the talented junior has an off-game, the Red Storm usually struggles. That was the case in a loss to Georgetown on Tuesday night as Jordan was 1-for-6 from the field for three points to go along with three turnovers.
2. Texas' Isaiah Taylor and Jonathan Holmes
The Longhorns needed this duo to come through on the road and Taylor went 1-for-10 and Holmes went 2-for-9 from the field in the two-point loss. Both experienced starters contributed next to nothing on the offensive end.
OTHER TOP 25 RESULTS
No. 13 Wichita State defeated Southern Illinois by double digits as Shaquille Morris had 17 points and Ron Baker and Fred Van Vleet each had 13 points.
Treveon Graham went for 16 points as No. 25 VCU beat Saint Louis, 74-54. The Rams shot 46 percent from the field and only turned the ball over eight times.
NOTABLES
Georgetown put six different players in double figures — five of them with 12 points each — in a Big East win over St. John's. Isaac Copeland had 12 points and 10 rebounds.
Texas A&M had a big win over LSU as Danuel House had 20 points and Kourtney Roberson had 16 points and 11 rebounds.
San Diego State won on the road at New Mexico as Aqeel Quinn had 20 points and Malik Pope had 16 points.
Alabama picked up a road win over Auburn as Levi Randolph had 19 points, seven rebounds and three assists.
Evansville outlasted Drake for a Missouri Vally win as D.J. Balentine had 24 points.
South Florida earned a win over Houston in the American as Troy Holston Jr. had 18 points.
Longwood defeated Liberty as Leron Fisher had 24 points, four points, four assists and four steals.
Cleveland State at Western Carolina was cancelled due to winter weather.
Austin Peay at Eastern Kentucky was also postponed due to weather.