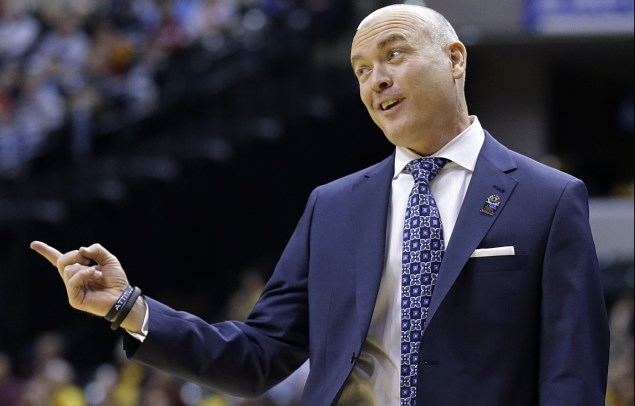 Penn State head coach Patrick Chambers was publically reprimanded and the school fined $10,000 for an outburst about the officiating during a 76-73 loss to Maryland on Saturday night.
"That is the worst call that I've ever seen in my entire life," Chambers said on Saturday. "They're pulling Jordan Dickerson down. First of all, time and score. He's too young, he doesn't have a feel for the game, he shouldn't call that foul. That's one."
"Two is, he back cut. He went down the middle. He didn't even use the screen and he got pulled down and they called a foul on him? It makes no sense. And if I didn't complain Newbill would have gotten to the foul line because Trimble gets there 12 times and he's a freshman and he's on the road. It's a joke. It's a joke the way we're officiated. It's disappointing. And there was an elbow that they didn't want to call that they should have called that normally get called against us. Frustrating, disappointing. But, we gotta take the refs out of the game, and we didn't."
The call in question can be seen here, and it is unquestionably an awful call. Penn State's Jordan Dickerson was pulled down by Maryland's Evan Smotrcyz and whistled for his fifth foul for it.