Putting these rankings together on a weekly basis has become increasingly harder as the season has progressed, and it's not because the decisions at the top are tough to make.
At this point, the top eight teams in the country have more or less separated themselves from the rest of the pack. Within that group of eight, there seems to be three tiers: Kentucky, then, in some order, Wisconsin, Gonzaga, Virginia, Duke and Arizona, followed up by Villanova and Kansas.
Beyond that?
Who knows.
READ MORE: Our latest bracket update | Weekly Award winners: Villanova, San Diego State
Utah looks like they could be a Final Four contender, but they were blown out by Arizona and, more concerningly, UCLA. Notre Dame and Iowa State can score with the best of them but can't get stops while Louisville is really good defensively and can't score. Oklahoma, Baylor and North Carolina are talented but inconsistent. Wichita State and Northern Iowa are really, really good mid-major programs whose rank is getting inflated as they continue to win while power conference teams beat up on each other. Maryland? Butler? Arkansas and Ohio State and Providence and SMU?
To put it another way, these rankings would make more sense in my mind if I could do the top eight and then have a ten-way tie for 18th place.
This isn't a bad thing, however, because it looks like the tournament will have some fireworks the first weekend. But the dominance of the best teams could mean that we're looking at a situation where the Elite 8 is quite chalky, and that's when this sport is at its best.
Cinderellas are fun, but I want to see the nation's best squaring off with everything on the line.
Anyway, onto the top 25: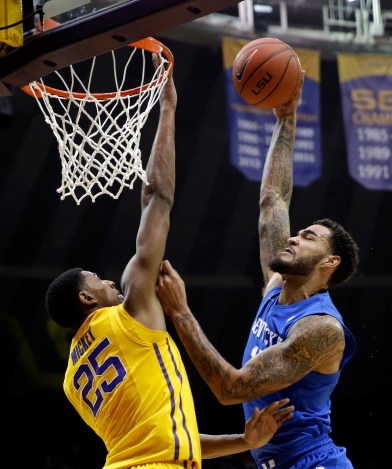 1. Kentucky (25-0, LW: No. 1): The Wildcats survived their toughest road stretch of the season, winning hard-fought games at Florida and LSU. They still have to host Arkansas and play at Georgia, but the Wildcats look like they should be able to get to March undefeated.
2. Wisconsin (23-2, LW: No. 4): We keep hearing about how Kentucky is playing historically good defense, but no one is talking about the fact that the Badgers are currently on pace to finish the season with the best adjusted offensive efficiency of the KenPom era. Wisconsin is as slow and as patient as anyone in the country, but elite shooting and an extreme aversion to turnovers has made them ruthlessly efficient.
3. Gonzaga (26-1, LW: No. 3): I understand why people doubt Gonzaga, but I think it's worth pointing out here that if this over-the-back actually gets called, the Zags are undefeated in mid-February with a win at Arizona on their resume.
4. Virginia (23-1, LW: No. 2): I watched Virginia's four-point win over N.C. State. I watched Virginia's one-point win over Wake Forest. I think it's obvious: I underestimated how much missing Justin Anderson would actually hurt the Cavaliers. He's their best defender, their best shooter, their best athlete and the toughest dude on the roster. He's the epitome of everything that Virginia wants to do. That's not easy to replace.
5. Duke (22-3, LW: No. 5): Duke's defensive issues are clearly still a red flag, but getting Justise Winslow back to where he was at the start of the season has made a difference.
6. Villanova (23-2, LW: No. 6): I have my doubts about Villanova, but they went into Hinkle Fieldhouse and knocked off a good Butler team in the biggest game in recent memory in the historic arena. That 23-2 record is not a fluke.
7. Arizona (22-3, LW: No. 7): The Wildcats won the two games on their Washington roadtrip by a combined 51 points. Not bad.
8. Kansas (21-4, LW: No. 8): The consensus is that the Big 12 is the nation's toughest conference this season, and the Jayhawks are on the verge of steamrolling through the league again. They are up two games with just six left to play.
9. Utah (20-4, LW: No. 10): Utah is really, really impressive when they're playing overmatched Pac-12 teams, especially when those games are played at home. I'm waiting to go all-in on the Utes until we see what happens when Arizona comes to town.
10. Notre Dame (22-4, LW: No. 11): The Irish have the highest-ceiling of the group I'm going to start referring to as "The Leftovers", thanks to their ability to shoot and the fact that they have Jerian Grant on the roster. When they're shooting well, they can beat anyone. But they need to shoot well because defensively, the Irish are not good.
11. North Carolina (18-7, LW: No. 12)
12. Iowa State (18-6, LW: No.
13. Louisville (20-5, LW: No. 9)
14. Northern Iowa (24-2, LW: No. 15)
15. Wichita State (23-3, LW: No. 16)
16. Baylor (18-7, LW: No. 14)
17. Oklahoma (17-8, LW: No. 17)
18. Ohio State (19-7, LW: No. 18)
19. Maryland (21-5, LW: No. 19)
20. Butler (18-6, LW: No. 20)
21. SMU (21-5, LW: No. 21)
22. Arkansas (20-5, LW: UR)
23. Oklahoma State (17-8, LW: No. 23)
24. Providence (18-8, LW: No. 24)
25. VCU (19-6, LW: No. 22)
Dropped Out: No. 25 West Virginia