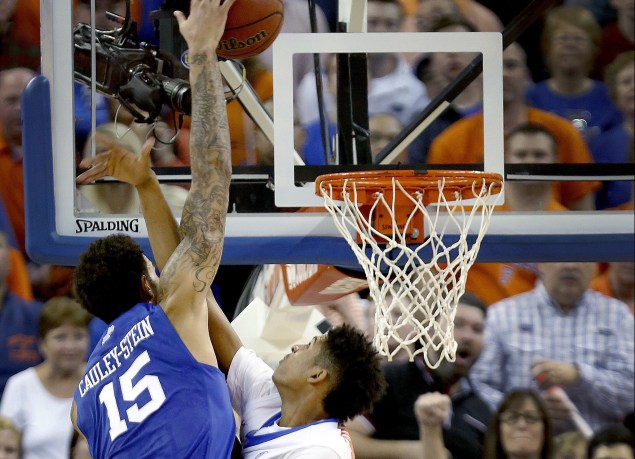 We're now a month from Selection Sunday, and Madness continues around the bubble.  Weekend results did little to change this scenario, so the same rules apply: If your team is seeded 8th or lower they have work to do.  In fact, we have a few teams on the 8/9 seed line that should probably be 11/12 seeds.  That's where we stand.  Championship Week will be must-see TV.
Unbeaten Kentucky (25-0) continues to lead the Field of 68.  At this point, it would take multiple glitches for UK to lose its reign on the Midwest Region.  Elsewhere at the top of the bracket, Virginia, Gonzaga, and Duke continue to hold No. 1 seeds. If Kansas, Villanova, Wisconsin, and Arizona also keep winning, there will be some interesting discussions among Selection Committee members regarding the top two seed lines. Keep this in mind: Although the Committee will "balance" regions for the Top 4 seed lines, geographic preference remains a priority – as long as other bracketing principles can be met.  Thus, we're likely to see Arizona in the West and Wisconsin in the Midwest regardless of their spot on the 2-line, assuming both stay in that group.
READ MORE: Our latest top 25 | Weekly Award winners: Villanova, San Diego State
We'll see how much the bottom of the bracket changes by Friday.  Until then, enjoy another whacky few days of college hoops.  For the complete Seed List to today's bracket, visit Bracketville.
UPDATED: February 16, 2015
Teams in CAPS represent the projected AUTOMATIC bid. In the event of a tie in the loss column, RPI is the first tiebreaker used. Exceptions are made for teams that use an abbreviation (UCLA, BYU, etc).
Several new bracketing principles were introduced last year. You can read them for yourself at http://www.ncaa.com. For example: teams from the same conference may now meet before a Regional final, even if fewer than eight teams are selected. The goal is to keep as many teams as possible on their actual seed line.
FIRST FOUR PAIRINGS – Dayton (First Round)
NC State vs. St. John's | East Region
Miami-FL vs. UCLA | East Region
TX-SOUTHERN vs. ALBANY | Midwest Region
ST. FRANCIS (NY) vs. BUCKNELL | East Region
BRACKET PROJECTION …
| | | |
| --- | --- | --- |
| MIDWEST – Cleveland              | | EAST – Syracuse |
| Louisville | | Charlotte |
| 1) KENTUCKY | | 1) VIRGINIA |
| 16) ALBANY / TX-STHERN | | 16) ST. FRANCIS / BUCKNELL |
| 8) Michigan State | | 8) Dayton |
| 9) Temple | | 9) Mississippi |
| | | |
| Jacksonville | | Pittsburgh |
| 5) Baylor | | 5) WICHITA STATE |
| 12) VALPARAISO | | 12) Miami-FL / UCLA |
| 4) North Carolina | | 4) Maryland |
| 13) BOWLING GREEN | | 13) IONA |
| | | |
| Columbus | | Omaha |
| 6) Oklahoma State | | 6) Indiana |
| 11) Purdue | | 11) St. John's / NC State |
| 3) Louisville | | 3) Iowa State |
| 14) NC-CENTRAL | | 14) HARVARD |
| | | |
| Columbus | | Pittsburgh |
| 7) Georgetown | | 7) VCU |
| 10) LSU | | 10) Georgia |
| 2) WISCONSIN | | 2) VILLANOVA |
| 15) GA. SOUTHERN | | 15) WILLIAM & MARY |
| | | |
| SOUTH – Houston | | WEST – Los Angeles |
| Charlotte | | Seattle |
| 1) Duke | | 1) GONZAGA |
| 16) FLA GULF COAST | | 16) NEW MEXICO ST |
| 8) Texas | | 8) SAN DIEGO ST |
| 9) Cincinnati | | 9) Illinois |
| | | |
| Jacksonville | | Seattle |
| 5) Arkansas | | 5) Northern Iowa |
| 12) WOFFORD | | 12) MURRAY STATE |
| 4) Butler | | 4) Oklahoma |
| 13) LOUISIANA TECH | | 13) S.F. AUSTIN |
| | | |
| Portland | | Louisville |
| 6) Providence | | 6) Ohio State |
| 11) Texas AM | | 11) Xavier |
| 3) Utah | | 3) Notre Dame |
| 14) E. WASHINGTON | | 14) HIGH POINT |
| | | |
| Omaha | | Portland |
| 7) SMU | | 7) West Virginia |
| 10) Iowa | | 10) Colorado State |
| 2) KANSAS | | 2) ARIZONA |
| 15) SO DAKOTA ST | | 15) UC-DAVIS |
NOTES on the BRACKET: Kentucky is the overall No. 1 seed followed by Virginia, Gonzaga, and Duke. Next in line: Kansas, Villanova, Wisconsin, and Arizona
Last Five teams in (at large): Texas AM, St. John's, NC State, UCLA, Miami-FL
First Five teams out (at large): Stanford, Oregon, Tulsa, Davidson, Massachusetts
Next five teams out (at large): Boise State, Rhode Island, Seton Hall, BYU, Old Dominion
Breakdown by Conference …
Big 10 (8): Wisconsin, Maryland, Indiana, Ohio State, Michigan State, Illinois, Iowa, Purdue
ACC (7): Virginia, Duke, Notre Dame, Louisville, North Carolina, NC State, Miami-FL
Big 12 (7): Kansas, Oklahoma, Iowa State, Baylor, Oklahoma State, West Virginia, Texas
Big East (6): Villanova, Butler, Providence, Georgetown, Xavier, St. John's
SEC (6): Kentucky, Arkansas, Ole Miss, Georgia, LSU, Texas AM
Pac 12 (3): Arizona, Utah, UCLA
American (3): SMU, Temple, Cincinnati
Mountain West (2): San Diego State, Colorado State
Atlantic 10 (2): VCU, Dayton
Missouri Valley (2): Wichita State, Northern Iowa
Conference USA (1): Louisiana Tech
West Coast (1): Gonzaga
ONE BID LEAGUES: Georgia Southern (SBELT), Harvard (IVY), Eastern Washington (BSKY), Valparaiso (HZN), S.F. Austin (SLND), Wofford (STHN), UC-Davis (BWEST), Bowling Green (MAC), Iona (MAAC), Florida Gulf Coast (ASUN), Murray State (OVC), William & Mary (CAA), High Point (BSO), NC-Central (MEAC), South Dakota State (SUM), New Mexico State (WAC), Albany (AEAST), Bucknell (PAT), St. Francis – NY (NEC), Texas-Southern (SWAC)