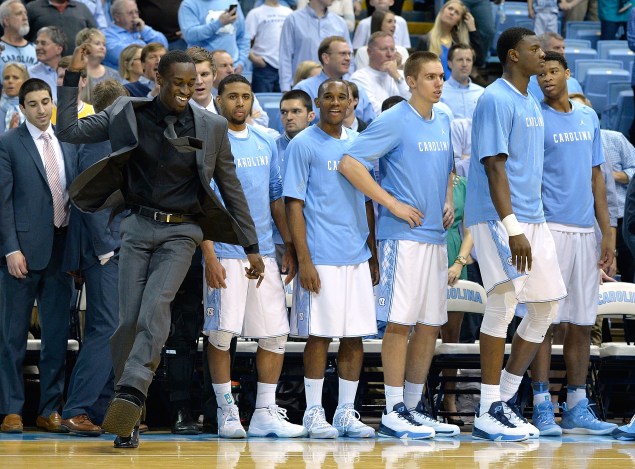 North Carolina has been without injured freshman guard Theo Pinson for five games as the former McDonald's All-American recovers from a foot injury.
According to Powell Latimer of the News and Record, Pinson is getting out of a protective boot after three weeks and will be examined next week to see if he needs surgery on the fifth metatarsal in his left foot. But even with a broken foot, Pinson has continued to be outspoken and show vocal support on a team that desperately needs someone to step up and be a leader alongside junior guard Marcus Paige.
In Latimer's profile of Pinson, we see that the freshman has stepped up as a supportive and respected teammate even though he's stuck on the bench and unable to play.
"I just have to get it off my chest or it's going to be lingering over my head," Pinson said to Latimer. "Most of the time when I say things everybody is like 'I'm glad you said that. We don't have many people on our team that will speak up and say things.' … Sometimes you just have to hear it."
With Marcus Paige recently asking others on North Carolina to step up and lead, Pinson providing another voice in the locker room is a helpful thing for the Tar Heels. It would be even better if Pinson was given the opportunity to play healthy again this season, but North Carolina will have to wait and see until next week on the health status of the freshman.
Even though he's sidelined by the injury, Latimer said in his story that Pinson continues to dance on one foot and keep up his energy during the game.