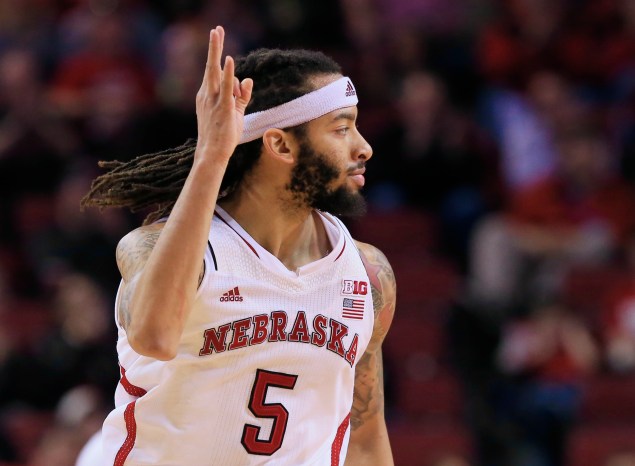 Nebraska junior wing Terran Petteway is one of the Big Ten's most prolific scorer's and better overall players. This season though, the 6-foot-6 Petteway has had some peaks and valleys, including a shouting match with head coach Tim Miles during a loss to Wisconsin.
On Friday, Petteway revealed in a press conference with head coach Tim Miles, that he's dealing with his mother battling cancer.
According to a story from Lee Barfknecht of the Omaha World-Herald, Terran's mother, Joetta, is in her third bout with cancer. Joetta was diagnosed with a rare form of soft-tissue cancer in 2013 and was in remission by the spring of 2014.  The native of Galveston, Texas received a recurrence, however, and is being treated by chemotherapy.
"That's the thing that's been weighing on me the whole season,'' Petteway said Friday to reporters. "I just didn't know how to handle it.''
Not only had Petteway not revealed his mother's battle with cancer publicly, but very few teammates even knew what the junior was going through. In a meeting with head coach Tim Miles on Wednesday, Petteway offered to step down as a team captain, a gesture which Miles refused. From there, according to Barfknecht, Petteway told his teammates about his mother in an emotional meeting on Thursday before choosing himself to speak to the media on Friday.
"I really did feel relaxed after I got that off my chest,'' Petteway said. "That was really holding me down, and kind of bringing my teammates down.''
Barfknecht also noted that Petteway looked as relaxed and comfortable as he had in weeks, even smiling on multiple occasions during Friday's press conference in relief.
"I wanted to let you guys know that's why I've been looking frustrated every game,'' said Petteway on Friday.
Miles also showed support to Petteway, and his mother, at the press conference. The team plans to get Petteway home as soon as possible but he also feels like he needs to be with the team and not let them down as well.
"People don't always understand what young people go through. But what Terran doesn't understand is the Husker Nation support and his team's support. When people know he is worried about his mother, they will embrace that,'' Miles said.
Petteway has averaged 18.9 points per game this season, good for third in the Big Ten, but the Huskers have struggled to a 13-11 start and 5-7 record in conference play. Maybe now if Petteway is more relaxed with this news off of his chest, he can feel like he can play with more freedom.
CBT wishes Joetta Petteway and the Petteway family the best going forward in her recovery.