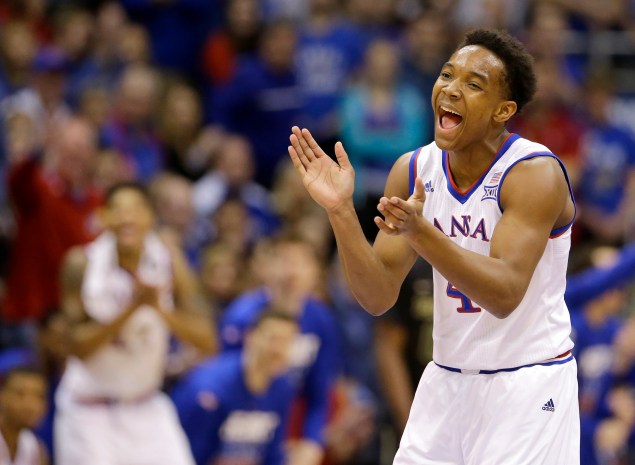 GAME OF THE DAY: Montana 83, Northern Colorado 81 (3OT)
The Grizzlies won a wild one in Greeley, with Jordan Gregory making two free throws with 2.2 seconds remaining in triple overtime. Gregory scored 20 points and Brandon Gfeller, whose three-pointer with two tenths of a second remaining sent the game into triple overtime, scored 21 to lead the way for Montana. Tevin Svihovec led three Bears in double figures with 23 points. As a result of their win and Eastern Washington's loss to Portland State, Montana is back to within a game of first place (in the loss column) in the Big Sky.
IMPORTANT OUTCOMES
1. Michigan State 59, No. 23 Ohio State 56
The Spartans needed a home win against a ranked opponent and Denzel Valentine delivered the game-winner on Valentine's Day. Valentine's game-high 17 points was a huge lift for Michigan State and a win puts them among the 4-loss logjam in the Big Ten.
2. Pitt 89, No. 12 North Carolina 76
Pitt has had an up-and-down season, but they've won four straight games at home, including wins against Notre Dame and the Tar Heels. Sheldon Jeter led the Panthers with 22 points and he led Pitt with six double-figure scorers. Many people wrote the Panthers out of the NCAA Tournament conversation, but if they keep picking up big conference wins, they'll be a team to track going forward. As for North Carolina, Marcus Paige struggled to a 3-for-11 performance and 8 points as the Tar Heels were led by 19 from Brice Johnson and 15 from Kennedy Meeks.
3. No. 8 Kansas 74, No. 16 Baylor 64
The Jayhawks held many Baylor stars in check and did a great job of closing in the final minutes of a Big 12 home win. Perry Ellis and Kelly Oubre Jr. each had 18 points and Frank Mason chipped in 15 points to help with the scoring for Kansas. Baylor had 3-for-17 shooting from Royce O'Neale, Johnathan Motley and Lester Medford certainly didn't help. Rico Gathers had 18 and Kenny Chery had 17, but it wasn't enough for the Bears. Kansas trailed by 13 in this one early but patiently stayed the course and made a comeback over time.
4. NC State 74, No. 9 Louisville 65
The Wolfpack, who already have a home win over No. 4 Duke on their resume, picked up a huge road win Saturday afternoon. Cat Barber scored a season-high 21 points and dished out four assists with just two turnovers, and Trevor Lacey added 14 with BeeJay Anya and Caleb Martin grabbing ten rebounds apiece. The best number for NC State on Saturday: eight, as in the number of turnovers they committed against a Louisville team known for its pressure defense. Louisville shot 32.8% from the field, and without the live-ball turnovers that help them make up for their offensive deficiencies Rick Pitino's team struggled.
RELATED: Saturday's Bubble Banter
STARRED
1. Robert Morris forward Aaron Tate
Tate only had four points and six rebounds, but he made a game-winning, tip-in at the buzzer for the win over Central Connecticut State.
2. Dayton's Jordan Sibert
The guard played a tremendous floor game for the Flyers and was everywhere as he went for 24 points, seven steals, five rebounds, three assists and a block in a win over St. Bonaventure. Sibert was 6-for-13 from the floor, 3-for-8 from 3-point range and 9-for-11 from the free-throw line.
3. St. John's Sir'Dominic Pointer
The do-it-all wing was efficient and outstanding in multiple facets of the game in a big Red Storm win over Xavier. Pointer had 24 points on 9-for-10 shooting with five rebounds, four steals and two blocks. St. John's had an important Big East road game and Pointer came to play.
4. Villanova's Darrun Hilliard
Hilliard hit eight three-pointers and scored 31 points in the Wildcats' 68-65 win at No. 18 Butler. His final three-pointer, made with 1.5 seconds remaining, was the game-winner.
STRUGGLED
1. Baylor's Lest3r Medford
Plenty struggled on Baylor's offense on Saturday, but Medford had five points on 1-for-5 shooting and five fouls in the loss to Kansas.
2. South Carolina
The Gamecocks haven't shot well in either of their losses to No. 1 Kentucky. Saturday they shot 23.6% from the field, and that percentage was an improvement on where their numbers were at the under-4 media timeout (18.8% FG).
3. UConn's Rodney Purvis and Terrence Samuel
Purvis and Samuel combined to score six points on 2-for-13 shooting in the Huskies' 73-55 loss at SMU.
4. Tennessee's Willie Carmichael III, Robert Hubbs and Kevin Punter
While Josh Richardson and Armani Moore combined to score 31 points, the Volunteers' other three starters combined to score five points on 2-for-11 shooting in a 73-55 loss to LSU.
THE REST OF THE TOP 25
No. 1 Kentucky moved to 25-0 with their 77-43 win over South Carolina. The Gamecocks shot 23.6% from the field on the afternoon.
No. 20 VCU ended its two-game losing streak, winning 79-66 at George Washington. Treveon Graham (ankle) made his return for the Rams, who are tied atop the Atlantic 10 with Dayton and Rhode Island.
Monte Morris scored 19 points and Abdel Nader added 16 off the bench as No. 14 Iowa State took care of No. 21 West Virginia, 79-59.
No. 2 Virginia survived, holding on to beat Wake Forest 61-60 in Charlottesville. Kostantinos Mitoglou proved to be a matchup problem for Virginia, hitting five three-pointers, but the tandem of Anthony Gill and Malcolm Brogdon was able to do enough to lead the Cavaliers to the win.
No. 6 Villanova beat No. 18 Butler 68-65 on a Darrun Hilliard three-pointer with 1.5 seconds remaining.
No. 4 Duke didn't get off to the best start at Syracuse, but the rebounded in the second half to win 80-72. Jahlil Okafor scored 23 points and grabbed 13 rebounds, and former Blue Devil Michael Gbinije scored 27 for Syracuse.
No. 15 Wichita State won 68-62 at Illinois State, with Ron Baker leading the way offensively with 19 points.
After racking up three straight wins over ranked teams, No. 21 Oklahoma State fell 70-55 at TCU.
No. 3 Gonzaga has now won 40 straight home games, as they beat Pepperdine 56-48.
No. 25 SMU is now in sole possession of first place in the American after the whipped UConn 73-55 in Dallas. Outside of the chance to get closer to the top of the league standings nothing changes for the reigning national champions, who will need to win the conference tournament to go dancing.
Marcus Foster beat No. 17 Oklahoma for the second time this season, hitting a three-pointer with 3.4 seconds remaining to give the Wildcats the 59-56 victory.
Dez Wells scored 22 points and Melo Trimble added 20 as No. 19 Maryland held on to beat Penn State 76-73 in Happy Valley.
A Manuale Watkins basket with 6.4 seconds remaining gave No. 24 Arkansas a 71-70 win at Ole Miss. As a result, the Razorbacks are now in sole possession of second place in the SEC.
NOTABLES
Memphis picked up an easy American road win at South Florida as Shaq Goodwin had 18 points and nine rebounds and the Tiger bench scored 35 points.
Clemson jumped out to a 19-4 lead on Virginia Tech and never looked back. Jordan Roper was 5-for-6 from 3-point range and had 21 points in the Tiger ACC victory.
Georgia State was without Sun Belt leading scorer Ryan Harrow, who missed due to concussion-like symptoms, but R.J. Hunter stepped up with 17 points as the Panthers won 53-41 against Texas State.
Winthrop guard Keon Moore had 27 points on 6-for-10 shooting to lift the Eagles over Gardner-Webb.
Stephen F. Austin's 33-game win streak in Southland games came to an end Saturday, as they lost 71-63 at Texas A&M-Corpus Christi. The Lumberjacks are now tied with Sam Houston State atop the Southland standings (10-1).
Temple won its seventh straight game, beating East Carolina 66-53 in Philadelphia. Next up for the Owls are games against No. 25 SMU and Tulsa.
UCLA won for the fifth time in its last six games, beating Oregon 72-63 in Los Angeles. The Bruins still have a lot of work to do when it comes to getting an NCAA tournament bid, but they have the talent to do it.
Saint Mary's avoided a loss that would not have looked good on their resume, winning 69-62 at San Diego in overtime. The Gaels host No. 3 Gonzaga next Saturday.
There are no more winless teams in college basketball, as Florida A&M beat North Carolina A&T 57-50. The Rattlers lost their first 23 games of the season.
Murray State has clinched the regular season OVC title, meaning that at the very least Steve Prohm's team has wrapped up a Postseason NIT berth. The Racers beat Southeast Missouri State 94-92 in overtime, winning their 21st consecutive game.
UTEP is now alone atop the Conference USA standings after they beat Old Dominion 62-47 in El Paso. The Miners are 10-3, with Western Kentucky dropping to 9-3 as a result of their loss at Marshall.
UC Davis (9-1 Big West) was off, but their lead in the Big West is up to two games as UC Irvine (7-3) lost at UC Riverside 70-63.
San Diego State is now a game ahead of Boise State in the loss column atop the Mountain West, as the Aztecs took care of Colorado State 72-63 and the Broncos lost 70-64 at Fresno State.