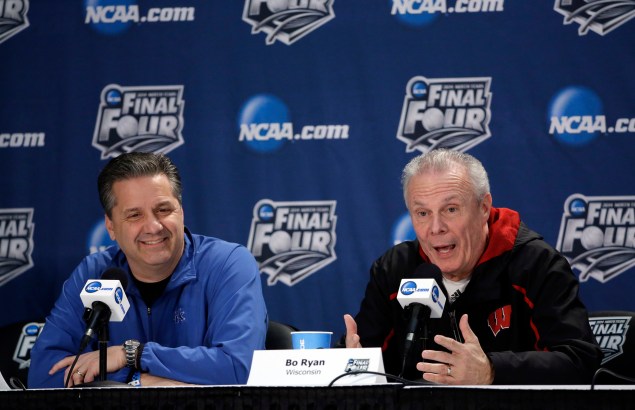 Kentucky head coach John Calipari and Wisconsin head coach Bo Ryan were among 12 finalists for the Naismith Memorial Basketball Hall of Fame that was officially announced on Saturday morning.
The complete list of 10 finalists from the North American Screening Committee includes: players Tim Hardaway, Spencer Haywood, Kevin Johnson, Dikembe Mutumbo, and Jo Jo White, coaches John Calipari, Bill Fitch, Robert Hughes and Bo Ryan and referee Dick Bavetta. From the Women's Screening Committee: coach Leta Andrews and player Lisa Leslie.
The Class of 2015 for the Naismith Memorial Basketball Hall of Fame is announced Monday, April 6 and the class is enshrined during the weekend of Sept. 10-11. A finalist needs 18 of 24 votes from the Honors Committee for election.
Calipari is a two-time Naismith College Coach of the Year and won a NCAA Championship at Kentucky in 2012. While Ryan is known most for leading Wisconsin to the Final Four last season and being a three-time Big Ten Coach of the Year, he also has four Division III national titles at Wisconsin-Platteville.
Kentucky released an official finalist announcement for John Calipari where he gave a statement:
"I'm at a loss for words. I want to thank the Naismith Memorial Basketball Hall of Fame committee for even considering me. The process is by no means over – I'm just a finalist at this point – but to even be mentioned as a finalist among these worthy candidates is an unbelievable honor. I am absolutely humbled by this.
"I want to thank the people at UMass, Memphis and Kentucky for giving Ellen and I an opportunity to coach at three great institutions. I want to thank all the assistants and staff who have worked for us over the years, as well as the people in the community who have added value to our lives. Most importantly, I want to thank all of the players who have let us coach them and all of the parents who entrusted us with their son. Thank you."
Wisconsin also had an official release for Bo Ryan being a finalist:
"I'm extremely humbled and honored just to be mentioned with the other names on the nominee list. The Hall of Fame holds so many revered legends of basketball and many of the individuals who originally sparked my love for the game."
"When I first planted my coaching roots years ago at the junior high level, I did so to be a teacher and help kids like my father did so selflessly. I never had intentions or even thoughts of being on Hall of Fame lists, but it's quite an honor and I'm grateful to all of the players and coaches who have helped along the way.
"I have been blessed to work at some prestigious institutions that were willing to take a chance on me. I am thankful to so many individuals who granted me opportunities and trusted in me."
Calipari and Ryan both have high hopes to be coaching in the national championship game on the day of the Naismith Memorial Hall of Fame announcement. Kentucky is 24-0 and No. 1 in the country while Wisconsin is 22-2 and No. 5 in the country. Both schools are coming off of Final Four appearances in 2014.