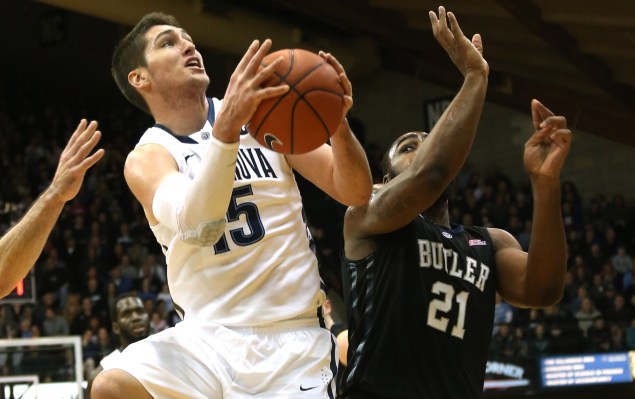 GAME OF THE WEEKEND: No. 6 Villanova at No. 18 Butler, Sat. 6:00 p.m.
It feels like a weekly occurrence that we try to figure out who the second best team is in the Big East, and this week, with Georgetown and Providence losing, it looks like it is Butler. The Bulldogs have won five in a row and seven of their last eight and now sit a full two games in front of the Hoyas in second place in the league. A win and Butler will be tied for first place in the conference in February with the No. 6 team in the country, which is incredible when you think about everything that the program has been through in the last two years.
THE OTHER GAME OF THE WEEKEND: No. 16 Baylor at No. 8 Kansas, Sat. 1:00 p.m.
Baylor is one of a handful of teams that I feel like I can't figure out. I know they're good, but just how good are they? Is this truly one of the top 15 or 20 teams in the country, or are they a team that's closer to being a team destined for a first weekend exit from the NCAA tournament? I'm not sure, but I do know this: the Bears probably should have beaten Kansas in Waco earlier this season. I'm sure they'll have revenge on their minds, but winning in Phog Allen Fieldhouse is much easier said than done.
FIVE MORE GAMES TO WATCH
No. 23 Ohio State at Michigan State, Sat. 12:00 p.m.: The nation's most entertaining player — D'Angelo Russell — will pay a visit to one of college basketball's best environments.
Cal at No. 11 Utah, Sun. 8:30 p.m.: Cal is one of the hottest teams in the Pac-12 right now, and their minuscule NCAA tournament chances more or less hinge on winning this game. Can they pull off the upset?
Colorado State at San Diego State, Sat. 8:00 p.m.: The Mountain West race is a mess, but with Larry Nance Jr. out, these look like the two best teams in the conference.
Iona at Manhattan, Fri. 10:00 p.m.: The MAAC powers will square off in one of the country's more under-appreciated rivalries.
Oregon at UCLA, Sat. 3:00 p.m.: It feels like we've written off both of these teams already, but both of these two teams are still in contention for the NCAA tournament.
WHO'S GETTING UPSET?: No. 12 North Carolina at Pitt, Sat. 12:00 p.m.
The Panthers have not had a great season in 2014-2015, but they have proven that they are capable of competing with — and beating, right Notre Dame? — the best in the ACC, particularly on their home floor. North Carolina bounced back from back-to-back losses to Virginia and Louisville with a win at Boston College, but the next game on their schedule is a trip to Duke on Wednesday. This is a classic trap game.
UPSET WATCH
No. 24 Arkansas at Ole Miss, Sat. 9:00 p.m.: Arkansas struggles on the road and Ole Miss looks like the hottest team in the SEC, coming off of a win at Florida.
No. 18 VCU at George Washington, Sat. 2:00 p.m.: George Washington desperately needs to win this game if they want to keep their NCAA hopes alive. VCU, playing without Briante Weber and with a banged-up Treveon Graham, is very beatable.
No. 17 Oklahoma at Kansas State, Sat. 8:00 p.m.: The Wildcats season is on the ropes, which means their backs are against the wall. Is Saturday the day they finally respond?
Pepperdine at No. 3 Gonzaga, Sat. 8:00 p.m.: Gonzaga is as tough as anyone at home, but Pepperdine has proven to be a scrappy team on the rise in the WCC. They won't be an easy out.
No. 19 Maryland at Penn State, Sat. 8:30 p.m.: Penn State has not had a great season, but D.J. Newbill is as good of a scorer as you'll find in the Big Ten.
FIVE STORY LINES TO KEEP AN EYE ON
1. There will be four games on NBCSN and streaming on Live Extra this weekend:
St. Bonaventure at Dayton, Sat. 12:30 p.m.
Delaware at William & Mary, Sat. 2:30 p.m.
Towson at Charleston, Sun. 12:30 p.m.
St. Joe's at Fordham, Sun. 2:30 p.m.
2. Three top five teams will play games they should win at home:
South Carolina at No. 1 Kentucky, Sat. 2:00 p.m.
Wake Forest at No. 2 Virginia, Sat. 2:30 p.m.:
Illinois at No. 5 Wisconsin, Sun. 1:00 p.m.
3. No. 4 Duke at Syracuse, Sat. 6:00 p.m.: Syracuse won this game last season in what was the best game of the college basketball season. Things are different this year, however, as the Orange have had their postseason taken away from them. Jahlil Okafor vs. Rakeem Christmas will be terrific.
4. St. John's at Xavier, 12:00 p.m.: There are all kinds of bubble implications in this game.
5. Seton Hall at Providence, Sat. 4:00 p.m.: Seton Hall is a mess right now, which only reiterates the fact that this is a game that Providence simply cannot afford to lose.