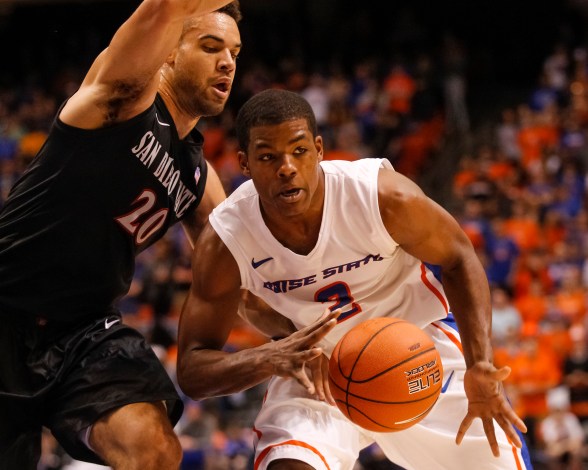 Despite losing all-conference forward Ryan Watkins at the end of last season, Boise State was picked to finish second in the Mountain West's preseason media poll, with seniors Anthony Drmic and Derrick Marks expected to lead the way. But rarely is a season straightforward, and in the case of Boise State they had to deal with significant health issues in non-conference play.
Drmic struggled with back and ankle injuries, with the latter ultimately requiring season-ending surgery, and players such as Marks, Nick Duncan and James Webb III also struggled with health issues. Boise State's 48-45 loss to Loyola-Chicago in the Las Vegas Classic final was the first of four straight defeats, with the last three being conference games.
To their credit the Broncos refused to use the injuries as a crutch, and as they've returned to full strength Leon Rice's team has been among the hottest in the country over the last month. Boise State has won eight straight games since falling at Wyoming January 10, and while there are a variety of reasons why the Broncos are now a contender to win the Mountain West the simplest one is that outside of Drmic everyone is back to full strength.
"Injuries," Rice told NBCSports.com Friday when asked what the issues were during the aforementioned losing streak. "[Nick] Duncan was out with an ankle injury and probably shouldn't have played a couple games, Derrick missed the Loyola game and probably shouldn't have played at Colorado State.
"Also it was the schedule. We played at Colorado State when they were undefeated, and we played at Wyoming when they were ranked. Those are some pretty tough places to play."
That begins with Marks, who spent much of his offseason rehabbing from a torn meniscus suffered in May and then injured his ankle in a win over Houston that forced him to miss the aforementioned loss to Loyola. After missing that game and playing at Colorado State when he wasn't at full strength, Marks continued on the path that has made him a much-improved player even with the solid numbers he put up as a junior.
Last season Marks averaged 14.9 points per game, but he did so shooting 44.1% from the field and just under 29 percent from beyond the arc. As a senior, without the versatile Drmic to draw attention, Marks is up to 19.5 points per game while shooting better than 50 percent from both the field and from three. After ranking tenth in the Mountain West in offensive rating per kenpom.com (amongst players involved 24% of possessions), Marks is currently tops in the conference in that particular category.
"He just put in a lot of time, effort and energy into becoming a better player," Rice said of Marks. "When he got hurt [during the summer] he studied the game in a different way, and he spent a lot of time shooting. Even when he couldn't move, he took shots while sitting in a chair."
The hard work has paid off for him individually, and it's also led to Boise State entering Saturday's game at Fresno State with an 18-6 record (8-3 Mountain West; a half-game behind San Diego State). The numbers are just one part of the equation for Marks, who's also improved as a leader for Rice's Broncos.
"I just wanted to focus on being the best leader I could be," Marks told NBCSports.com. "Because after last year we lost our leader in Jeff [Elorriaga], and that was one area in which I knew I had to do if we were to win. It hasn't been easy, but my coaches and teammates have helped me be a better leader."
With Drmic going down others needed to step up as well, and that's been the case during Boise State's eight-game win streak. In conference play the Broncos are ranked third in field goal percentage, second in three-point percentage and first in free throw percentage, and as a result Boise State has the most efficient offense in the conference per Ken Pomeroy's numbers. With multiple players stepping forward, and Boise State's penchant for taking care of the basketball, the Broncos have been a tough team to slow down over the last month.
One of the players who has stepped up is sophomore forward James Webb III, who began a run of eight double-figure outings in nine games (the lone exception was Boise State's 86-36 win over San Jose State) in a 65-54 loss at Wyoming. However according to Rice, the true breakthrough for Webb occurred in Boise State's close loss at NC State in late-Novmeber. After playing a total of 13 minutes in the five games prior (missing two), Webb accounted for 12 points and four rebounds in 14 minutes of action.
"The game that got him going was the NC State game, and from there he hasn't looked back," Rice noted.
The 6-foot-9 Webb (11.2 ppg, 7.4 rpg) has been a key figure for a team looking to account for the loss of a player in Watkins who was their best rebounder in 2013-14. Webb's produced six double-digit rebounding efforts this season, most recently going for 17 points and 15 rebounds in a comfortable win over Air Force Wednesday night.
"He's playing hard," Marks said of Webb. "He's rebounding the ball like Ryan did last year, and that's something we needed, and the rest of us are chipping in as well. He's also shooting the ball well and playing good defense for us."
While Webb has been their clear leader on the glass five other players are averaging between 2.6 and 3.5 rebounds per game for Boise State, which currently ranks third in the Mountain West in defensive rebounding percentage in conference games (73.2%). And that percentage isn't far off from the 75.4% defensive rebounding percentage they produced a season ago.
Guard Mikey Thompson gives Boise State another experienced perimeter player, and forward Nick Duncan can pose problems matchup-wise due to his ability to step out and knock down perimeter shots. In total Boise State has nine active players averaging at least 11 minutes per game, and those numbers have been a factor in the Broncos' climb from 0-3 to tied atop the Mountain West standings in the loss column.
Boise State wasn't healthy in January, and when combined with an early conference schedule that included trips to fellow NCAA tournament hopefuls Colorado State and Wyoming there were bound to be issues. Now that their key players, save Drmic, are healthy, Boise State is looking to make a run at its first regular season conference title since 2008 (when they were in the WAC).
In the midst of a stretch in which four of their six games are on the road, including a meeting with the Aztecs February 28, the Broncos won't lack for challenges in their quest for a title.
"It's a tough stretch, anytime you're playing a Mountain West road game," Rice said when asked about the current portion of the schedule. "We're going to have to play our best basketball these next few weeks to stay in the race."