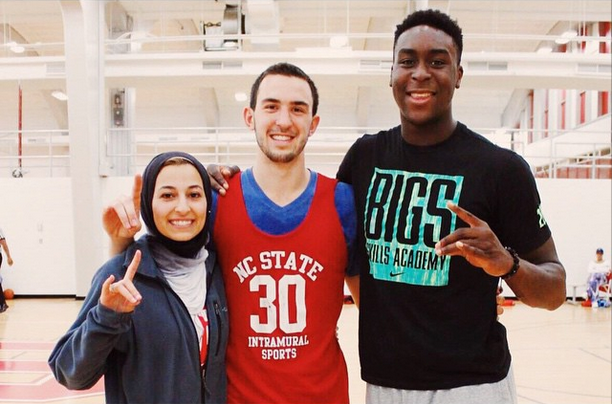 The senseless shooting of three young Muslim students in Chapel Hill on Tuesday hit close to home for one member of the N.C. State basketball team.
Freshman forward Abdul-Malik Abu, a practicing Muslim who is quite open about his faith, was friends with two of the victims, Deah Barakat and his wife, Yusor Abu-Salha.
He posted the photo above on Instagram, with a lengthy, heartfelt caption.
"When I heard the news I was in disbelief I couldn't quite understand how this was possible," Abu wrote. "I couldn't wrap my head around the thought of you and your beautiful wife no longer being alive. You supported me before you met me and showed unconditional love when you did. always excited and happy, always willing to joke around about how the season would go."
"For the short time I've known you, you blessed me with the opportunity to attend your wedding, a wedding I see as my first real wedding. We didn't grow up together but when I heard the news I was hurt like I've known you my whole life. I just wanna say thank you to you your wife and family for the support and making North Carolina feel like home. Rest in peace brother and sisters may Allah bless all three of you with the highest heaven. I know you'll always and forever be a NC State supporter. Rest easy my dude."
Barakat was a die-hard Wolfpack supporter, as a video of him pulling a prank on Marcus Paige made the rounds on social media yesterday:
"I wouldn't say we were best friends, or I see them every day," Abu said after Wednesday's 51-47 loss to Virginia. "He was one of the people you meet that make an impact on your life right away, with his happiness, his joy, his support for me before I got to State, when I got to State always excited to see me. He was always ready to spread good and positive vibes."
Abu called Barakat a "world-class person", saying that Barakat and the Muslim community he was a part of was one of the reasons that Abu settled on N.C. State.