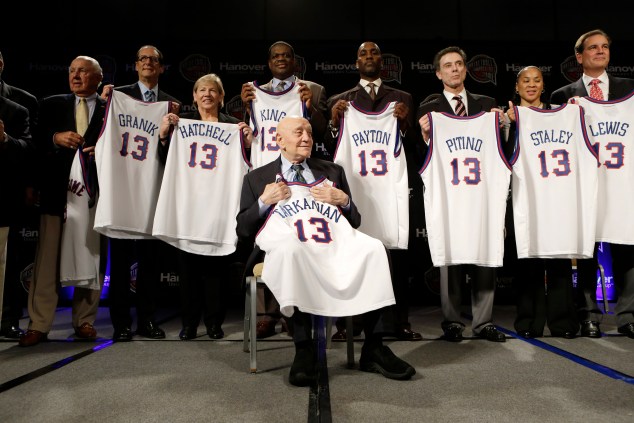 Jerry Tarkanian, the former UNLV head coach that led the Runnin' Rebels to the 1991 national title, has passed away.
He was 84 years old.
"Coach Tark, my father, the greatest man I have ever known, passed today, to take his place in heaven," his son, Danny Tarkanian, tweeted. "I will miss him every day of my life."
"Tark the Shark", who also coached at Long Beach State and Fresno State, finished his career with 729 wins across all levels. He won the 1990 national title and went to four Final Fours, and in 2013, he was inducted into the Naismith Hall of Fame. His 1991 UNLV team was the last team before Wichita State in 2014 to reach the NCAA tournament undefeated; they lost to Duke in the Final Four.
Tark had been in the hospital since Monday night, and in recent years he had dealt with a myriad of health issues. He had heart two heart attacks since March of 2012 and had a pacemaker implanted in 2013.
Perhaps Tark's greatest legacy was the battle that he waged with the NCAA, as he was one of the first — and the most outspoken — critics of amateurism and the way the NCAA operates. "The NCAA is so mad at Kentucky," Tark famously said," it's going to give Cleveland State two more years of probation."
In 1992, after he and UNLV parted ways amid a mountain of negative press due to Tark's NCAA issues and a photo that surfaced of his players with a man tied to a previous college basketball point-shaving scandal, he filed a lawsuit against the NCAA over their harassment during his career, eventually settling out of court for $2.5 million.
On Sunday, North Carolina announced that Dean Smith had passed away, meaning college basketball has lost two of the sport's icons in a matter of days.