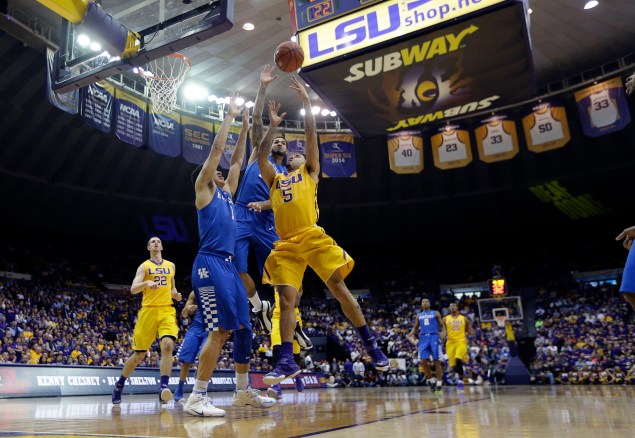 IMPORTANT OUTCOMES
1. No. 1 Kentucky 71, LSU 69
The Wildcats fell at LSU last season and the Tigers played them close in Lexington last season, so you knew this would be a fight. But Kentucky ultimately got a stop on the final possession to earn the road win. Karl-Anthony Towns continued a recent strong stretch of play with 12 points and 13 rebounds and Willie Cauley-Stein added 15 points and seven rebounds. Jarrell Martin had a strong outing for LSU with 21 points and 11 rebounds for the Tigers but ultimately it wasn't enough.
2. No. 10 Notre Dame 60, Clemson 58
The Fighting Irish trailed off-and-on during the second half but ultimately pulled together a good defensive stretch the last few minutes and survived when Clemson had an open look for the win. Jerian Grant was tremendous down the stretch, finishing with 22 points, five assists and three steals. Pat Connaughton also had a key back-tap offensive rebound to give Grant another look that lead to the clinching bucket with under a minute left. Connaughton
STARRED
1. UNLV's Christian Wood
Wood looked the part of a potential first round pick on Tuesday, going for 27 points, 19 boards and seven blocks in a win over Fresno State. UNLV, for all their issues, sit just three games out of first in the MWC.
2. Albany's Sam Rowley
The Great Danes remained perfect in the America East at 12-0 as Rowley finished with 20 points, 15 rebounds and four assists in a win over Binghamton.
3. Incarnate Word's Denzel Livingston
A tremendous game from the guard in a win over Nicholls State as he had 32 points, six rebounds, four assists and seven steals in a Southland win.
4. Temple's Will Cummings
Huge AAC win for the Owls over Cincinnati as the guard had 21 points, five assists, four steals and three rebounds. Cummings was also 7-for-13 from the field and 7-for-10 from the free-throw line for the game.
STRUGGLED
1. Memphis
Badly needing a road win after losing Austin Nichols to an ankle injury, the Tigers turned the ball over 19 times and shot 36 percent from the field in a bad road loss to East Carolina.
OTHER TOP 25 RESULTS
It got a little close in the final minutes but No. 5 Wisconsin was able to hold off Nebraska as Sam Dekker had 21 points and eight rebounds while Frank Kaminsky added 13 points and 12 rebounds.
No. 8 Kansas cruised past Texas Tech as they Jayhawks shot 11-for-20 from 3-point range as Wayne Selden Jr. led with 16 points.
Bobby Portis scored 22 points and Michael Qualls added 19 points to help No. 24 Arkansas to a win over Auburn.
NOTABLES
Michigan State cruised past Northwestern on the road as Travis Trice had 16 points coming off of the bench and Denzel Valentine added 14 points.
Georgetown had a big second half to put away Seton Hall as D'Vauntes Smith-Rivera finished with 23 points and five steals.
Colorado State stayed one game behind the MWC leaders in the loss column by knocking off New Mexico.
Alabama picked up a SEC win over Mississippi State as Shannon Hale had 14 points.
Xavier got past Marquette for a road Big East win as Trevon Blueitt had 14 points and six rebounds.
In the SEC, South Carolina defeated Missouri for a home win as Sindarius Thornwell had 14 points, six assists and five rebounds.
Dayton beat Saint Louis in the Atlantic 10 as Darrell Davis had 12 points and Kendall Pollard added 11 points.
In the clogged-up MAC race, Central Michigan earned a big road win over Ohio as John Simons had 18 points and 13 rebounds.
Just ahead of Central Michigan is Bowling Green and they won against Western Michigan. Spencer Parker finished with 19 points to lead the charge.
In the MAC's most important game of the night, Akron moved to 8-3 with a win over Kent State. Pat Forsythe tallied 12 points and Deji Ibitayo added 11 points.
Also picking up a good MAC win was Toledo on the road at Buffalo. Julius Brown had 25 points and five assists while J.D. Weatherspoon had 17 points and 10 rebounds.
Eastern Michigan won over Miami (OH) as Karrington Ward had 22 points and 10 rebounds.
Drexel picked up a win over Towson as Damion Lee finished with 23 points.
New Hampshire picked up an overtime win over Hartford as Tanner Leissner and Matt Miller each had 16 points.
Liberty topped Campbell as David Andoh has 16 points to lead the way.
SE Louisiana topped Central Arkansas as Devonte Upson had 17 points.
Steve McWhortor had 17 points, nine assists and four steals to lead Milwaukee over Oakland in the Horizon League.
James Madison won on the road at Delaware as Yohanny Dalembert led with 14 points.
Kelvin Amayo had 19 points and Schadrac Casimir matched his teammate in Iona's win over Fairfield.
Evansville had 20 points from D.J. Balentine as they knocked off Missouri State.
Northern Illinois knocked off Ball State as Travon Baker had 16 points.
Chris Smith led Utah State with 18 points in a win over Nevada.