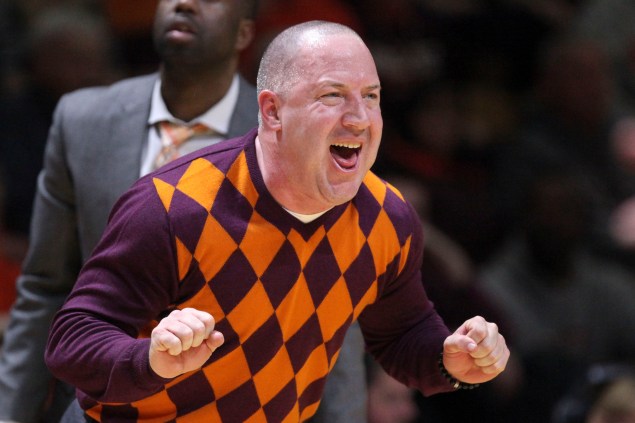 Virginia Tech head coach Buzz Williams often changes shirts at halftime after sweating through them in the first half.
This time, Williams brought out a showstopper.
The first-year Hokie head coach brought out a custom-made sweater in the second half of Virginia Tech's win over Georgia Tech on Monday night. Finding themselves down by five points at halftime, the Hokies made a comeback in the second half after Williams donned the sweater.
The custom-made sweater was made by a friend of Williams, Scott Barber of Colorado, who sent the sweater as a sample for Williams to try. According to a story from Mike Barber of the Richmond Times-Dispatch, Barber and Williams became friends when Buzz was an assistant coach for Colorado State from 2000-2004.
When Williams put on the sweater for the second half, his players certainly took notice.
"Right before the half started, I was just saying to myself, 'Look at this dude. This guy,'" junior guard Adam Smith said in Barber's story. "It was fresh, though. I liked it. … I might ask him for that one."
The sweater was a hot topic among Virginia Tech basketball fans with fans trying to place orders with Barber.
What do you think Buzz Williams should do with this fashion choice in the future?