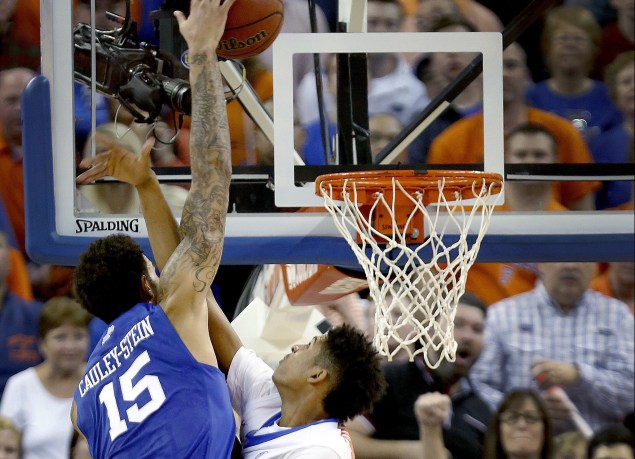 Every Monday from now until every team in the country has a loss on their resume, we will be Tracking The Unbeatens, and predicting when, exactly, that unbeaten streak will end. You can follow along here.
Who lost last week?: None
Kentucky (23-0): Last week, as Kentucky was slogging through another uninspiring conference win against Georgia, I tweeted about the fact that Kentucky has been awfully boring to watch this season, particularly since conference play started. Some members of Big Blue Nation felt this was a slight against their team, and proceeded to take to their keyboards to inform me of just how ignorant I was in not seeing the entertainment value in the Wildcats struggling to put away a borderline bubble team they were favored to beat by 18 points.
I bring this up because I wanted to elaborate on that point: Being boring means Kentucky is doing what they need to do to win games.
READ MORE: Karl Towns was the NBCSports.com Player of the Week
The Wildcats are playing defense at a historically great level. According to Kenpom, they are the best defense we've seen in college basketball since 2002, and by a pretty decent margin. Luke Winn of Sports Illustrated went in-depth this week to see where the numbers show Kentucky ranks as the best defensive team in the modern era of college basketball.
That defense that Kentucky plays isn't a manic full-court press like the one employed by VCU or the '40 Minutes of Hell' that Nolan Richardson rode to a national title in the 1990s. It's not a defense designed to create transition opportunities or that gives up open shots at times as they gamble for steals. John Calipari's boys simply play good old fashioned, fundamental man-to-man defense, and it just so happens that Cal has a roster full of NBA-caliber athletes that take pride in that end of the floor.
In basketball, really good defense just isn't all that much fun to watch. And Kentucky plays really, really good defense.
But there's more.
On the offensive end of the floor, the Wildcats aren't all that good at scoring in the half court. They're not loaded with shooters and their big men have back-to-the-basket games that fall somewhere between solid-but-developing (Karl Towns) to not-really-a-threat (Willie Cauley-Stein). There are quite a few times where Kentucky's best offense in the half court is a missed shot, which is part of the reason you see them making the transition game a priority.
And, again, that's not a bad thing.
When you have three NBA caliber seven-footers and a lineup with just a single player shorter than 6-foot-5, that's how you should play.
So while Kentucky has the athletes to make plays like this a couple of times a month, in general, smothering defense and an offense that thrives on post touches and offensive rebounds is not all that aesthetically pleasing.
One note: A part of Kentucky "playing boring" might be that the team is actually bored. Their biggest game of the season was literally played last year, on Dec. 27th, when they went into Louisville and beat the Cardinals. Their is no other powerhouse program in the SEC right now. Florida is the biggest name, and they gave Kentucky a test on Saturday night, a game that was fun to watch because Florida came out swinging against the Cats, landing a few punches to get the crowd riled up and force Kentucky to have to make plays to win.
But what about playing a home game against, say, Mississippi State or South Carolina is going to get a team that's been playing on a bigger stage than anyone else in the sport since August excited?
Next Game: Feb. 9 at LSU
First Loss?: Final Four?