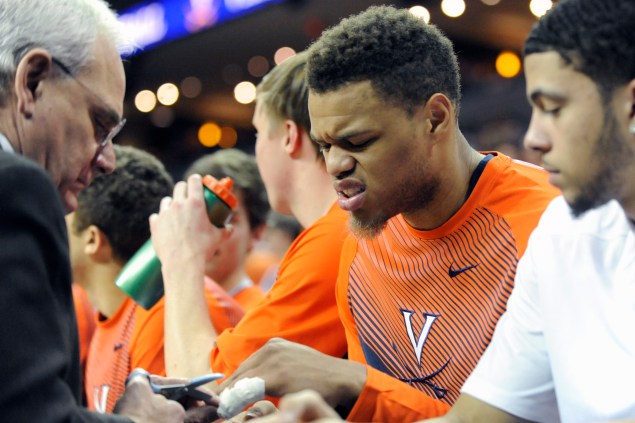 Virginia will be without Justin Anderson, their leading scorer and best three-point shooter who is having an all-american caliber season, for the next 4-to-6 weeks. That means that, at a minimum, he'll be out for the remainder of the regular season, with the chance that he could return for the ACC tournament; Selection Sunday is in precisely five weeks.
What does that mean for Virginia?
I'm not sure that it means all that much. Anderson is the perfect wing for Tony Bennett's system. He's turned himself into a knock-down three-point shooter and he's as good of a defensive player as you'll find. But as good as Anderson is, he's just a cog in the Virginia machine. They'll be fine without him, particularly when you consider that they only play one game against the rest of the top five in the ACC and that they hold a two-game lead over the rest of the ACC pack.
With Anderson, I think Virginia is the clear-cut second-best team in the country. Without him, they're "just" one of four or five teams that deserve consideration for that spot.
Anyway, on to the top 25 …
1. Kentucky (23-0, LW: No. 1): The Wildcats knocked off Georgia midweek and survived Florida in Gainesville in what was their toughest test of the season on Saturday. The Wildcats took a punch from Florida, coming from eight down in the first half in one of the most underrated home court environments in the country.
2. Virginia (21-1, LW: No. 2): See above.
3. Gonzaga (24-1, LW: No. 3): Gonzaga won at Santa Clara and at San Francisco last week, although neither win was overly impressive which has only led to more chatter that the Zags are overrated. I wouldn't have an issue with anyone ranking Wisconsin or Duke above them, but it's foolish to think that Gonzaga isn't a Final Four caliber team.
4. Wisconsin (19-2, LW: No. 4): The Badgers may not be tested until their final four games of the regular season, when they play at Maryland, at Minnesota, at Ohio State and get Michigan State in the Kohl Center.
5. Duke (20-3, LW: No. 6): The Blue Devils made a statement for all those that thought their win at Virginia was a fluke as they obliterated Notre Dame in Durham on Saturday. The most impressive part? Duke finally started playing some defense, holding the Irish below 1.0 points-per-possession for the first time this season.
6. Villanova (21-2, LW: No. 8): If there was any doubt who the best team in the Big East is, the Wildcats erased it with a systematic beatdown of Georgetown on Saturday.
7. Arizona (20-3, LW: No. 5): It looked like the Wildcats had finally gotten things rolling, and then they went and lost at Arizona State. That's certainly not a good thing, but I'm not all that concerned; anything can happen in a rivalry game on the road.
8. Kansas (19-4, LW: No. 7): Kansas took a step back on Saturday with a loss at Oklahoma State, but road losses are going to come in the Big 12. An impressive win at home over Iowa State says just as much.
9. Louisville (19-4, LW: No. 9): There's not shame in losing at Virginia. The bigger concern for the Cardinals? They've gone two full games without someone other than their top four scoring, and more than 100 minutes of game time without someone other than the top four making a field goal.
10. Utah (18-4, LW: No. 12): Utah climbs back into the top ten after an impressive win over Colorado. The Utes really need to beat Arizona at home later this year for me to truly buy them as a title contender.
11. Notre Dame (21-4, LW: No. 10)
12. North Carolina (18-6, LW: No. 11)
13. Iowa State (17-5, LW: No. 13)
14. Baylor (18-5, LW: No. 18)
15. Northern Iowa (22-2, LW: No. 16)
16. Wichita State (21-3, LW: No. 17)
17. Oklahoma (16-7, LW: No. 19)
18. Ohio State (18-6, LW: No. 20)
19. Maryland (19-5, LW: No. 14)
20. Butler (18-6, LW: No. 24)
21. SMU (19-5, LW: No. 25)
22. VCU (18-5, LW: No. 23)
23. Oklahoma State (16-7, LW: UR)
24. Providence (17-7, LW: UR)
25. West Virginia (18-5, LW: No. 15)
Dropped Out: No. 21 Indiana, No. 22 Georgetown