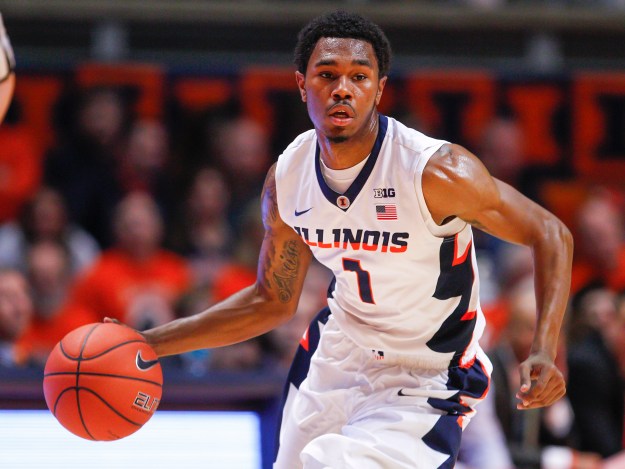 Illinois picked up a huge Big Ten road win at Michigan State on Saturday, but a controversial technical foul on Illini guard Jaylon Tate with a little over 33 seconds left stalled the end of a close game and had Twitter buzzing.
Tate, a sophomore, appeared to box out Michigan State point guard Travis Trice after Trice, shooting a free throw, made the front-end of a one-and-one. No foul was whistled on the play, initially, but after referees reviewed the play on the courtside monitor, a deadball technical foul was assessed to Tate.
Here's video of the play from Big Ten Network:
The technical foul gave Michigan State two additional free throws and the ball — with Trice also finishing his one-and-one stint at the free-throw line — but the Spartans were unable to capitalize as they ended up losing, 59-54. The technical foul on Tate fouled him out of the game and the Illini were able to sweat out a close win despite the controversial call.
After the game, referee crew chief Terry Wymer commented on the call.
Many on Twitter also took issue with the call with many viewers expressing that Tate probably could have been whistled for a regular foul, with a deadball technical foul seeming excessive. Some are of the belief there was no foul on the play at all and its just a basketball play.
What do you think? Did Tate deserve a technical foul? A normal foul? No foul at all?
(H/T:
Brent Yarina, BTN.com
)