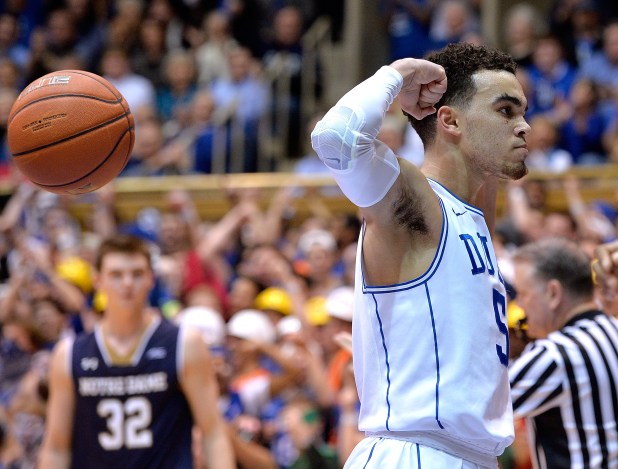 Notre Dame has beaten Duke each of the last two seasons in South Bend, earning head coach Mike Brey the title of being the only former Mike Krzyzewski assistant coach to beat his former boss twice.
On Saturday, Coach K got his revenge, as No. 4 Duke absolutely embarrassed No. 10 Notre Dame, beating the Irish 90-60.
The game started innocently enough for Notre Dame. Steve Vasturia hit a three on their first possession, and after a turnover by Amile Jefferson traveled, Pat Connaughton gave the Irish a 6-0 lead a minute into the game.
That would be the last time you could compliment Notre Dame's performance. The Blue Devils responded with — get this — a 43-7 run over the next 15 minutes. They scored on 16 of their next 17 possessions, with Notre Dame's only "stop" coming when Jahlil Okafor was called for a charge when he bullied the 6-foot-5 Bonzie Colson and dunked over him. They hit their first six threes and finished the first half having scored 1.88 points-per-possession, an utter and complete evisceration of an Irish defense that has struggled at times this season.
Jahlil Okafor finished with 20 points and 10 boards after a sluggish first half that saw him get in early foul trouble, but the real stars for Duke were Matt Jones and Justise Winslow. Winslow seems to have shaken off his midseason slump, finishing with 19 points and 11 boards, setting the tone early for Duke with driving layups and transition buckets.
Jones was the spark. Playing more minutes now that Rasheed Sulaimon has gotten the boot, he scored all of his 17 points in the first half, hitting a trio of triples as the Blue Devils built their insurmountable lead.
Jones was also terrific on the defensive end of the floor, where he helped keep Notre Dame's all-american guard Jerian Grant in check. Grant finished with just seven points and four assists, shooting 3-for-10 from the floor as the Blue Devils were able to corral Notre Dame's ball screen-heavy offense.
Those ball-screens are what cost Duke in their threes losses this season, but the Blue Devils defended them as well as they have all year long. Think about this: for the first time this season, Notre Dame — the nation's second-most efficient offense entering the game — was held below 1.0 PPP for an entire game, which is not only a statement, but a confidence-boost for a team that has had their ability to defend maligned all season long. By comparison, Miami and N.C. State combined to score 1.25 PPP in their wins over the Blue Devils.
And when you combine lights-out shooting with taking Notre Dame out of everything they want to do defensively, what you get is a 30 point win.
Duke improves to 7-3 in the ACC with the win, which leaves them tied with North Carolina and Notre Dame (in the loss column) at two games back of Virginia. Louisville is all alone in second place.