Marquette will play Saturday's Big East road game at Seton Hall without leading scorer Matt Carlino, as the senior has a concussion and will sit out. The news of Carlino's concussion was confirmed to NBCSports.com and first reported by Matt Velazquez of the Milwaukee Journal-Sentinel.
The 6-foot-2 senior took a nasty fall in the Golden Eagles' loss at Villanova on Wednesday and hit his head on the floor. Here's a photo of the fall, courtesy of Getty Images: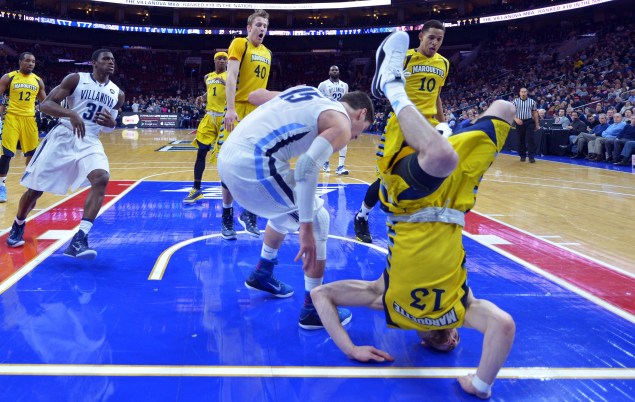 Carlino is averaging a team-best 14.2 points per game while also averaging 3.4 rebounds and 3.5 assists per game for Marquette. The question now becomes whether Carlino can play on Tuesday when the Golden Eagles host Xavier.
While Marquette has struggled to a 10-12 record and 2-8 start in the Big East, they're still a very tough out at home, with recent overtime losses to ranked teams like Georgetown and Butler.