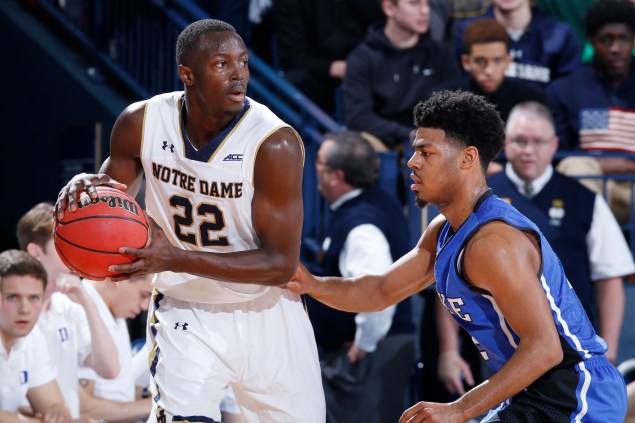 GAME OF THE WEEKEND: No. 10 Notre Dame at No. 4 Duke, Sat. 1:00 p.m.
These two teams squared off last month in South Bend, and it produced one of the most entertaining games of the entire season. Duke looked to be pulling away in the second half, but Jerian Grant sparked a comeback from 10 points down in the final eight minutes, notching the go-ahead bucket and the game-clinching assist in the final minute. Since that game, however, Notre Dame has lost to Pitt while Duke has gone into Virginia and knocked off the Cavaliers.
As it was the first time around, the key here is going to be how Duke tries to slow down Grant. The Irish are a nightmare to try and zone because of how many lethal shooters they have and how willing they are to make the extra pass. But the Irish love to put Grant in ball-screen actions — where he is as good as anyone in the country and playing All-American caliber basketball — and Duke's Achilles' heel on the defense end of the floor is pick-and-roll defense.
THE OTHER GAME OF THE WEEKEND: No. 9 Louisville at No. 3 Virginia, Sat. 7:00 p.m.
This matchup might be even more intriguing that the Notre Dame-Duke game. Let me explain: Virginia runs the Pack-Line defense, which, essentially, is a man-to-man with aggressive on-ball defense and a ton of help side. (You can read an in-depth breakdown of what the Cavaliers do here.) The goal? Force ball-handlers to dribble into the help and dare teams to shoot threes over the top of the defense. Louisville has a pair of good penetrators in Chris Jones and Terry Rozier. What they lack is a bevy of catch-and-shoot threats.
In simpler terms, Louisville's strengths offensively play right into the hands of what Virginia does best defensively. That's usually not a good thing.
FIVE MORE GAMES TO WATCH
No. 24 Georgetown at No. 7 Villanova, Sat. 2:00 p.m.: Georgetown pounded Villanova in the first meeting between these two teams in D.C., but the Hoyas are coming off of a really tough loss to Providence at home. Georgetown is essentially out of the Big East title race with a loss.
No. 23 SMU at Tulsa, 8:00 p.m.: Show of hands: Who had Tulsa and SMU as the two teams in the running for the AAC title? I didn't. After the Mustangs lost on Thursday, the Golden Hurricane can take a three-game lead in the league with a win.
No. 19 Baylor at No. 15 West Virginia, Sat. 12:00 p.m.: Just another day in the Big 12.
No. 1 Kentucky at Florida, Sat. 9:00 p.m.: Florida is down this season, but unexpected things happen in rivalry games. That said, it's Gameday, and when Kentucky shows up fired up to play, they tend to embarrass people.
Providence at Xavier, Sat. 1:00 p.m.: Providence is tied for second place in the Big East after their win at Georgetown on Wednesday. Can they follow it up with another road win at Xavier?
WHO'S GETTING UPSET?: No. 17 Maryland at Iowa, Sun. 3:15 p.m.
The Hawkeyes have the ability to be one of the best teams in the Big Ten. Maryland has been somewhat inconsistent of late, and going on the road in league play is anything-but a certainty. Iowa has not been trustworthy over the course of the past two seasons, but they are coming off an impressive performance against Michigan on the road on Thursday night, which, theoretically, would be something positive to carry over into the weekend.
UPSET WATCH
No. 8 Kansas at Oklahoma State, Sat. 2:00 p.m.: Kansas looks like they've taken pretty firm control of the Big 12 race, but crazy things tend to happen when these two teams get together. Gallagher-Iba should be rocking.
No. 13 Utah at Colorado, Sat. 10:00 p.m.: Colorado will be looking to get some revenge for the pounding that the Utes put on them in January.
No. 6 Arizona at Arizona State, Sat. 4:30 p.m.: Rivalry games on the road are always dangerous.
No. 20 Ohio State at Rutgers, Sun. 5:30 p.m.: A Sunday afternoon road trip against a team that they should roll. If Ohio State comes out slow, Rutgers can pick them off.
No. 12 North Carolina at Boston College, Sat. 3:00 p.m.: Their record may not show it right now, but Boston College has been playing well under Jim Christian this season. They're going to pick someone off eventually.
FIVE STORY LINES
1. There are a trio of games this weekend on NBCSN:
No. 18 VCU at St. Bonaventure, Sat. 2:00 p.m.
Saint Louis at Fordham, Sat. 4:00 p.m.
Rhode Island at Richmond, Sun. 2:30 p.m.
2. No. 25 Texas at Kansas State, Sat. 4:00 p.m.: Texas has fallen to 3-6 in the Big 12 this season, while Kansas State has lost three straight and four of their last five and just suspended their star, Marcus Foster. One collapse has to get stalled.
3. Harvard at Yale, Sat. 7:00 p.m.: The Elis have a chance to move two games up on Harvard in the Ivy League standings. The Ivy's automatic bid goes to their regular season champ.
4. Texas Tech at No. 11 Iowa State, Sat. 2:00 p.m.: The last time these two teams played, the Red Raiders knocked off the Cyclones.
5. Syracuse at Pitt, Sat. 4:00 p.m.: Syracuse will be playing their first game since the university ended their season early. How will they play?