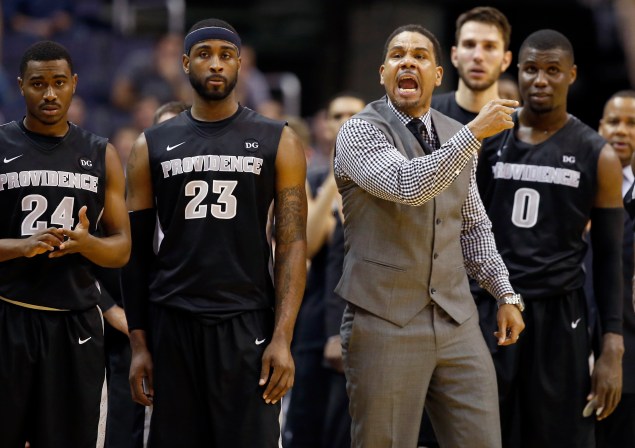 WASHINGTON, D.C. — Providence knocked off No. 24 Georgetown, 74-71, in D.C. on Wednesday night, the first road win that the Friars have landed over a ranked opponent since January 24th, 2004.
In and of itself, that makes this win important — I'll get to that in a minute — but how they earned this win is what truly matters. The Friars came back from 13 points down with 12 minutes left, making the game-changing run despite the fact that star point guard Kris Dunn was on the bench with foul trouble and leading scorer LaDontae Henton, as head coach Ed Cooley put it, "was basically playing for Georgetown for 20 minutes".
It was the youngsters, the role players, that truly made the difference on Wednesday.
Ben Bentil finished with 16 points and 11 boards, by far his best game in a Providence uniform. "I thought Ben was a man today," Cooley said. "He grew up today."
But it wasn't just Bentil. Freshman point guard Kyron Cartwright made a couple of huge plays after Dunn went to the bench, and sophomore Junior Lomomba, playing a season-high 27 minutes, was a spark on the defensive end.
"Junior Lomomba had a great game that didn't show in the stats," Cooley said. "I was proud of our group, especially when Kris came out and we had those three freshmen in."
"When a talent like Kris Dunn comes off the floor, you just hope that your young guys have gone through enough to weather a storm against a great team."
The comeback was helped by the fact that Henton was finally able to get going. He didn't hit a field goal until a three with 33 seconds left in the first half and had just six points midway through the second half, when a 13-0 Georgetown run helped push a one point deficit into that 13-point lead. His defense was just as bad, but he scored eight points in a 90-second span midway through the half that sparked the Friar comeback.
Carson Desrosiers came up huge as well, making a number of baskets in the paint and hitting some critical free throws down the stretch. It's a great sign for a Friar team that has, at times, looked like a two-man show this season.
"We're halfway through the Big East schedule, and it's time for the freshmen to grow up," Desrosiers said. "We've had contributions from them all season, and tonight we needed it from them badly."
"All of our freshmen play. We need them to contribute. It provides a huge boost, especially if one of our horses is off."
There's the obvious — road wins look great on an NCAA tournament resume, and the Friars have now put themselves in a great position to make a return trip to the Big Dance. But there's more at play here. The Big East is one of just two major conferences that play a full double-round robin schedule, and landing a road victory over one of the other league contenders is what can make the difference between a fourth place finish and a real shot at landing a regular season conference title.
Providence is a game behind Villanova for first place in the conference with two games left against the Wildcats. They're a game up on Georgetown after having swept the Hoyas. They're tied with Butler, who they have already beaten on the road this season.
The Friars control their own destiny this year, believe it or not.
A Big East regular season title is within their grasp.
Who saw that coming after Bryce Cotton's graduation?